What are the ambitions of Marie Langer, the new CEO of EOS GmbH?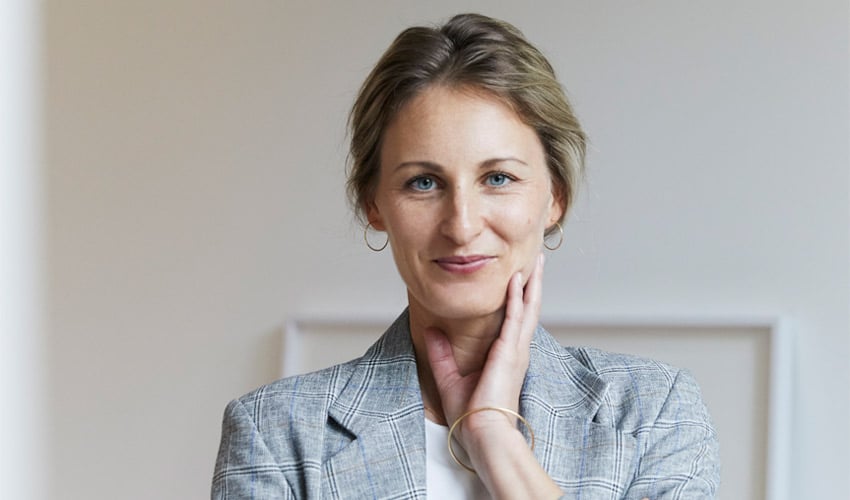 Last October, Marie Langer was appointed CEO of the EOS GmbH Group, succeeding her father, Dr. Hans Langer, who founded the German company in 1989. The manufacturer of industrial additive manufacturing solutions quickly made a name for itself on the market, offering plastic and metal systems that meet the requirements of many industrial sectors. Its range of machines is used all over the world by the aerospace, medical, automotive and jewelry industries. So when we learned that the group was changing direction, we wanted to know more about its ambitions and the challenges it will face in 2020. So we met Marie Langer, who took over as head of the family business at just 33 years of age.
3DN: Could you tell our readers about your previous experience in AM?
My father Dr. Hans Langer founded EOS when I was 3 years old, so 3D printing technology has been a part of my life from childhood on. I saw my father building up the company over the last 30 years and performed various roles in this time as Co-Owner of the company around EOS and its supervisory board. In this context I have been leading the social venture program, taking responsibility of corporate development across the EOS GROUP and supporting the set-up of AM Global to accelerate AM serial production.
3DN: What about your current work in the AM industry?
I have been appointed CEO of EOS GmbH last October. It was a family decision to underscore our long-term commitment, while at the same time laying the foundations to optimally position EOS in a highly dynamic and constantly evolving market environment. Of course one could say that I am following in big footsteps but challenges have always created a sense of action for me. So the last months really have been extremely exciting, giving me a high level of positive energy. One priority I see right now is to push technology advancements to extend technology leadership further and to provide exceptional aftersales service and support to EOS customers.
3DN: Could you tell us more about your new role as EOS CEO? What changes will it bring to the company?
As CEO I am responsible for the strategic positioning of EOS and its subsidiaries. In this function, I concentrate on the topics Strategy, Sales, Marketing, Communications as well as Corporate Culture, Organizational and People Development.
EOS is known for its strong team spirit and its pioneering role and I am looking forward to work together with so many passionate people. Leadership means to me to set the right framework and to have a positive culture so that everyone feels empowered, knows how to contribute and teams are working trustfully together towards one common goal.
In the future product development and innovation at EOS will be driven much more from the customer side and therefore I gave more power and independence to our three regions Americas, EMEA and APAC to be able to adapt to our customer needs as fast as possible.
3DN: What has caught your eye in the last few months?
My fascination with the additive manufacturing technology lies in its sustainable and groundbreaking nature, intertwining these two aspects is a focus for me. I want to show that 3D printing not only stimulates economic growth, but also has a strong ecological and social impact – that it can improve people's live.
In this context, a very inspiring moment was when I met world class Paralympic cyclist Denise Schindler at formnext 2019. She has been wearing prosthesis since she is two years old. Of course it is important that the prosthesis functions well and that it withstands the demands of everyday life and also the much higher demands in sports. This is achieved by manufacturing her prostheses additively and I am very happy that EOS technology can contribute to this and to Denise's well-being.
But there is so much more to it and I want to make sure everyone understands the benefits our technology can bring here, for example regarding lightweight parts in aerospace, etc. Therefore right now we are working on the right positioning of this within the framework of responsible manufacturing and I am also planning to invest more into R&D projects internally to push this even further.
3DN: What do you think are the remaining challenges to the global adoption of AM across the industry?
I see three key factors which will further drive the adoption of industrial 3D printing for serial production – quality, repeatability and costs. It is important to find a balance between required productivity and necessary part quality in order to fully unfold the potential of 3D printing in industrial manufacturing. The possibility to create more complex part geometries is certainly valid for numerous applications and enables a market entry. Often however, it is the cost per part that determines whether a technology is disruptive or not. Therefore highly productive production processes are becoming more and more important – while at the same time manufactured parts must have a defined and reproducible quality.
At Formnext we demonstrated our solution EOS Shared Modules which is aiming exactly at this demand as its hardware and software components simplify and parallelize the workflow both upstream and downstream of the AM build process. So especially when operating multiple 3D printing systems, EOS Shared Modules makes it possible to manufacture high-quality metal parts on an efficient, scalable, profitable basis.
What do you think of Marie Langer's ambitions? Let us know in a comment below or on our Facebook and Twitter pages! Sign up for our free weekly Newsletter, all the latest news in 3D printing straight to your inbox!