Marble 3D printing filament is ideal for making sculptures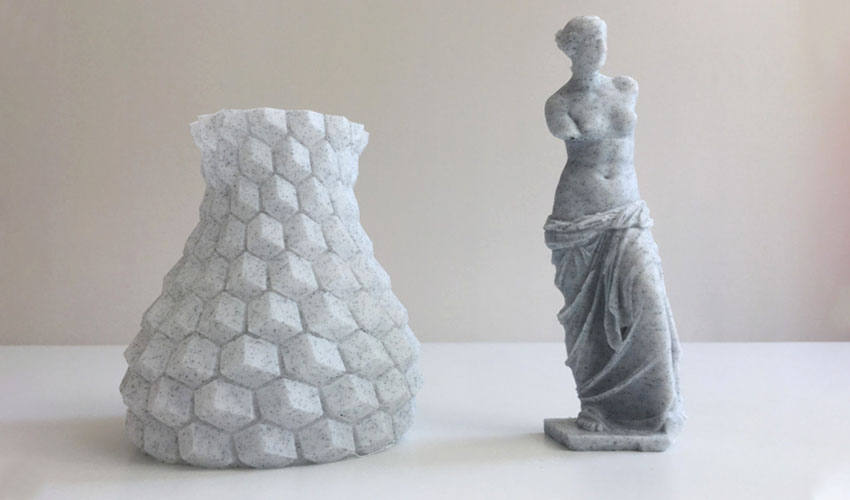 The use of polymers in additive manufacturing has grown tremendously in the past decade. Today, there is a wide range of thermoplastics available  on the market – each appealing to different types of users of 3D printing. The 3D printing filament market has grown considerably in recent years, and is projected to grow by 25.8% in 2024 according to Ameco Research. This is mainly due to the great range of filaments manufacturers have put out on the market, satisfying the growing demand. However, this huge supply can actually make it even harder to choose the right filament.
For artists and designers in particular, additive manufacturing is a great tool to develop their projects in innovative ways. It adds design freedom and geometric complexity to creations. This is why customizable filaments are constantly being developed for this sector. Recently, a PLA filament with a marble finish was created for those that work in sculpture and architecture or construction. This material is without a doubt an elegant solution for the manufacture of more classic pieces!
The characteristics of marble 3D printing filament
What is most striking about the material is its similarity to real marble, as it includes the small black grains that characterize the mineral. Some users have criticized this detail, as they said that it could cause problems during extrusion and affect the quality of the 3D printed part. However, after testing it, many of them have been surprised by the final result, noticing that the specs didn't not create any deformations.
When using the filament, the manufacturers recommend a printing temperature of 230ºC, while the temperature of the printing plate should reach 100ºC. With a diameter of 1.75 mm, the printing speed should be between 60-70 mm/s. As is usual with FDM technology, 3D printing with this material does not require any necessary post-processing. In fact, the manufactured parts have high strength and minimal deformation, as well as a fairly realistic finish. Marble PLA is compatible with virtually all 3D printers on the market today and, unlike ABS, this material is made from renewable natural resources (corn starch, tapioca products, etc.), so it is biodegradable. Among the main manufacturers of marble 3D filament, we find TreeD Filaments and ESUN and, generally, the price of this type of material is around 80€ per kilo.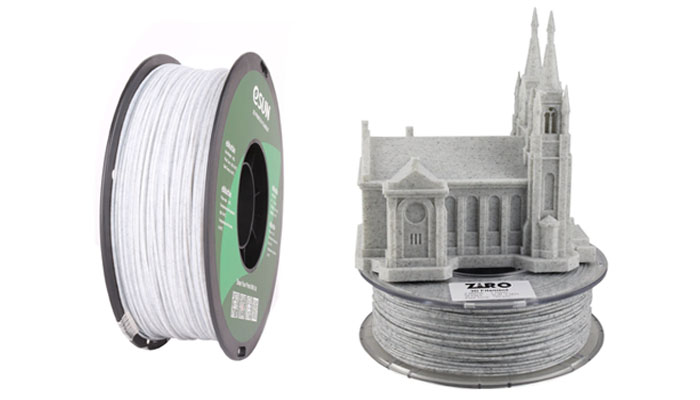 You can find more information on 3D printing filaments in our plastics guide. Are you tempted to try marble filament? Let us know in a comment below or on our Facebook and Twitter pages! Don't forget to sign up for our free weekly Newsletter, with all the latest news in 3D printing delivered straight to your inbox!