MakerBot 3D Printer to be used in production of new Aston Martin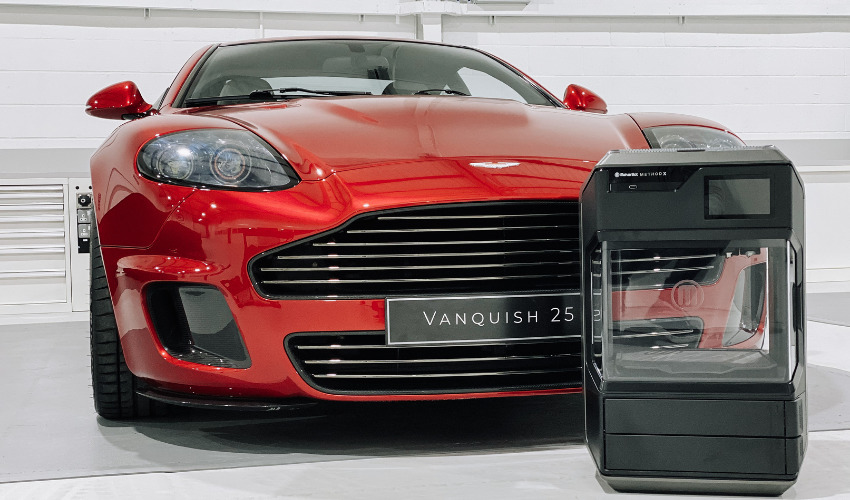 In the latest news from additive manufacturing in the automotive industry, Engineering design company, CALLUM, has announced their installation of MakerBot's METHOD X 3D Printer for use in the production of functional prototypes, tooling and final production parts for their luxury vehicles. This includes the production of the not yet released, limited edition Aston Martin CALLUM Vanquish 25 by R-Reforged. This is the company's first public project, for which only 25 limited-edition vehicles are planned to be built. Each vehicle will feature 3D printed end-use parts, produced by the METHOD X. This latest venture shows the continuously evolving role of additive manufacturing in the automobile industry, a role that has just grown in importance in recent years.
Though initially known for its iconic MakerBot desktop 3D printers, MakerBot has been moving to bridge the gap between industrial and desktop 3D printers. Their Method line uses fused deposition modeling (FDM) with a heated chamber allowing for strong manufacturing-grade parts. The Method X 3D in particular has a large materials portfolio with greater applications for industrial production. The CEO of MakerBot, Nadav Goshen, commented on CALLUM's choice to use the machine, "We are excited that the team at CALLUM will put its advanced capabilities to the test in some of the most demanding applications yet, and help accelerate the development of some truly next-generation vehicles."
MakerBot METHOD X and CALLUM
Since its creation in 2019,  CALLUM, founded by renowned automotive designer Ian Callum CBE, has been using additive manufacturing to turn design concepts into representative models for internal review. However, with the METHOD X, they are looking to extend their use of AM areas into three key areas: fully functional prototypes for testing and simulation; tooling for componentry and gauges; and customizable, low volume production parts for final use in vehicles. Callum, Design Director explains, "MakerBot's Method X 3D printer is our first true step into industrial-grade additive manufacturing, and we are excited to push the boundaries of automotive design and production with this technology." The Aston Martin CALLUM Vanquish 25 by R-Reforged will be the first in a series of bespoke, limited-edition supercars that CALLUM plans to design and produce using METHOD X.
They are certainly in good company. The automobile industry increasingly is using 3D printing not just for the creation of prototypes and tools, but also for end-use parts. This past year, we have already seen Fiat Chrysler Automobiles use of AM to design a wheel carrier with an integrated brake caliper and the opening of GM's new additive industrialization center dedicated to additive manufacturing. With the flexibility and agility afforded by additive manufacturing, combined with increased strength and better materials for industrial production, additive manufacturing is quickly earning its position as a crucial aspect of a variety of industries, including automotive. One thing is for sure, it's an exciting time for 3D printing in automobile manufacturing! You can find out more about the Aston Martin CALLUM Vanquish 25 by R-Reforged and its use of the METHOD X 3D Printer in the press release HERE.
What do you think about the new Aston Martin and the use of the MakerBot Method X in its production? Let us know in a comment below or on our Facebook and Twitter pages! Sign up for our free weekly Newsletter here, the latest 3D printing news straight to your inbox!
*thumbnail image photo credits: MakerBot