MAGIC-HT-MAX, the large format 3D printer for HPPs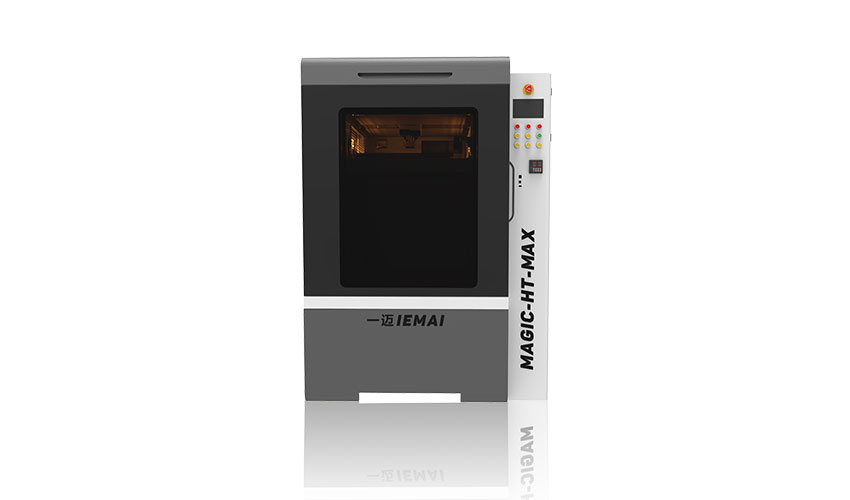 IEMAI 3D is an Asian manufacturer of 3D printers specialized in the development of machines that work with advanced materials on a large scale. In 2019 it made its entry to the European market by presenting us with its MAGIC-HT-PRO, a machine featured in our listing of PEEK 3D printers, which has a dual printhead, capable of manufacturing with high performance materials, and which caught our attention due to its impressive build volume. This year the manufacturer based in Guangdong, decided to increase the print volume of its machine, launching the MAGIC-HT-MAX, with a build volume of 500 x 500 x 700 mm.
In China, the additive manufacturing market has had a strong evolution in the last years, and according to several studies it is expected to be the country with the strongest growth in the industry over the next few years. That is why high performance materials are essential to the growth of its 3D printing sector, enabling high-resistance and support capabilities, able to compete with some metal parts. The growth of materials was already a trend in 3D printing in 2019 and will definitely continue to be!
What are the features of the MAGIC-HT-MAX 3D printer?
The MAGIC-HT- MAX is a 3D printer based on FFF technology, just like most of the machines of the brand. In order to work with advanced materials, the nozzle can reach a temperature of 500ºC, and it is also equipped a heated build plate that can reach 180ºC. As mentioned above, it has one of the largest manufacturing volumes for a machine with these characteristics: 500 x 500 x 700 mm. Like the MAGIC-HT-PRO, this 3D printer has an independent dual printhead, which allows it to work with support materials as well. The 3D printer can manufacture with more than 16 materials, including high performance thermoplastics and composites such as  PEEK, PEKK, CFR PEEK, ULTEM, ABS, ASA, etc.
Other features on IEMAI 3D's latest machine include a liquid cooling system, an end of filament sensor and the possibility of print recovery in case of power failure. It also incorporates a camera to follow in real time the creation process, and has WiFi connectivity.
The manufacturer has not yet confirmed the price of its MAGIC-HT-MAX for the European market, but we can expect a price point around €40,000. The aim of the manufacturer is to continue offering industrial machines at an affordable price. You can find more information about this 3D printer on the manufacturer's official site HERE.
What do you think of the MAGIC-HT-MAX? Let us know what you think in a comment below or on our Facebook and Twitter pages! Don't forget to sign up for our free weekly Newsletter, with all the latest news in 3D printing delivered straight to your inbox!