Madagascar's First 3D Printed School Completed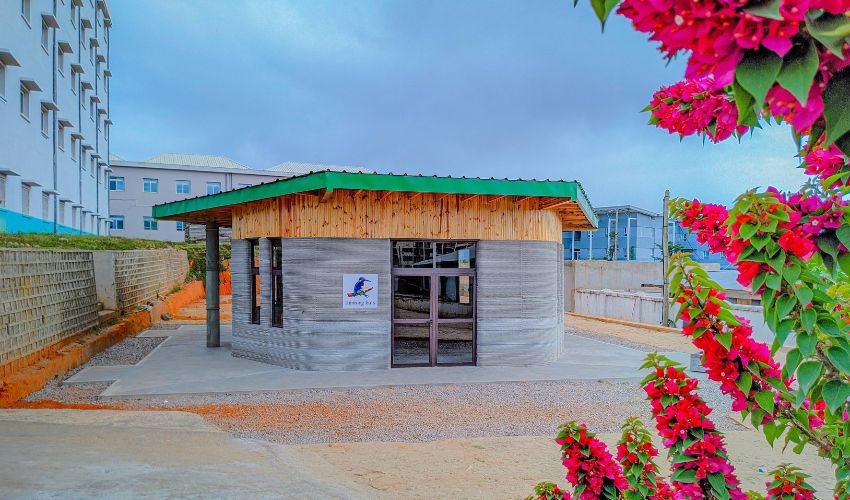 Early last year, we introduced Thinking Huts, an American nonprofit organization that's main goal is to help children gain access to education in underprivileged areas in the world. To make that possible, the organization, which was founded in 2015, relies on additive manufacturing technologies allowing them to build schools in a more ecological and sustainable way. In addition to that, 3D printing allows them to reduce construction waste and time. Recently, Thinking Huts proudly announced that their pilot project, Madagascar's first-ever 3D printed school, located in Fianarantsoa in south-central Madagascar, has finally been completed and officially opened its doors. 
The project called "Bougainvillea" was originally started seven years ago as an initiative to fulfill the worldwide need for educational institutions in underserved areas. The organization, which plans to build more schools of the same type, chose Madagascar as the first location for their projects for a variety of reasons. One of the main ones is the deep need for schools on the East African Island. As a UNESCO report states, 97% of Malagasy children at the age of 10 do not even possess the reading comprehension required to read a single sentence, placing Madagascar among the countries with the greatest educational disadvantages worldwide. With overcrowding and long travel distances being the main problem, the estimated number of schools needed on Malagasy soil is around 22000.
For Thinking Huts founder and CEO Maggie Grout, the idea of providing access to education for those in need also has a very personal aspect: "I was adopted from China when I was a baby, and I am here today because of my parents and the opportunities I achieved through education. I founded Thinking Huts when I was 15 after becoming fascinated with the potential of technology to create architectural solutions for a world of good. My life could have followed a very different timeline, and I do not take that for granted. My hope is to find a solution that increases global access to education because it is at the root of empowering people to lift themselves out of poverty." 
The First Of Many Projects To Come
To ensure the optimal construction of the school, Thinking Huts partnered with 14 Trees, a company experienced in 3D printing buildings, that has already successfully completed projects in Kenya and Malawi. Bruno Silva and Yash Mehta of Defining Humanity were tasked with the creation of the architectural design. For additional help, the organization partnered with the university Ecole de Management et d'Innovation Technologique, as well as local construction company SECOA. The school's walls were 3D printed with a cement mixture that has the ability to withstand environmental pressure. The roof, door, and windows were made with locally-sourced materials. Local manufacturers were involved in the construction and were taught   3D operational skills during the process that can be utilized for future construction projects.
By finalizing the project, the organization set an important milestone in the establishment of 3D printed schools and is already looking forward to starting new projects in different countries around the world. Maggie Grout concludes: "The past two years have shed light on the urgency of human-centric, innovative solutions to tackle the world's most pressing problems. We look forward to growing as we address the need for schools while bringing people together and inspiring the next generation to make a difference. This is only the beginning."  You can find out more about the organization, HERE.
What do you think of the 3D printed school created by Thinking Huts? Let us know in a comment below or on our Facebook, Twitter and LinkedIn pages! Sign up for our free weekly Newsletter here, the latest 3D printing news straight to your inbox!
*All Photo Credits: Thinking Huts