VormVrij unveils their ceramic 3D printer, the LUTUM v4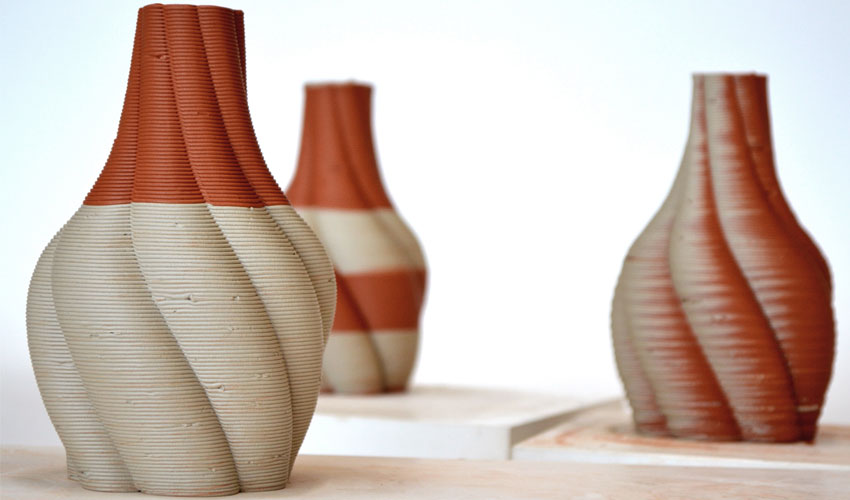 3D ceramic printing is becoming more accessible in the additive manufacturing market with the arrival of players who are developing affordable and innovative machines. The Dutch manufacturer VormVrij is now making their introduction into it following the launch of their 3D printer prototype called the LUTUM. This fourth iteration is able to create larger and more resistant ceramic parts and comes in three different models.
Often used in medical, sanitary or industrial applications and often being the material of choice for decoration, ceramics has become increasingly popular in the additive manufacturing market. While some manufacturers want to industrialize this ceramic 3D printing process, VormVrij is more interested in democratizing its use with an affordable and easy-to-use machine. They have created the LUTUM 3D printer in 3 models: a standard model, one with two extruders and another larger one that can create parts that are up to 800 mm in height.
A new version of the LUTUM
The fourth standard version of the LUTUM has a larger print volume – 430 x 460 x 510 mm and a full metal frame. Previous versions of the printer had a metal and wood frame; the manufacturer explains that this gives the 3D printer more strength, balance, and weight, improving its ability to accurately print all kinds of objects.
In the body of the machine, the internal electronics have been rearranged for better protection against dust and water, found easily and abundantly in pottery workshops. The printing material is contained in cartridges – they can be clay, sandstone or even porcelain. Depending on the viscosity of the clay used, the manufacturer states that printing speeds are generally between 20 mm/s and 100 mm/s.
The new LUTUM is already being used by a small group of users including Dutch potters, Belgian artists, and research centers. VormVrij adds that universities in France, Germany, Portugal, and America will be installing their machines during the summer. The 3D printer is available for sale from €6,350. Find more information on this new machine on VormVrij's official website.
What do you think of the LUTUM v4? Let us know in a comment below or on our Facebook and Twitter pages! Sign up for our free weekly Newsletter, all the latest news in 3D printing straight to your inbox!