Introducing the Lucitone Digital Print Denture workflow and material system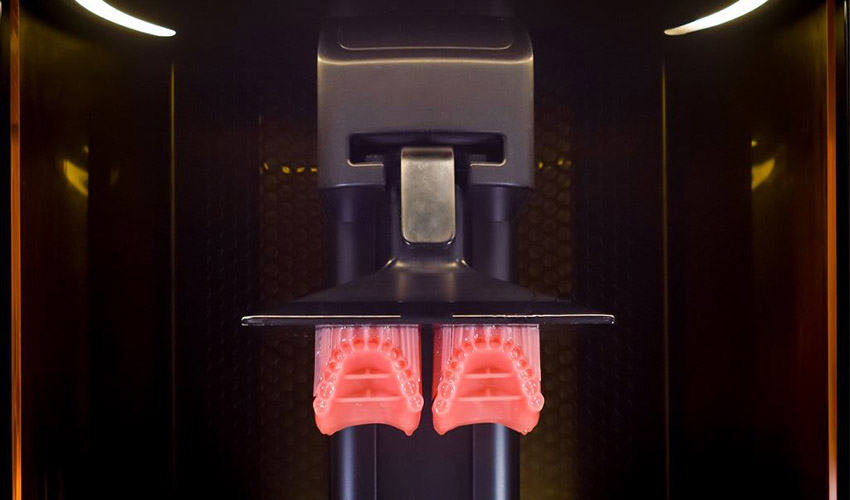 Dentsply Sirona and Carbon have come together to launch the Lucitone Digital Print Denture workflow and material system. This workflow and material system should provide significant advancements in terms of material benefits, laboratory process, and function for the patient.  
This year, Carbon is launching itself fully in the dental 3D printing market in order to take digital dentistry to the next level. In fact, the Carbon platform is the only 3D printing system that is validated for Dentsply Sirona's materials. Dentspy Sirona is the world's largest manufacturer of professional dental products and technologies – its materials should provide higher accuracy, consistency and throughput compared to traditional dentures. In concrete terms the Lucitone Digital Print Denture solution introduces five new material system products: 
Lucitone Digital Print™ 3D Denture Resin

IPN 3D™ Digital Denture Teeth

Lucitone Digital Try-in™ 3D Trial Placement Resin

Lucitone Digital Fuse™ 3-Step system

Lab Speedcure™ Processing Unit
The manufacturer's M-series printers are designed to be used in the case of complete single arch dentures and 2 arches dentures. In terms of workflow, the material and equipment system is used as part of a complete digital process, including cloud-based traceable printing for each denture. 
The Lucitone Digital Print™ 3D Denture Resin enables labs to print up to eight denture arches in approximately two hours. Moreover, dentures should resist breakage because the formula exceeds ISO high impact and flexural strength standards. The formulation is available in five shades to suit patients' needs as much as possible. As for the Lucitone Digital Fuse™ 3-Step system, it will allow technicians of varying abilities and experience to set and fuse up to 14 denture teeth in less than 12 minutes.
This new digital workflow should allow more labs and clinics to meet the increasing demand for these types of products. In fact, SmarTech Publishing's 2018 report showed a 35% annual growth in digital dentistry, reaching $9.5 billion in 2027 – the report takes into account hardware, materials and 3D printed products.
What do you think of Lucitone Digital Print Denture platform launched by Carbon and Dentsply Sirona? Let us know in a comment below or on our Facebook and Twitter pages! Sign up for our free weekly Newsletter, all the latest news in 3D printing straight to your inbox!