Lubrizol Strengthens its Position in the 3D Printing Sector With its Comprehensive Industrial Manufacturing Solution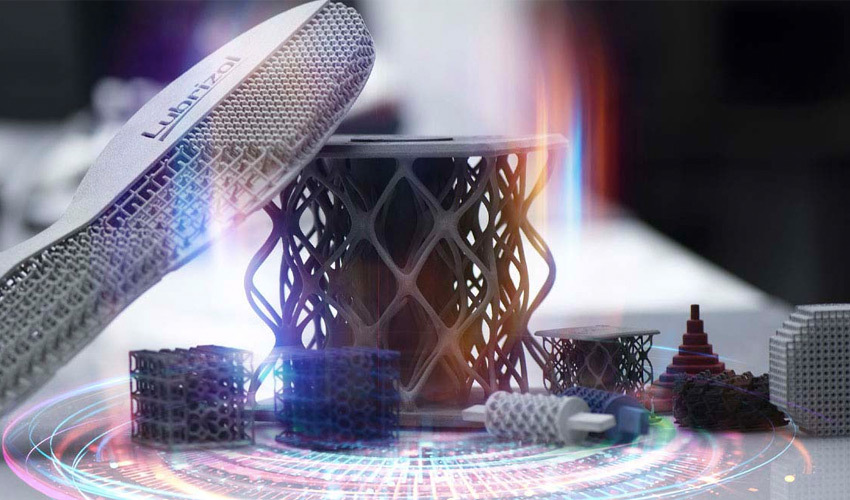 Ohio-based chemical company, Lubrizol, was founded in 1928 and has a strong international presence thanks to its industrial, transportation and life science solutions. The company also has launched a 3D printing division, called Lubrizol 3D Printing Solutions, where the company offers materials, design, and printing for additive manufacturing. Lubrizol 3D Printing Solutions offers end-to-end additive manufacturing solutions, which can help customers accelerate growth and increase the adoption of 3D printing in key industries. By offering complete material, design, and manufacturing solutions, Lubrizol is a trusted partner, supporting customers from ideation through commercialization and production manufacturing.
An important cornerstone of the Lubrizol 3D printing division is the unique and proprietary thermoplastic polyurethane (TPU) material.  The company invented TPU over 60 years ago and has developed grades specifically for FFF and MJF printer technologies.  Lubrizol continued to build upon the TPU foundation with the acquisition of Avid Product Development in 2020. Now it has expanded offerings including full additive manufacturing design, lattice structure design generation, prototyping, mass production, and post-production services.  In addition, the Avid services and manufacturing capabilities are material and technology agnostic. Having all these capabilities internally allows Lubrizol to offer robust and customized solutions for their customers and sets the foundation to grow partnerships with major players in key verticals.
There are many vertical markets targeted by 3D materials and technologies, and Lubrizol's solutions can be found in virtually every field. Within healthcare, the company offers TPU for the development of prosthetics, orthotics, orthopedic devices, protective equipment, and more. In the industrial sector, where applications, like jigs and fixtures, are diverse, Lubrizol's ESTANE® 3D TPUs combines unique performance characteristics, such as resistance to high temperatures and excellent chemical and abrasion resistance in materials that can be, soft and flexible, but also rigid and firm when needed.  In addition to healthcare and industrial, Lubrizol is also involved in several other market sectors that also take advantage of the benefits of additive manufacturing, such as footwear, automotive, consumer goods and electronics.
The company continues to strengthen its presence in the additive manufacturing industry by offering robust solutions to meet the growing demand for industrial scale solutions. David Pascual, global commercial manager for Lubrizol 3D Printing Solutions stated, "Collaboration with partners in all aspects of the additive manufacturing ecosystem is critical to unlock the full potential of 3D printing. At Lubrizol, we believe these types of partnerships allow us to find the best solutions for our customers, starting with the design phase, and we continually look for additional partnerships that bring value to our key markets."
The 3D printing industry is rapidly growing, and this will be on display at the upcoming Formnext 2021, the largest additive manufacturing international trade show.  Lubrizol will be exhibiting at stand no. 12.1 G84. Visit them at the show or check out their website to learn more about the company and how the company can support your growth in 3D printing.
What do you think of Lubrizol 3D Printing Solutions? Let us know in a comment below or on our Linkedin, Facebook, and Twitter pages! Don't forget to sign up for our free weekly Newsletter here, the latest 3D printing news straight to your inbox! You can also sign up for our dedicated, free Formnext newsletter here.
*Cover Photo Credits: The Lubrizol Corporation