Why did L'Oréal invest in additive manufacturing?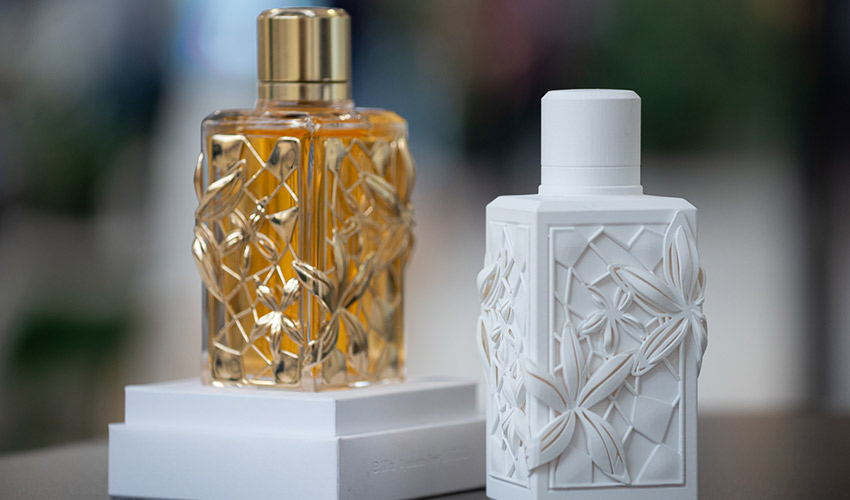 Many industrial groups have relied on additive manufacturing to gain agility, offer more innovative products or lighten production processes that are sometimes too cumbersome. For consumer goods, it brings above all greater customization, a significant advantage since it is now possible to offer tailor-made solutions, which would otherwise be impossible to design. The giant L'Oréal began its interest in 3D technologies nearly 26 years ago to design more innovative packaging. Since then, the French group has diversified its uses and has around 60 3D printers worldwide today. We met with Anne Debauge, Additive Community Leader, and Matthew Forrester, Additive Technical Leader, to understand what additive manufacturing brings to L'Oréal and what its future plans are.
3DN: Can you introduce yourself and your relationship with additive manufacturing?
Matthew: Hi, Matthew Forrester, I'm responsible for deploying additive manufacturing at our sites where the technology can bring agility in the areas of prototyping, industrial tools, direct production, and more broadly where it can create solutions that generate benefits.
Hello, Anne Debauge. My mission is to accelerate the implementation of new technologies to reduce the development time of our products, and within this framework, my role is to lead the entire additive manufacturing community.
3DN: How long has L'Oréal been using additive manufacturing? What technologies have you invested in?
Anne: We bought our first FDM printer at our packaging design site in the US in 1993. Until 2018, our various design centres used additive manufacturing as a subcontractor for the validation of packaging models (make-up boxes, bottles, etc.) and 3 factories were equipped with FDM and SLA machines from Formlabs.
In 2018 we started a programme of digital transformation of our operations based on the observation that our consumers have changed more in the last 3 years than in the last 30 years. The first priority of this programme is to halve our product development time and it is in this context that we have decided to internalise additive manufacturing across all our plants and packaging design centres. We now have 23 equipped factories out of 40 and 100% of our design centers have a 3DLab: Clichy, Chevilly, US, China, Japan, Mexico and India. We have seventy 3D printers covering different technologies – FDM, SLA, DLP and MultiJet.
3DN: What do you make using 3D printing?
Matthew: We make packaging prototypes, furniture prototypes, point-of-sale furniture prototypes, prototype injection molds, quality control tools and spare parts for our factory packaging lines. We also use 3D printing for conformal cooling in our injection moulds and occasionally for make-up powder compaction tools.
Anne : In April 2019, we carried out our first launch of a perfume whose packaging is composed of Jasmine flowers made by laser powder bed fusion: the La Maison Jasmins Marzipane Lancôme collection, a limited series of 50 ultra-luxury, numbered copies.
In the field of bioprinting, we have a Research & Innovation team working on the development of bioprinted skins to make new innovative in-vitro models that will allow the evaluation of our formulas in an even more predictive way than existing models but also to help in the knowledge of normal and pathological human skin.
3DN: What benefits does L'Oréal derive from this use?
Anne: The benefits of additive manufacturing are multiple, both for our internal organization, but also for the commitment of our employees and for our ability to create new experiences for our consumers.
Matthew: In terms of our internal organization, we can now design a product and test its ergonomics during the day. In the technical design phase, we often have several design assumptions to create an assembly or a new feature; we can now make many more assumptions and select the most relevant ones more quickly.
In the factory, the packaging of new formats is more and more frequent. The internalization of the manufacturing of format parts and tooling allows us to be much more agile: a technician can now within a few days design and print a format part, for example to allow the filling of a new bottle design without having to subcontract with longer lead times.
Additive manufacturing gives us the freedom to undertake and create new functionalities: for example, a 2-position bottle conveying bucket so that when we change formats on a packaging line, we don't have to remove and replace 300 bottles.
3DN: What are the obstacles you are facing today with 3D technologies?
Matthew: For industrial-scale production, we are in the infancy of technology, and the choice of materials is very limited today. Our requirements in terms of material safety and environmental preservation (recyclability) are very high. The application cases are therefore limited for the time being. The second brake is the longer manufacturing time nowadays than in plastic injection moulding, which generates additional costs for consumers. But this landscape is changing rapidly, and we are optimistic that this gap will be reduced rapidly.
3DN: What are L'Oréal's future projects?
Anne: Additive manufacturing opens the door to infinite possibilities: it will allow us, tomorrow, to manufacture our packaging in a much more agile way, ever closer to the needs of our consumers. For example, it allows us to manufacture locally, customize our products and create designs that are impossible with traditional technologies.
3DN: In your opinion, what is the future of additive manufacturing in the luxury sector?
Anne: In 2025, we are committed to having 100% of our packaging recyclable, compostable or reusable. At this level, technology offers an ocean of opportunities for personalization.
The number of innovations is exponential in all areas: materials, processes, etc. so we are very optimistic that we will quickly have solutions that are in line with our quality and material requirements.
3DN: A last word to our readers?
Matthew: The mindset maker is growing, we all have the chance to experience the beginnings of the fourth industrial revolution. We have deployed this mindset internally, by building a real network of makers.
Anne : The benefits are impressive, and we have decided to share the fruits of our progress with our counterparts in other industries and with the makers. We are convinced that we need to join forces to invent a better world. You can find more information on our website.
What do you think of l'Oreal's use of 3D printing? Let us know in a comment below or on our Facebook and Twitter pages! Sign up for our free weekly Newsletter, all the latest news in 3D printing straight to your inbox!
Don't forget that we have a webinar coming up on the 26th of February focusing on how to adopt additive manufacturing for your projects! You can sign up for free as of today HERE.