Top 5 Videos: Lockheed Martin Using 3D Printing for Aerospace Project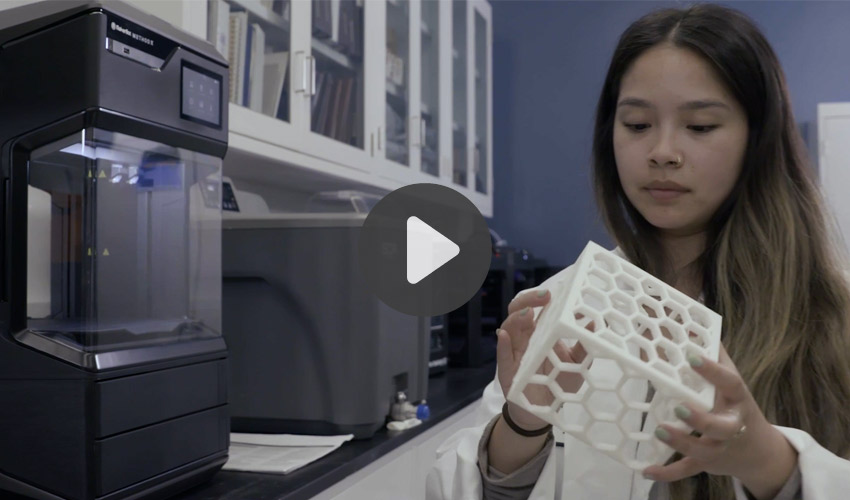 In this week's video compilation, discover how Lockheed Martin uses additive manufacturing in its lunar rover project—employing the Method X 3D printer, the company can improve its entire design, development, and testing process, gaining agility and efficiency. Among the other videos, you will also discover how one can design a boat hull from plastic waste and a robotic arm. You will also be presented with the new nesting solution from Sintratec. In any case, we wish you a very good Sunday!
Top 1:

Lockheed Martin & Makerbot
American defense contractor Lockheed Martin, specializing in security and defense, regularly uses additive manufacturing to design various tools and prototypes for the autonomous lunar rover project that could be used by NASA. In particular, it has invested in a Makerbot Method X, a machine that is now compatible with a wide range of thermoplastics, in particular nylon loaded with carbon fibers. Thanks to 3D printing, Lockheed Martin teams can design, develop and test different ideas much more easily and quickly. They thus manufacture boxes, sensor supports, and various made-to-measure parts:
Top 2: Henkel Elastomers
Additive manufacturing has been used in the automotive sector for many years now, whether to produce custom parts, lighter components, or even tools to increase productivity. KTM E-TECHNOLOGIES, for its part, has decided to use it for the interior of its new electric vehicle. Using DLP technology and materials from Henkel, it designs pads for the car seat, improving driver comfort. The parts have a lattice structure and are printed in one go thanks to the generous print volume of the resin machines  used:
Top 3: A Boat 3D-Printed from Plastic Waste
Caracol is an Italian 3D printing service that puts sustainable development at the heart of its values. He started a collaboration with Maire Tecnimont to characterize 3D printing materials from plastic waste from their MyReplast Industries plant. Concretely, Caracol was able to 3D print various parts using his robotic arm. The most recent project is the creation of a boat hull: from waste, the teams designed a part capable of floating and taking to the sea. We let you discover the different stages of the project:
Top 4: "Sky is the limit"
Virgin Orbit is an American company specializing in the orbital launching of small loads. The company has been working with DMG Mori for several years and has invested in hybrid manufacturing machines. Using additive and subtractive methods, it can produce better rockets, all 10 times faster for 5 times cheaper. Concretely, DMG Mori's machines allow it to reduce the number of components of a rocket, which then increases its reliability and safety. Virgin Orbit is also able to considerably reduce the weight of certain critical parts:
Top 5: More Efficient 3D Printing
3D printer manufacturer Sintratec unveils its own nesting solution to improve the efficiency of your printing process. The software is based on a powerful algorithm that makes it possible to arrange the arrangement of the rooms in your bin. No need to worry about arranging the rooms in such and such a way, everything is done automatically. We let you discover this new solution in pictures:
What do you think of this week's compilation of videos? Let us know in a comment below or on our Facebook and Twitter pages. Don't forget to sign up for our free weekly newsletter, with all the latest news in 3D printing delivered straight to your inbox!