LEGO Has Unveiled a 3D Printed Duck Toy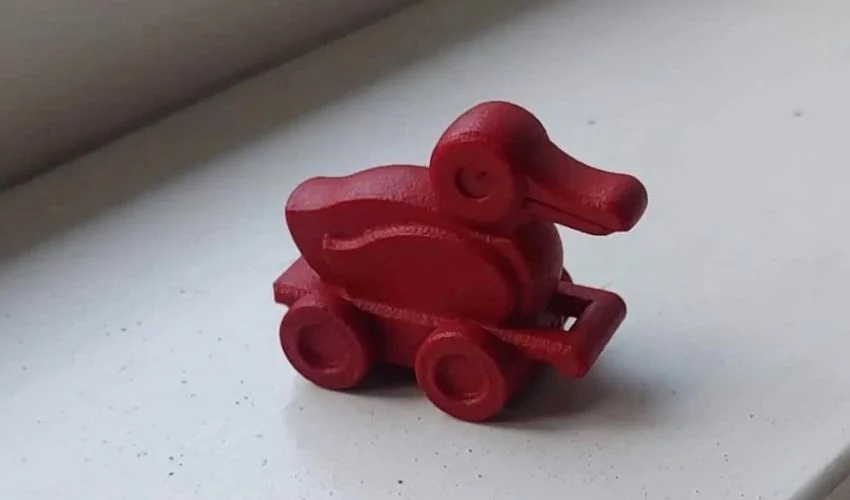 You have almost certainly heard of LEGO. These iconic toys comes in all colors, shapes and themes and are found all over the world! Whether making cars, houses or rocket ships, the iconic toy has shaped entire generations and is still as relevant today as ever. At a recent LEGO House event aimed specifically at adult LEGO fans, they were able to marvel at the second part officially made by LEGO using 3D printing. This 3D printed piece is a duck that is an exact replica of a highly sought-after collectible, the 40501 The Wooden Duck from 2020.
Originally, the LEGO part The Wooden Duck is, as the name probably suggests, a duck figure made of wood, which contains a total of 621 parts. Measuring about 28.5cm x 26cm x 7.5 cm, it can be moved thanks to the attached cord even by means of the wheels attached to the bottom. Similar to the wooden duck from 1935, the LEGO duck can also open and close its beak when pulled by the string. To give visitors to the LEGO House event a sense of how retrospective children's toys and modern technologies like 3D printing can come together, each of them was given a 3D-printed duck. Ronen Hadar, Senior Director Additive Design and Manufacturing at LEGO, was visibly pleased with the innovative result commenting: "The team has been working hard to develop, approve and manufacture this super cool element, in collaboration with our talented designers. This is an important milestone for the team. We are looking forward to share more news with you in the coming future."
Using 3D Printing For the Lego Duck
Usually, the wooden duck used a wire that makes the mechanism work, but in its 2020 release, it was replaced with a combination of LEGO Technic elements. Nevertheless, these functions of the mechanism are also used in the small 3D-printed duck, just on a much smaller scale. For the production of the small duck, powder bed fusion was used, making the toy in one piece. This is the second part as already in 2019, the first official 3D-printed LEGO part was released, an arm of a drawing machine within a LEGO part, which is altogether a part of the illustration of the opening ceremony of the System House, which was built in 1959 in Billund as an office.
The main reason why the Danish-based company decided to use additive manufacturing relates particularly to the manufacturing method, as this of the ducks was a very small quantity. While the surface quality is lower than when using injection molding, 3D printing also allowed the functional capabilities to be maintained. However, it is not certain that the 3D printed duck is merely a temporary part and not a mass-produced one.
What do you think of LEGO's 3D printed duck? Let us know in a comment below or on our LinkedIn, Facebook, and Twitter pages! Don't forget to sign up for our free weekly Newsletter here, the latest 3D printing news straight to your inbox! You can also find all our videos on our YouTube channel.
*All Photo Credits: LEGO