A LEGO 3D Bioprinter Could Make Biomedical Research More Accesible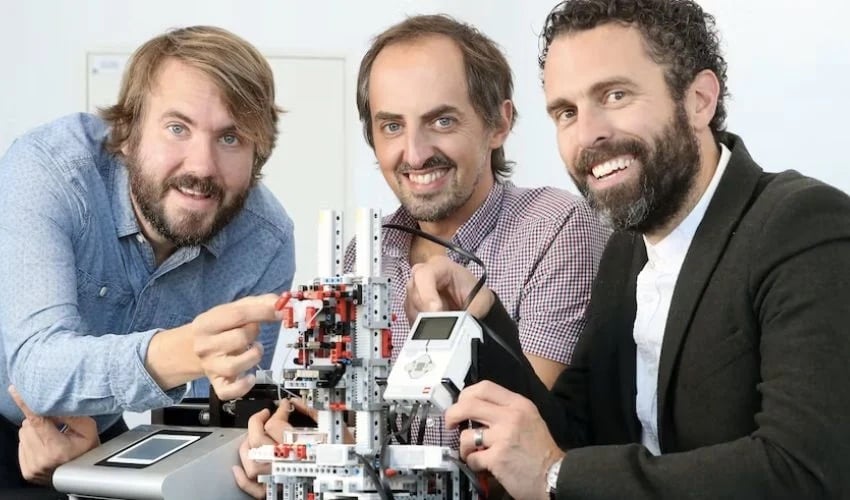 Researchers at Cardiff University have made a LEGO 3D bioprinter that is capable of printing human tissue such as skin according to a study in Advanced Materials Technologies. The team has made their model open source and hope to have it adopted by biomedical researchers around the world and thus help advance research despite often limited financial resources. More specifically, they have outlined the exact methodology, a sharp contrast to most research which puts a premium on protecting intellectual property, to enable anyone to make this printer.
Bioprinting is not new, but the price of printers capable of producing human cells is a notable deterrent, often amounting to several hundred thousand euros, especially for research teams that do not have a large budget. Yet researchers need human tissue samples to study diseases and develop treatments. To counter this problem, a team of researchers in pharmacy and pharmaceutical sciences at Cardiff University has built a 3D bioprinter made entirely out of LEGO.
This is the first time that a machine built with LEGO has been able to print human tissue. LEGO bricks were chosen because they have the advantage of being accurate, versatile and inexpensive. Once completed, the researchers put their bioprinter to the test by printing human skin cells, specifically hydrogel droplets (a gel typically made of polymers in which the blowing agent is water) containing viable human skin cells. The bio-ink droplets are generated microfluidically and contain living keratinocyte-like skin cells. These structures lay the foundation for a three-dimensional artificial skin model.
A More Accessible Bioprinter Made From LEGO
As mentioned, a key component of the project is that the researchers made their plans open source, with plenty of explanation. This was done with the goal of making it easier for research teams around the world to access bioprinting at significantly lower costs. "We set out to create a bioprinter that anyone can build, with minimal funds and that's exactly what we have achieved. Our paper intentionally details every element of the build, including the specific LEGO parts used, as well as its capability, so that it can be easily replicated in any lab, anywhere in the world," explains Dr. Sion Coulman, Senior Lecturer at Cardiff University.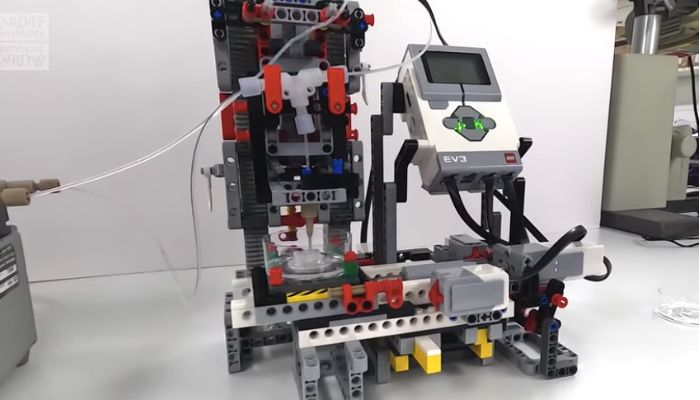 "We've demonstrated that, despite being constructed from an inexpensive and simple construction tool, this bioprinter is highly engineered and achieves the required level of precision to produce delicate biological material without any compromise in its performance," further adds Dr. Oliver Castell, Serious Brain Power Early Career Researcher and Senior Lecturer.
Cardiff University researchers hope their LEGO 3D bioprinter will contribute to research advances in disease understanding, tissue design and repair, and make it possible to personalize medicine via the printing of patients' cultured cells. The team has already begun research aimed at printing viable skin models via its new machine. These models should make it possible to test treatments for skin diseases and skin cancer. Testing of skin grafts is also being considered.
"As with all 3D bioprinting, there are more studies to be done to look at developing the cell compatibility and viability of bio-inks. By making our printer readily available, we hope researchers will adopt this technology to share expertise and develop the model with additional LEGO components for the benefit of the entire biomedical research community," concludes Dr. Oliver Castell.
For more information, you can see the dedicated article on the Cardiff University website as well as the full study in the journal Advanced Materials Technologies.
What do you think of this 3D bioprinter made entirely out of LEGO? Let us know in a comment below or on our LinkedIn, Facebook, and Twitter pages! Don't forget to sign up for our free weekly Newsletter here, the latest 3D printing news straight to your inbox! You can also find all our videos on our YouTube channel.
*Photo Credits: Cardiff University