What Are the Top Laser Engravers Currently Available on the Market?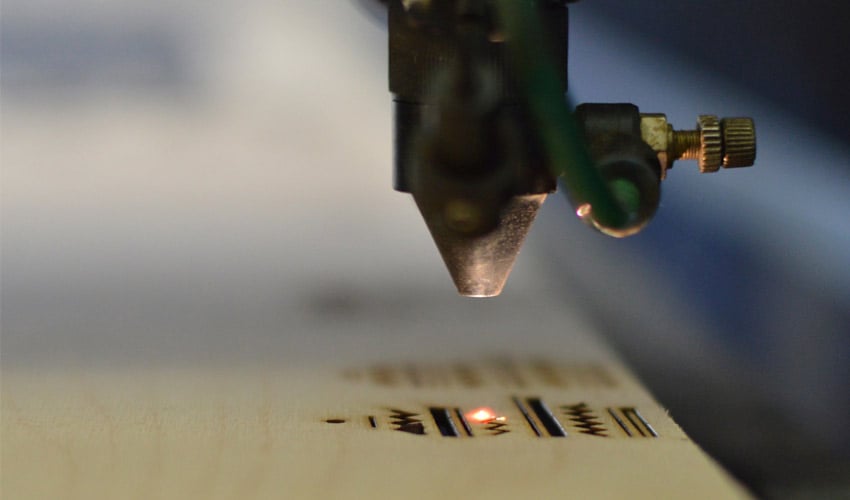 A laser engraver is a machine that reproduces a shape (symbol, photo, logo, etc.) on a variety of materials using a heat source – a laser in this case. In concrete terms, the laser heats up wood, metal, leather or glass, and under the effect of the temperature, the material is hollowed out, obtaining the desired shape point by point. Unlike 3D printing processes, this is a subtractive manufacturing method that is combined with additive manufacturing on some machines. Indeed, there are more and more hybrid solutions that offer different manufacturing features – engraving, cutting, or milling.
Three types of lasers are generally used on these engravers: gas, fiber optic or crystal. The choice of laser depends on the material that will be engraved. For example, the fiber optic laser is more powerful and will be more suitable for metals and more resistant materials. On the other hand, the gas laser (using CO2 in this case) is used more for standard plastics – it is the most widespread on the market. Generally speaking, the power of the laser will determine the performance and precision of your laser engraver. Faced with these various options, which laser engraver should you choose? We have selected a few desktop machines that could help you in your search as well as hybrid solutions that will also offer the possibility to 3D print your parts. Be sure to follow the safety instructions provided by each manufacturer – wearing protective eyewear, for example, is mandatory.
Laser engravers
Ortur Laser Master 2, the DIY Laser Engraver
Dongguan Ortur Intelligent Technologies Co, Ltd. is a Chinese manufacturer and creator of the Ortur brand. You may have already come across it in the 3D printing world as the company develops desktop FDM 3D printers. It is also behind the ORTUR Laser Master 2 laser engraver, a machine that offers a 400 x 430 mm workspace.
The user has to assemble the machine themselves from 4 aluminum profiles and two motors that will form the frame of the laser engraver. According to the manufacturer, this should not take more than 20 minutes. 3 laser modules are offered depending on the desired power – 7W, 15W, 20W. The machine is available from $295.99 on Gearbest.
Vevor 5550W
The manufacturer Vevor has developed a wide range of laser engravers to meet the different needs of the market. We will focus on the Vevor 5550W, a laser engraver that offers a working space of 395 x 285 mm and a 5.5W laser. Its frame is made of aluminum alloy and acrylic plate, which makes it light and durable. The solution is compatible with Windows and easy to handle. The manufacturer specifies that it is not made to engrave hard materials; it will be more suitable for processing plastics, aluminum, wood, acrylic, PVC, PCB.
GanGou Laser Engraver
The laser engraving solutions developed by GanGou are ideal for any user new to the field. With a working area of 175 x 155 mm, the machine offers a positioning accuracy of 0.01 mm and a 3,000 mW laser. Compatible with Windows only, it can engrave wood, leather, plastic and rubber. Laser power and speed are adjustable as needed, and the machine, available in kit form, comes with a one-year warranty. You can buy it on Amazon from $290.00, excluding shipping costs.
Neje Master 2S, a portable laser engraver
With a working area of 170 x 170 mm, Neje Master 2S is one of the smallest laser engravers in our selection. It is also a portable machine that is easy to handle. It offers a laser power of 5.5 W and can engrave a wide variety of materials except metal, glass, stone or ceramic. The laser engraver is controlled via a mobile app that is available on Android and iOS. Finally, it is a very affordable solution, available from $189.00.
.
L1 Pro from LaserPecker
We remain on the subject of portable laser engravers with the L1 Pro from LaserPecker. The machine is a Plug&Play solution compatible with materials such as wood, plastic, leather or cardboard. With its dimensions of 65 x 61 x 53 mm and its weight of 190 grams, it is very convenient to carry. The manufacturer claims that the laser has a lifetime of 10,000 hours which would allow to work for 416 days continuously. The L1 Pro has a self-adjusting mount that focuses in seconds. Built-in sensors measure the distance between the laser and the object being engraved and automatically adjust the height to ensure the focal point is at the right distance. Finally, the user can control and adjust the machine from the dedicated mobile app. Still, count on a little over $500 for the machine.
Hybrid machines
DOBOT Mooz 2 Plus
The DOBOT Mooz 2 Plus is a 3-in-1 manufacturing solution: it acts as a 3D printer, CNC milling machine and laser engraver. It is entirely made of aluminum alloys, giving it a certain stability and a sleek design. It is a modular machine that you can assemble in only 10 minutes according to the manufacturer. As for technical specifications, the Mooz 2 Plus is equipped with a 1.6 W laser capable of engraving wood, bamboo, plastic, paper or leather. As for the printing volume, it is 200 x 200 x 190 mm, allowing the user to create parts with standard thermoplastics like PLA or TPU. Expect to pay at least $799 for this machine.
The Mega Pro printer offers a laser engraver
You are most likely familiar with the manufacturer Anycubic for its accessible and easy-to-use FDM 3D printers. Among its line of machines is the Mega Pro, a 3D printing solution that also offers laser engraving functionality. With a print volume of 210 x 210 x 205 mm, it has a 220 x 140 mm² workspace for the laser engraver and is compatible with paper, wood or leather. The pixel size is 0.05-0.4mm and the laser height is between 1 and 100mm. It is an ideal fabrication tool for beginners or the more experienced, available from $329.
Snapmaker 2.0
First introduced in 2017 on Kickstarter, the Snapmaker machine has several features: it is an FDM 3D printer that features laser engraving/cutting and CNC sculpting options. Thanks to its interchangeable modules, users can easily switch out the build head and design any type of project. The 1,600 mW laser diode will handle a wide variety of materials such as paper, plywood, leather, cardboard, fabric, and even some food. Three models are now available depending on the volume of printing required. The laser has a built-in camera to easily preview the object. Finally, the machine has an aluminum vacuum table to avoid damaging the plate once the engraving process has started. Expect to pay at least $1,799 for the Snapmaker 2.0 for the largest size.
Do you use a laser engraver solution? Let us know in a comment below or on our Facebook, Twitter and LinkedIn pages! Sign up for our free weekly Newsletter here, the latest 3D printing news straight to your inbox!