Las Vegas Raiders stadium torch, the world's tallest 3D printed structure?
Published on September 24, 2020 by
Aysha M.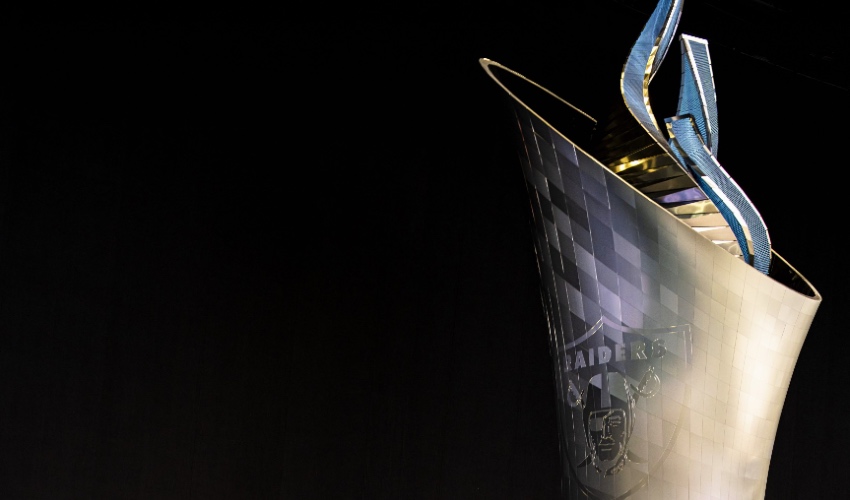 Dimensional Innovations is a Kansas-based design, technology, and fabrication firm with a national presence. Using a large-scale additive manufacturing solution developed by Thermwood Corporation, Dimensional Innovations was able to build a 93 feet tall structure. Unveiled a couple of days ago, the 3D printed piece is installed at the new stadium of Las Vegas Raiders, a National Football League (NFL) team, formerly known as Oakland Raiders. For the moment, the impressive Las Vegas Raiders stadium torch is considered to be the tallest additively manufactured structure in the world!
The giant 3D printed structure is actually a Memorial Torch commemorating the team's manager of 39 years. Al Davis was an American football coach and the principal owner and general manager of the Oakland Raiders from 1972 until his death in 2011. The 3D printed Al Davis Memorial Torch is nine-stories tall; it was installed at the newly built Allegiant Stadium, located in a town called Paradise in the state of Nevada. Reportedly, it took about 50,000 hours in total to design, manufacture and erect the impressive installation.
Justin Wood, Sports Practice Director at Dimensional Innovations, says: "Al Davis maintains a significant and lasting influence on the Raiders organization, so we knew his legacy needed to shine bright at their new stadium in Las Vegas. Building the torch was a significant undertaking and one we knew was important to get right. We're thrilled with the final result and the homage it pays to Mr. Davis."
The 3D printed torch consists of as many as 225 additively manufactured blocks. The pieces were 3D printed on a large format LSAM machine that Dimensional Innovations acquired for $2,2 million from Thermwood last year. As for the material used, the company went with carbon fiber-reinforced polycarbonate composite for this project. In fact, more than 100,000 pounds of raw material were needed to fabricate all the blocks, with each one weighing approximately 350 pounds.
Tucker Trotter, CEO of Dimensional Innovations, commented, "Our team has worked relentlessly over the past year to develop, print, fabricate, test and install the memorial torch to ensure it conveys the symbolic flame that burns brightest in the Raiders organization. The enormity of the torch, both physically and ideologically, will carry on the memory of Mr. Davis for years to come and we're proud to have played a part in that."
What do you think about the 3D printed torch for Las Vegas Raiders stadium? Let us know in a comment down below or on our Facebook and Twitter pages! Don't forget to sign up for our free weekly Newsletter, with all the latest news in 3D printing delivered straight to your inbox!