Kumovis on Decentralizing Production of Plastic Medical Devices and Implants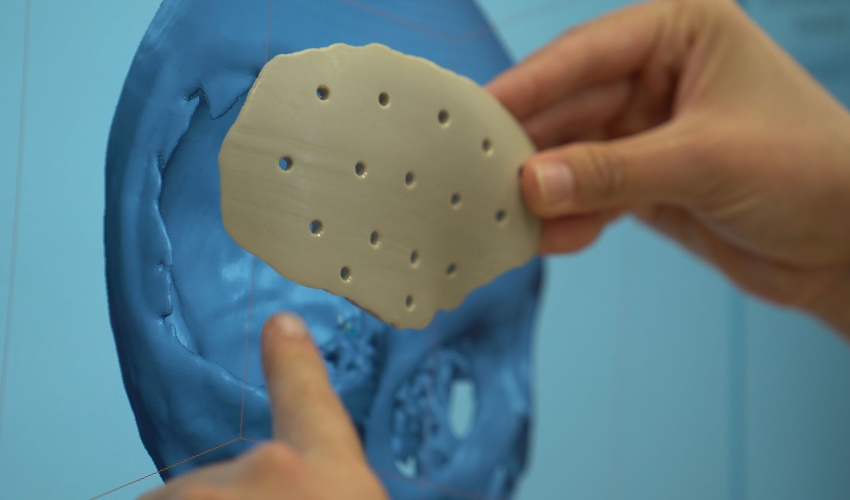 Those who have been following our news for a while will certainly be familiar with the startup Kumovis. Because in 2018, only one year after its founding, Kumovis was already among the winners of the Formnext Startup Challenge. A year later, the young company was able to unveil its first own 3D printer, the Kumovis R1, which was developed specifically for industrial and medical applications. But what exactly sets the Munich-based company apart? What is its mission? And what challenges did it have to overcome? We spoke with Miriam Haerst, co-CEO of Kumovis, to get to the bottom of these questions.
3DN: Can you briefly introduce yourself and your connection to 3D printing?
My name is Miriam Haerst and I am co-CEO of Kumovis GmbH. I first came into contact with 3D printing during an internship at university. That was in the field of developing patient-specific hearing aids. After my doctorate in plastics processing for medical technology, the idea to co-found Kumovis developped.
3D printing is a key technology for the healthcare sector, enabling patients to receive the best possible, individualized care. To meet this demand, Kumovis has specialized in the development of industry-specific 3D printing solutions for medicine. Since the launch of its proprietary 3D printer, Kumovis R1, Kumovis has been helping medical technology companies and hospitals to manufacture medical devices that bring significant added value to themselves and their patients.
3DN: Kumovis was founded as a start-up in 2017. How did the idea for it come about?
We founding members of Kumovis met at the Technical University of Munich. At the time of the company's founding, there was no 3D printer that could, for example, additively manufacture a cranial implant from high-performance plastics in such a way that it could withstand industry-standard stress tests. So, together with four colleagues, I took the development of such a machine into my own hands. With such challenges as development drivers, Kumovis succeeded in introducing the world's first 3D printer with an integrated clean room to the medical technology market two years after the company was founded. The foundation for the decentralized manufacturing of medical products had been laid – in the form of the Kumovis R1.
3DN: You are focusing on 3D printing in the medical field. What is particularly important to keep in mind here?
The medical devices that the users of Kumovis R1 are currently developing in cooperation with us usually come into close contact with the human body. The applications currently range from patient-specific skull implants and spinal implants to drilling and sawing templates for complicated surgical procedures. Especially with regard to 3D printing in hospitals, aspects such as biocompatibility, documentation – from the choice of material to the process – and quality management play an overriding role.
In addition, regulatory uncertainties are an issue when it comes to innovative medical devices and their manufacturing. The EU Medical Device Regulation (MDR), which has been in effect since May 26, 2021, has already caused turmoil in the industry in recent years in regard to placing medical products on the market. The FDA in the USA, on the other hand, has already provided a little more clarity with regard to additively manufactured medical devices. In order to drive innovation here in the most resource-efficient way possible, more than an industry-specific 3D printer is needed. That's why we also support our customers beyond that, with a holistic approach: if required, this ranges from design optimization to material selection and process qualification to regulatory aspects.
3DN: In 2019, you were able to launch your first 3D printer, the R1. What are the product features that distinguish it?
Kumovis R1 is an open filament system based on the fused layer manufacturing process. It can be used to process more than eight high-performance plastics from different manufacturers for medical applications. Kumovis thus enables the 3D printing of medical products with materials such as PEEK, PEKK or PPSU without having to forego the familiar mechanical properties from conventional manufacturing – for example injection molding.
The 3D printer is equipped with an air flow that enables the build space to be heated homogeneously to up to 250 degrees Celsius. This is the only way to achieve the mechanical properties of the subsequent medical product in 3D printing that I just mentioned. In addition, local temperature management can be used to influence the fusion of the layers individually. This is necessary, among other things, to make it easier to remove support structures from the component, which in turn saves post-processing time.
Kumovis R1 is the only FLM 3D printer with an integrated cleanroom and has been specially developed for medical technology. Specifically, this means that the built-in filter system in the installation space of the Kumovis R1 creates a cleanroom environment. Contamination during 3D printing can thus be avoided – ideal conditions for an application at the point of care. In addition, the 3D printer is suitable for production in existing cleanrooms, not least because of its design.
3DN: Why did you decide to use high-performance polymers such as PEEK, PPSU or PLLA in additive manufacturing? What are the advantages and disadvantages of these materials?
The founding team's fields of study, including plastics and medical technology, initially played a role. The fact that high-performance polymers such as PEEK have long been established in medicine was another reason for the decision. But what tipped the scales were, among other things, the advantages of these materials over metals.
These are, for example, the mechanical properties of various polymers. They are more similar to human bone. With regard to their radiolucency, plastics offer advantages in imaging. And last but not least, the risk of allergies is lower, which prevents second operations. In addition to these properties, cost-effectiveness naturally plays a role: by using our technology and the material PPSU, the return on investment can be increased by up to 20 percent.
When it comes to the osseointegration of an implant, i.e. its potential to allow bone ingrowth and thus improve stability and nutrient transport, titanium is currently still the material of choice. But Kumovis is also working on solutions in this area. The first developments with a view to surface functionalization of medical plastic products are promising.
3DN: Any last words for our readers?
Additive manufacturing has long since outgrown the production of anatomical models and surgical instruments. Whether in industry or the hospital, personalized and functionalized implants made of PEEK and other plastics will come from the 3D printer in the future. Decentralized and resource-saving.
*Cover photo credit: Bayern Innovativ | Kumovis
You can find out more about Kumovis at their official website HERE. What do you think of Kumovis? Let us know in a comment below or on our Facebook, Twitter and LinkedIn pages! Sign up for our free weekly Newsletter here, the latest 3D printing news straight to your inbox!