The KOKONI SOTA 3D Printer Uses AI and Prints Upside Down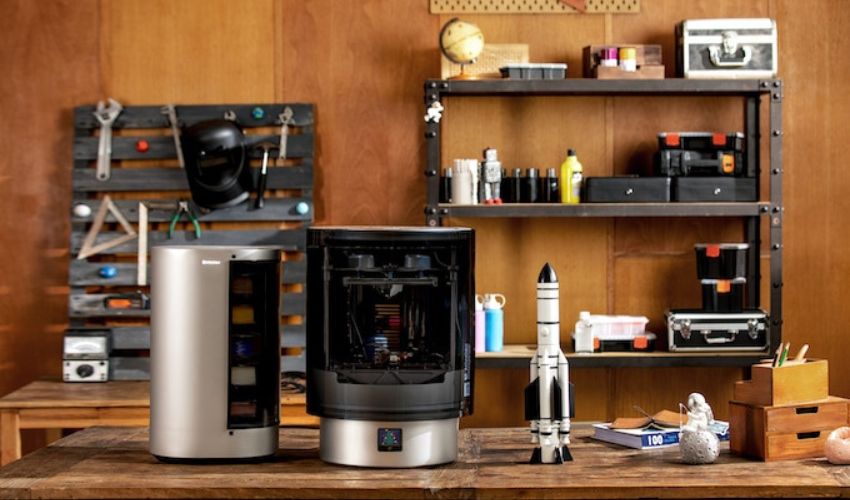 Though additive manufacturing is rapidly industrializing, it is important to not forget that so many of the innovations we have today were a direct result of the RepRap movement that started in 2005 (and continues to this day). Furthermore, that drive to improve 3D printers at the most basic level still continues both through established companies but also the new. Notably, through forums like Kickstarter. And yet another intriguing project has been announced: the KOKONI SOTA 3D printer.
This new solution comes from Hong Kong-based CreaTech brand KOKONI. Officially started in 2021, the company seeks to make products that can "empower people's creativity" through the combination of 3D printing and AI. They are especially committed to making 3D printing more accessible and easy to use in order to help lower the barriers of adoption which in their view are preventing 3D printers from becoming a truly transformative tool. Their first 3D printer, KOKONI-EC1, was released in 2022 and was notably for its instant AI 3D modeling, with over 20,000 units ultimately delivered. The KOKONI SOTA 3D printer was launched on Kickstarter this year and has already more than attained its $50,049 goal, with 730 backers committed to pledging about $648,707 with 43 days to go before the end of the campaign. KOKONI claims that it is 10X faster than conventional consumer-level 3D printers and can print with up to 7 colors.
What Is Special About the KOKONI SOTA 3D Printer?
But why are so many people interested in this new printer? Well there could be a few reasons. For one, it is compatible with KOKONI's own AI software. Users can create models on the AI-powdered KOKONI APP while advanced AI Radar Detection and error compensation will allegedly help to deliver flawless prints. Indeed, KOKONI claims that the SOTA has unparalleled precision with the margin of error less than 0.1 mm. With the conversation around AI more animated than ever more (just look at the reaction to ChatGPT), that almost definitely is a factor around the KOKONI SOTA's buzz.
But there are actually other features that make this 3D printer unique. Including a factor that may seem mundane to most: the direction in which it prints. You see, though this particular printer uses fused filament fabrication (FFF) as its main technology, it actually prints "upside-down." Normally, with FFF 3D printers, the print bed moves down during the printing process until the final part is made. By contrast, the KOKONI SOTA works by having an extruder on the bottom while the 200x200x200 mm build plate moves up, more similar to photopolymerization processes.
This is possible because moving parts like motors and rails are securely mounted to the bottom base of the printer. And the design is not purely aesthetic either, by turning the 3D prints upside, SOTA apparently is able to achieve close-to-zero vibration thanks to a lowered center of gravity which in turn increases the stability and printing speed, an astonishing 600 mm/s and acceleration of 21 m/s2  allowing for most prints to be completed within an hour.
Adding onto that, it is also possible to print with color, notably with the accommodation of bi-color filaments though the addition of a filament tower will allow it to handle up to 7 colors and materials in one print. Though the combo for only about $200 more ($899 for the combo compared to $699 for just the printer). This and more, leads us to expect the printer to be one to watch out for in a year already dominated by the success of Bambu Lab. You can learn more about it in the Kickstarter HERE or check out the benchy test below.
What do you think of the KOKONI SOTA 3D printer? Will you back the startup? Let us know in a comment below or on our LinkedIn, Facebook, and Twitter pages! Don't forget to sign up for our free weekly Newsletter here, the latest 3D printing news straight to your inbox! You can also find all our videos on our YouTube channel.
*All Photo Credits: KOKONI