KAV Has Launched a Kickstarter Campaign For 3D Printed Bike Helmets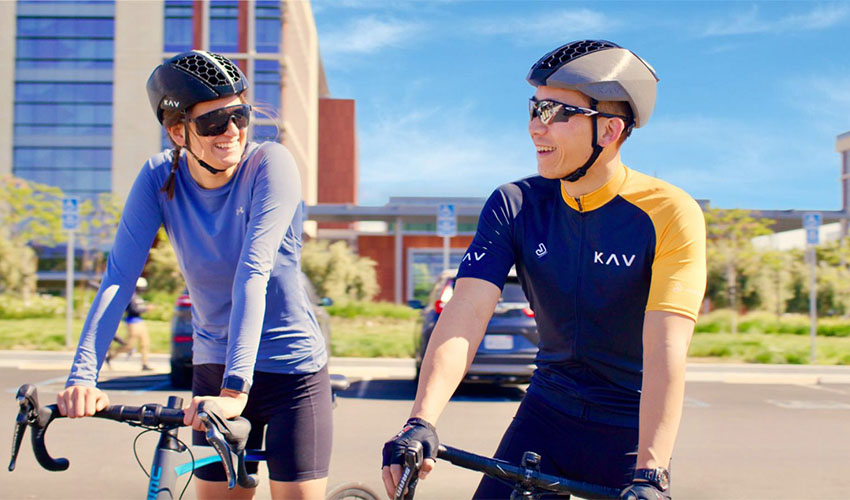 For quite a few years now, 3D printing has been used in sports. Used for various applications, mainly to manufacture protective gear, additive manufacturing has repeatedly demonstrated the vast possibilities that it can offer to athletes. In American football, cycling and ice hockey, 3D printed equipment is becoming increasingly popular. For example, in 2020, three Chinese designers 3D printed a bicycle helmet based on the Voronoi diagram. In the same vein, the company KAV has also developed a bicycle helmet designed via additive manufacturing and this week launched a kickstarter campaign to finance it.
KAV is no stranger to 3D printed sports equipment. The Silicon Valley-based company, which focuses solely on cycling and ice hockey, offers 3D printed helmets and accessories for hockey players on its website. And to round out its product line, the company will soon offer custom helmets for cyclists. Whitman Kwok, CEO of KAV, explains, "Despite a market where every aspect of the cycling from gearing to saddle position is tuned for maximum performance, cyclists have had to settle for a few sizes fits all mentality to protect the most important part of the body. The KAV Bike Helmet continues our tradition of creating a helmet that's uncompromising in performance and protection, made possible by our made-to-measure fabrication technology. My KAV replaces and bests my previous aero helmet and my vented road helmet while the additional occipital coverage is perfect for providing extra protection for my gravel adventures."
What makes up the KAV helmet?
Designed using a proprietary polymer and an FDM 3D printer, the bike helmet, according to the manufacturer, not only absorbs impact but also maximizes airflow around the head. The polymer in question is a blend of TPU, which is very light, and would therefore limit impact. Still according to KAV, the helmet should weigh less than 300 grams (about .66 lbs) and would be printed with a machine offering a precision of 50 micrometers.
In order to obtain a helmet adapted to the head size of the customers, KAV proposes a fitting kit which allows users to take their measurements. By focusing on custom manufacturing, the American company avoids producing surplus helmets, and reduces, in its own way, the environmental impact of the manufacture of sports equipment. This is another innovation in the cycling industry, echoing Specialized's 3D-printed optimized saddles or HEXR's 3D printed helmets. Currently the kickstarter has made €23,040, greatly surpassing the €8,248 goal with 88 backers. You can find more information about the campaign HERE.
What do you think of these 3D printed bike helmets? Let us know in a comment below or on our Facebook, Twitter and LinkedIn pages! Sign up for our free weekly Newsletter here, the latest 3D printing news straight to your inbox!
Thumbnail Photo Credits: KAV