Jimmy Choo & Nagami Exhibit 3D-Printed Luxury Furniture Collection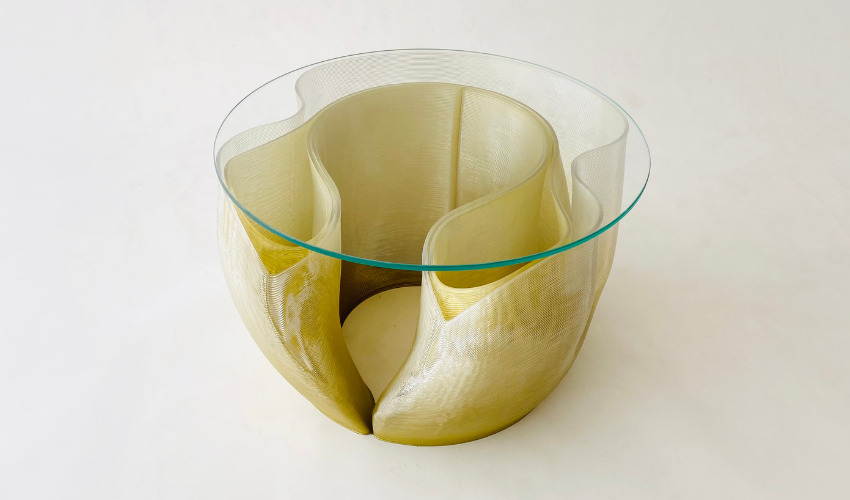 Luxury accessories brand Jimmy Choo and innovative design brand Nagami have come together to showcase a collection of two exclusive furniture designs at Salone del Mobile in Milan—an international furniture and design tradeshow with exhibitors from countries around the world. The collection is called 'Liquid Gold' and the two pieces of furniture were created using large-format 3D printing. The Liquid Gold collection includes a gilded low coffee table and a golden display cabinet. This is yet another grand display of how 3D furniture printing is revolutionizing the interior design industry.
Nagami is a Spanish brand with the mission of exploring the future of product design in a new technological era. Founded by Manuel Jiménez García, Ignacio Viguera Ochoa, Miguel Ángel Jiménez García, the Nagami team aims to bring 3D printing and robotic manufacturing applications to large-format products, with a high level of customization. For the Salone del Mobile in Milan tradeshow, Nagami has collaborated with the world-renowned Jimmy Choo brand to develop this original and luxurious collection of furniture through additive manufacturing. Through the project, both companies demonstrate the potential of research and innovation in the design and development of large-scale projects.
Jimmy Choo x Nagami
To develop the Liquid Gold collection, Nagami used its robotic arm-based 3D printing technology. In terms of materials, they turned to 100% recycled plastics, showing the company's commitment to the environment, as well as the importance of the union between design, technology, and sustainability. In addition, the Nagami team comments: "Both designs are inspired by organic movements and elements of nature. The unique golden hue is a tribute to Jimmy Choo's glamorous aesthetic, going from solid and shiny to transparent and ethereal, creating a constantly surprising atmosphere."
The surface of the coffee table is intended to reflect the constant movement and evolution of nature. This inspiration can also be seen in the display case, built on two liquid-shaped surfaces that seem molded by the wind. Given the importance of embracing new technologies to materialize innovative products, both brands have pushed the limits of the imagination to previously unexplored territories. Nagami's exclusive collection will be displayed at the Jimmy Choo store located in the heart of Milan's fashionable shopping district.
What do you think of this Jimmy Choo x Nagami furniture collaboration? Let us know in a comment below or on our Facebook and Twitter pages. Don't forget to sign up for our free weekly newsletter, with all the latest news in 3D printing delivered straight to your inbox!
Photo Credit: Nagami