Japanese online platform sells fully 3D printed jewelry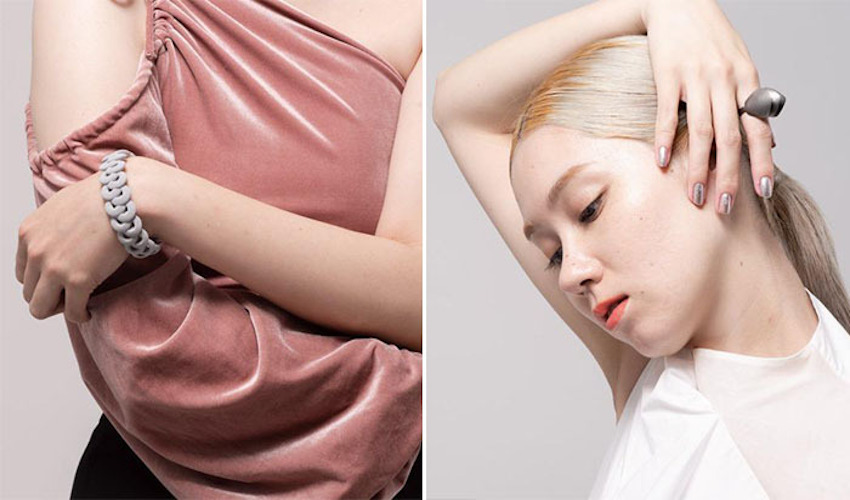 By now we already know that one of the biggest advantages of 3D printing is that it allows almost limitless freedom of design. And who is enjoying it the most if not fashion designers? Finally having an opportunity to create endless varieties of shapes and forms, fashion designers are truly taking advantage of additive manufacturing technologies. For instance, we have written about a 3D printed Proximity Dress that literally creates a physical barrier when a person is detected in the immediate surroundings of the wearer, very suitable for COVID times. Today we are going to take a look at Septem, a Japanese online platform that sells fully 3D printed jewelry and accessories created by designers from all over the world.
Additive manufacturing has been employed in fashion industry for more than a decade now. The versatility of 3D printing enables not only creative freedom but also efficiency – designers can save time cutting and assembling elements by simply 3D printing entire pieces at a time, thus skipping some of the most time-consuming steps of the conventional jewelry-making process.
Septem was established by Akiko Ide in 2019 in Tokyo. In a short period of time the company has already managed to commercialize the works of well-established designers from different parts of the world such as Australia, Italy, Sweden, and recently, the United States. Septum requires that the designers send only their STL files, instead of actual products, then the company 3D prints the accessories locally and on-demand. Thus, there are no actual imports and no inventory, which naturally results in lowers costs.
By avoiding inventory stocking, mass producing items and mass disposal, the company is following its long-term vision of reducing waste and environmental pollution. Akiko Ide made it clear that the company aims to be as sustainable as possible, which is one of the main reasons for choosing 3D printing technology. By 3D printing everything locally and on-demand, the amount of waste drops significantly – no excessive water consumption, and carbon emissions from manufacturing are eliminated.
One of the latest additions to Septem's collection are the designs by Lada Legina. The California-based designer normally used biodegradable and recyclable materials, such as recycled coffee grounds or algae, which results in affordable jewelry without the environmental footprint of traditional fast fashion production, which is one of the major polluting industries in the world. However, aiming to make the most of Legina's vibrant designs, Septem has replaced those materials to 3D print with nylon and acrylic, some of its most used materials along with titanium.
Would you wear 3D printed accessories? Let us know in a comment below or on our Facebook and Twitter pages! And remember to sign up for our free weekly Newsletter, to get all the latest news on progress, research and more entrepreneurs in 3D printing send straight to your inbox!