In Italy, 3D printing saved the lives of COVID-19 patients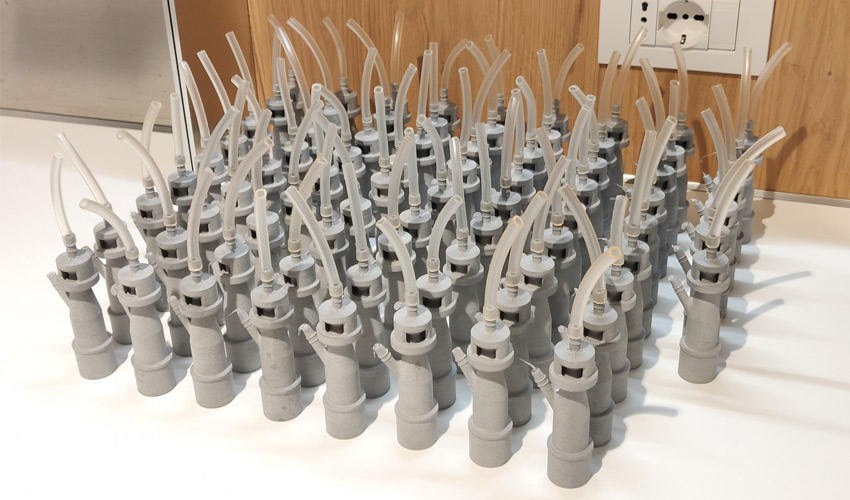 In the face of the current health crisis, solidarity is essential to combat the COVID-19 outbreak. In northern Italy, after a call for help, a few companies mobilised to 3D print valves for respiratory intensive care equipment in a hospital. About ten patients are currently being treated with a machine equipped with the 3D printed valve, a device that enabled the emergency to be dealt with in a very short amount of time and that seems to be working very well. In the midst of the crisis, 3D printing is providing an answer to frozen supply chains, and to industries that are at a standstill because of the Coronavirus.
It's hard to say that additive manufacturing will provide long-term answers to fight the COVID-19, but it can offer some solutions to relieve the population, whether it's through small 3D printed houses to relieve congestion in hospitals, or medical tools designed thanks to 3D printing technologies to meet a shortage. In Italy, it is thanks to the additive manufacturing community that a hospital in Brescia, one of the cities most affected by the virus in Lombardy, has been able to receive 3D printed valves and thus operate more ICUs to save lives. In the hospital, personnel was out of Intensive Care Unit (ICU) valves, and its supplier was not capable of delivering them on time.
It was the founder of The FabLab in Milan, Massimo Temporelli, who appealed to several Fablabs, printing services and manufacturers to print the missing valves – Massimo explains that he had earlier received a call from an editor at the Giornale di Brescia newspaper. It was the Italian design office Isinnova that answered the call: its CEO, Cristian Fracassi, expressed himself on his Facebook profile: "We received a phone call, we were told that at the hospital in Chiari, the valves for the respirators were missing and people were dying. The ordinary way, that of supplying standard parts, was not feasible for a simple reason of time. What were we to do? People's lives were in danger, and we acted. That's all, we did what we had to do."
So the Italian company brought a small FDM 3D printer to the hospital to design the right valve model and check directly on site that everything was working. Around ten patients were then successfully equipped. During the night of March 14-15, the teams turned to a more industrial solution, an SLS machine, to design more. Cristian continues: "If we acted quickly, it's only because with 3D printers, you can quickly test a small production that would be impossible on an industrial scale. We just want one thing to remain from this story: the community, consisting of a hospital, a newspaper, a team of professionals, ran a race against time and saved lives. That is all."
We managed to contact the engineer who created the STL file, Cristian Fracassi, in order to retrieve the model and share it with you. Unfortunately, he explained to us: "I can't share the file because at the moment only 150 parts are needed. If a hospital gives me the correct code for the valve and they have contacted their supplier who told them that they cannot deliver on time, then I will send them the file. The Prime Minister called me personally and asked me not to share anything."
Solidarity and 3D printing have thus saved the lives of several COVID-19 patients: it is hoped that other initiatives can quickly be put in place to respond to this health crisis. Let us know in a comment below or on our Facebook and Twitter pages your comments. Don't forget to sign up for our free weekly Newsletter, with all the latest news in 3D printing delivered straight to your inbox!