Italian National Cycling Team Improves Aerodynamics Using Calibry 3D Scanner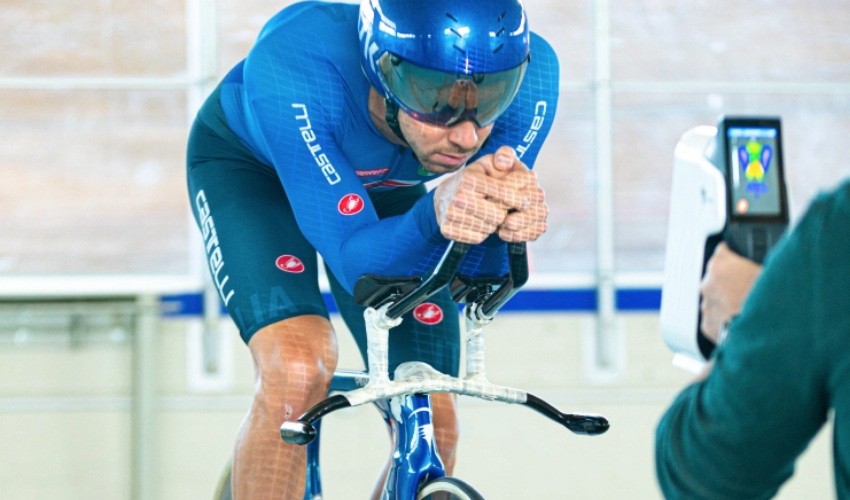 In their quest for Olympic Gold ahead of Tokyo 2021, the Italian National Cycling team enlisted the expertise of Russian manufacturer, Thor3D's Italy-based partner, 3DiTALY, with the goal of reducing aerodynamic drag, which optimizes a cyclist's efficiency. Thor3D's Calibry scanner was created to scan historically challenging objects with a high degree of precision, therefore it was ideal for this challenge. Pinarello (bike manufacturer) and Hardskin (sportswear supplier), both furnished team Italy with all the necessary equipment to achieve top speeds, with Hardskin initiating the request to digitize each athlete and their Pinarello bicycles. Using 3D technology offers the cyclists precise and bespoke analysis; enabling them to reduce drag.
The project, financed by the Municipality of Montichiari, took place in the first and only indoor facility in Italy dedicated to track cycling, at the Velodrome of Montichiari, located in the province of Brescia. The 3D scanner data collected at the facility was then post-processed in Calibry Nest and sent to Pinarello's engineers for them to dive into the aerodynamic studies. Optimizing a rider's equipment and positioning is critical to gaining top speeds, no matter how small the unit of data, because in Olympic speeds, every fraction of a second counts. With an estimated 80% of the total drag being generated by cyclists themselves, getting every detail calculated could make all the difference in who goes home with the gold. 
Imitating Olympic Race Day
The 3D scanning of a cyclist began with a warm-up of the athlete and preparation of the mechanical medium. Next, the imitation of the race is actioned in order to find an optimal aerodynamic position for the athlete. Throughout the 3D scanning process, the cyclist would maintain their race position while wearing their bodysuit and helmet to fully simulate the race day experience as much as possible; with adjustments made to the cyclist's position based on the cyclist's experience and feedback. Thanks to the Calibry 3D scanner's speedy performance, the scanning was completed in merely two minutes.
With all the captured data and 3D model on a digital file, all the necessary information was analyzed to design a tailor-made handlebar, which Pinarello will manufacture as a unique piece tailor-made to each athlete's arms in order to achieve a perfect rider-bicycle relationship.
What do you think of the Italian National Cycling team's use of 3D scanning in preparation for the Olympics? Let us know in a comment below or on our Facebook and Twitter pages. Don't forget to sign up for our free weekly newsletter, with all the latest news in 3D printing delivered straight to your inbox!
Cover Photo Credit: Thor3D