3D Printing and Haute Couture: Iris Van Herpen presents Shift Souls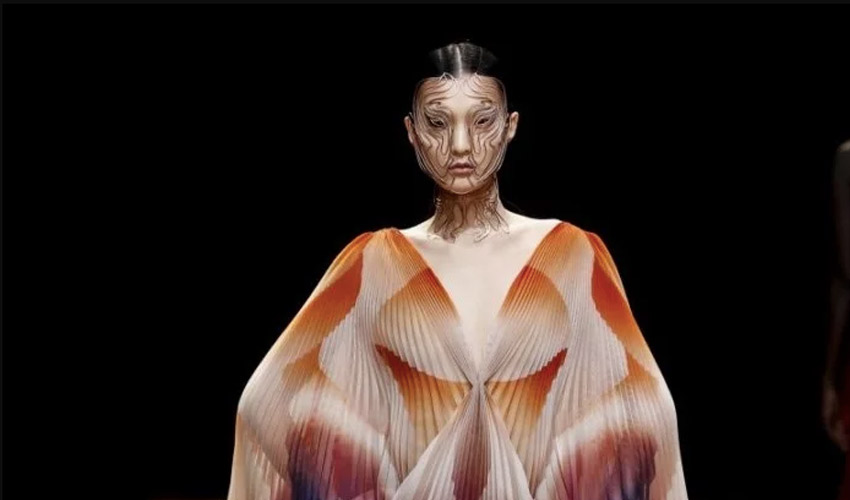 Dutch designer, Iris van Herpen, is probably one of the most influential designers when it comes to mixing fashion and 3D printing. Many of her collections include 3D printed elements, from dresses to accessories. This time, the designer unveiled 3D printed face jewelry and heels during a fashion show at the Musée des Beaux-Arts in Paris. Her new collection, Shift Souls, is another good example of what 3D technologies are capable of doing in the fashion industry today!
Thanks to 3D printing, designers have more freedom in terms of design and geometric complexity. In fact, they are able to produce shapes that are impossible to achieve using conventional production methods. Just look at Iris van Herpen's latest creations, which combine craftsmanship and new technologies. Her Shift Souls collection is composed of 18 different styles, all very colorful. According to the designer, she focuses on "the evolution of the human form, its idealization over time and the hybridization of female forms in mythology".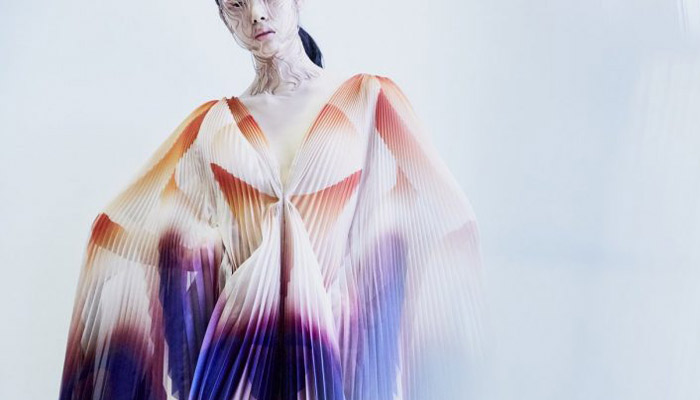 Iris explains that her collection is based on an experimental approach, her pieces are additively manufactured, laser cut and defined by an algorithm. The various highly colored silks used are assembled on a thin PETG 3D printed frame. The designer says she wanted to create an optical illusion with fabrics that distorted the mannequin's body; "we then obtain clothes that recall mythological creatures, approaching birds."
3D Printed Jewelry To Complete Her Collection
To complete her new collection, the Dutch designer has created face jewelry called Cellchemy. She worked with Delft University of Technology to print these accessories in 3D. The teams started by scanning the faces of the mannequins and used algorithmic modeling software to combine the 3D shape with the desired colors. Little information was revealed about the printing process, but Iris says she used a multi-material 3D machine.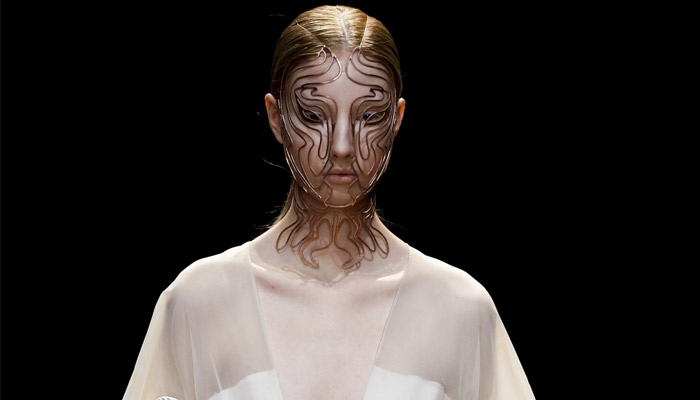 In an interview with Vogue magazine, Iris van Herpen said: "People think that everything I make is printed in 3D, but the basis of my work is really handmade. I think a lot of people are trying to separate the two, but I see these two methods as equal and I really think they can complement each other. Sometimes, a texture I developed on a 3D printer can be a source of inspiration for a manual technique, and sometimes it is the other way round. »
You can find more information on the official website of Iris van Herpen HERE and in the video below:
What do you think of Iris Van Herpen's haute couture collection? Let us know in a comment below or on our Facebook and Twitter page! Don't forget to sign up for our free weekly Newsletter, with all the latest news in 3D printing delivered straight to your inbox!