How Harvard Professors are Restoring History
Published on November 15, 2017 by
Jamie D.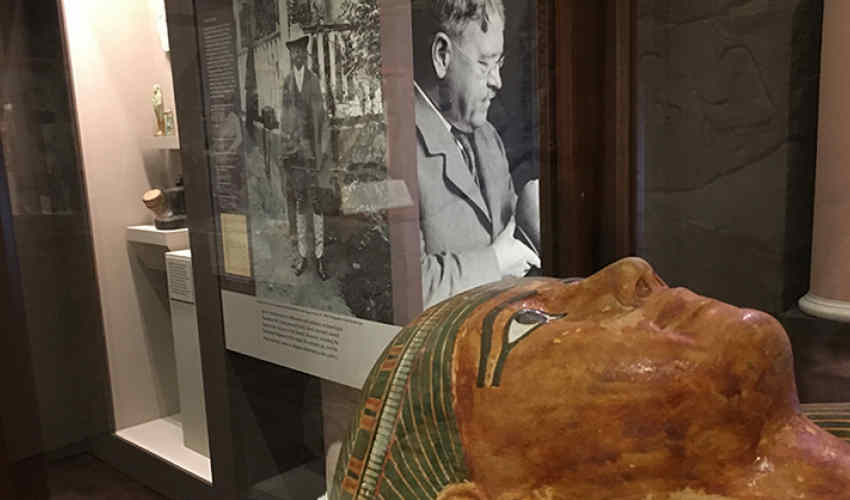 During the writing of our recent feature story on the use of 3D technology in restoring history we spoke to staff at the Harvard Semitic Museum. We received such a large amount of great information about the museum that we unfortunately could not include all of it in our original feature story. The information was so interesting and offered such an insight into an iconic museum however, so we decided to publish the interview as a stand-alone piece.
We spoke with Professor Peter Der Manuelian, Faculty Director, Dr. Joseph A. Greene, Deputy Director and Curator, and Dr. Adam Aja, Assistant Curator of Collection. The following answers are a collation of these three persons' responses.
3DN: How have you as archaeologists, historians and curators as well as the museum itself, benefited from 3D technologies?
Modern digital 3-D visualization make possible the full-scale virtual reconstruction of ancient architectural and archaeological remains which survive today only as damaged or partially preserved ruins. Using digital animation, adding color and lighting effects, it is possible to show how these sites and monuments changed through time, from their original construction and ancient use to their eventual abandonment and destruction.
Digital 3-D recording of archaeological surface traces, excavated ruins and relict landscapes is more efficient and more precise than manual drawing with tape measures, pencils and graph paper or tracing over old-style aerial photographs. Digital 3-D imaging of objects permits the recording, replication, examination and transmission of objects for purposes of study, teaching, exhibition and archiving.
For delicate or fragile objects, the creation of 3-D virtual images makes it possible to manipulate these objects without actually having to touch them. The presentation of 3-D images of museum objects at video kiosks in museum galleries or as modern replicas created from digital files offer a way for museum visitors to interact with objects that would otherwise remain untouchable in display cases. Nor is interaction with virtual museum objects confined inside gallery walls but is available to anyone with an internet connection.
3DN: How have 3D technologies impacted your work specifically? What kind of scanning technology/3D-printing technology do you use?
We have used computer-aided drafting for the visualization of reconstructed objects, such as the Hetepheres chair, as well an entire sites, such as the Old Kingdom necropolis at Giza, which includes the Pyramids. For smaller objects we have experimented with low-cost table-top scanning and have posted the results on Sketchfab. For a Harvard "General Education" course on ancient Egypt, we had a 3-D virtual curation final project assignment, described here.
In another case we restored the missing head and body of a glazed terra cotta lion sculpture excavated in the early 1930s by the Museum at the ancient site of Nuzi (Iraq). This was accomplished by first taking multiple digital photographs an intact mate of the Nuzi lion sculpture in University of Pennsylvania Museum and then using mathematical algorithms to assembling these photos into a 3-D image.
Although any one of these projects might have been accomplished without digital 3-D scanning technologies, each would have been far more time-consuming and expensive… or worse. For example, physically unwrapping the bird mummies would have destroyed them.
What specific equipment and/or machines do you use?
Table-top scanner: NextEngine 3-D Scanner
MicroCT Scanner: Nikon Metrology XTH 225 ST
Nuzi Lion: Nikon Digital SLR cameras and LearningSites, Inc. proprietary image creation software
Louvre scanning: Breukmann structured light scanner (2 colossal Mesopotamian statues)
Dream Stele AR: Possible use of a Project Tango smartphone (end of 2017)
Hetepheres chair fabrication: ShopBot Tools Inc. CNC router (carving wood)
3DN: Do you have any partners for your projects and research? Who are they? What projects were they a part of?
Harvard Department of Earth and Planetary Sciences: Giza 3-D
Louvre Museum and Harvard Peabody Museum: scanning of Mesopotamian colossi
Harvard Museum of Comparative Zoology: bird mummies scanning
Smithsonian Museum of Natural History: identification of the scanned bird mummies
Harvard Ceramic Program: Hetepheres chair re-creation
LearningSites, Inc., Williamstown, MA: Nuzi lion restoration
Catholic University of Leuven, Belgium: Dream stele analogue resin cast
Archimedes Digital, Cambridge, MA: Dream stele AR
3DN: Have you used 3-D technology to go back over any previous work you have done? Maybe to find something you may have missed?
The scanning of the bird mummies allowed us to "see" inside the mummy wrappings with sufficient detail for a specialist to identify the species of birds mummified. This could have been accomplished by physically removing the wrappings, but this would have destroyed the object in the process. Using scanning, we were able to gain greater knowledge of the objects while allowing them to remain intact.
The fragments of the terra cotta lion sculpture from Nuzi which we reassembled using 3-D technology had been excavated by the Museum in Iraq in the 1930s and had been stored ever since in the Museum's reserves, where they were available for research but not viable as exhibit objects. Their virtual reassemble now make it possible to show museum visitors how it might have appeared when is was intact 3,400 years ago. Giza 3-D project is an excellent example of the application of digital 3-D technology to previously collected and analyzed analogue data.
3DN: In what ways do you think 3-D scanning/printing can give you a different perspective when comparing it to typical ways you would study a work of art or an artifact?
Again, Giza 3-D project is an excellent example. What was unique about creating the Hetepheres chair was that we went in the "opposite direction," that is, from a digital model of an object that had not existed since 2500 BC to a physical real-world object. The thousands of tiny fragments discovered in 1925 were all that remained of the chair (all wood completely deteriorated and gone). So it was only meticulous archaeological records that allowed first for a line drawing reconstruction of the chair's original appearance. From there we made the digital model in 3-D, and THEN we decided to use a CNC router to physically carve a real chair from actual cedar wood. We created and baked actual faience inlay tiles, and purchased sheet gold to complete the gilding of the object. The project will soon be published.
Sign up for our free weekly Newsletter here, the latest 3D printing news straight to your inbox!