Inside 3D Tour: Behind the Scenes at Massivit's Headquarters and Additive Manufacturing Facilities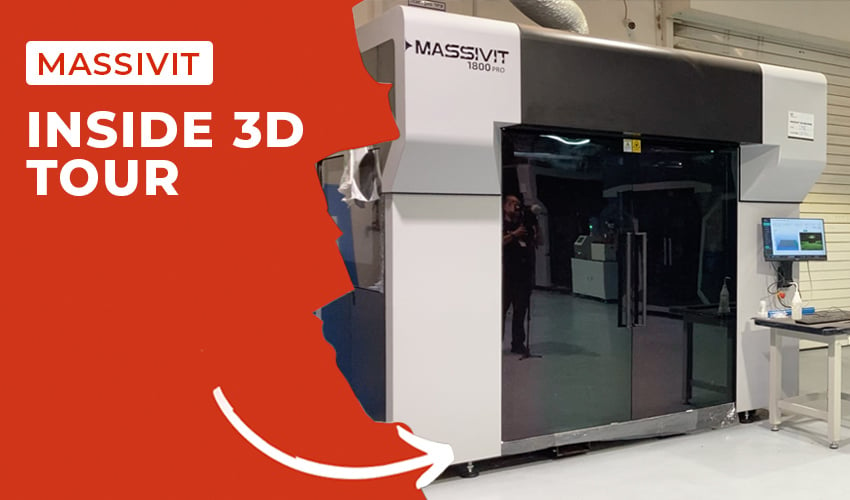 At this point, it seems likely that you have already heard of Inside 3D Tour, the series of videos in which 3Dnatives visits major manufacturers or distributors in the 3D printing industry to learn firsthand how different additive manufacturing methods are developed, and understand what processes the industry's most cutting-edge technologies undergo before starting production. We have previously visited the factories of BCN3D in Barcelona, Spain, Velo3D in Augsburg, Germany, and more recently the production site of the additive manufacturing giant Stratasys. In this latest edition, we went to Tel Aviv, located in Israel, to visit the additive manufacturing facilities of the manufacturer Massivit, don't miss this new episode of Inside 3D Tour to get a look at one of the leaders in XXL 3D printing!
In the video, the 3Dnatives team met with Erez Zimerman, CEO of Massivit, who told us about the company's beginnings, its production systems and the industries targeted by its additive manufacturing solutions. Then, with Avi Cohen, VP of Global Sales, we were able to visit the research & development areas of Massivit's facilities to learn about the potential of its technology as well as to delve into the operation of the various solutions. To get a first-hand look at Massivit's headquarters and the parts they are capable of creating, be sure to check out the full video below:
What do you think of this inside 3D tour which took us behind the scenes at Massivit? Let us know in a comment below or on our LinkedIn, Facebook, and Twitter pages! Don't forget to sign up for our free weekly Newsletter here, the latest 3D printing news straight to your inbox! You can also find all our videos on our YouTube channel.