The Most Innovative Materials at Formnext 2022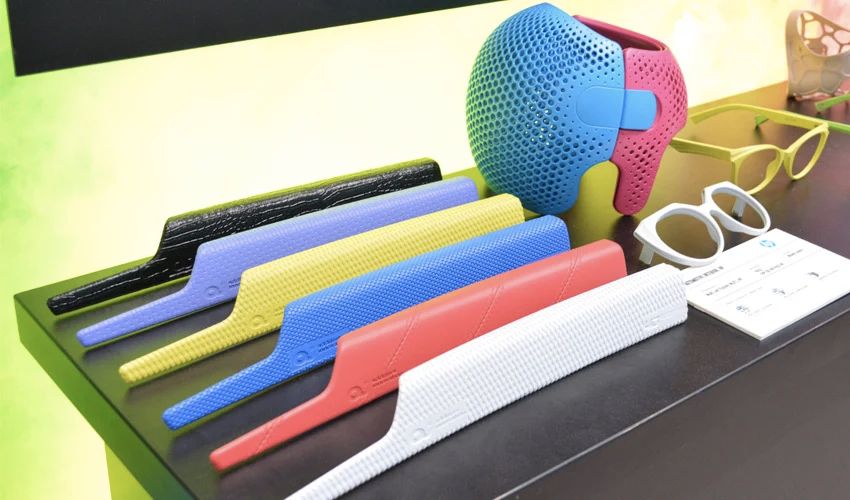 3D printing materials are undoubtedly one of the main elements in the value chain, giving the final part all its mechanical and chemical properties. Today, there are more and more advancements in the field of 3D materials, from polymers to metals and even rarer ones such as silicone or ceramics. Thanks to these innovations, users of additive manufacturing are able to design parts that are more resistant, lighter, sometimes flexible or even more durable. These materials can be used to meet the constraints of demanding sectors such as aeronautics, medical or automotive. But what are the innovations presented at Formnext 2022? Read on to find out!
Elkem Silicones' Materials
Silicone is an increasingly popular material in the additive manufacturing market, with interesting properties for many industries. Among the players offering a 3D printing solution is Elkem Silicones, a specialist in silicone for several years now. It is taking advantage of Formnext this year to expand its range of materials for additive manufacturing, AMSil™ and AMSil™ Silbione™. The company is now able to offer silicones from ShoreA 10 to ShoreA 70 for Liquid Deposit Molding (LMD) based processes. Elkem Silicones is also showcasing a new water-soluble support material, AMSil™ 92100, at its booth F91 in Hall 12.1, which will allow users to imagine even more complex geometries. Finally, this year's booth is equipped with a Swiss Deltatower 3D printer, allowing parts to be printed with multiple silicones at the same time. You will be able to obtain an elastomeric part with different Shores! Come and discover different applications live on the booth and click HERE to learn more!
Sandvik's Metallic Powders
We continue our series on 3D materials with Swedish metal powder manufacturer Sandvik and its Osprey® range of solutions. This year at Formnext 2022, the collection has expanded to include copper. This is composed of fine and medium particles and offers high thermal and electrical conductivity, allowing for better heat transfer and thermal expansion coefficient matching. More generally, the Osprey® range of metal powders is now used in medical implants, aerospace and precision engineering, but also in many other sectors.
EOS Highlights Sustainability
EOS is of course one of the leading players in additive manufacturing, especially when it comes to powder-based processes. And  during this new edition of Formnext, the company has taken the opportunity to present two new 3D materials: PA 1101 and PA 2200. Importantly, they have a minimal impact on the environment. Indeed, PA 1101 is a biosourced and climate-neutral powder, while PA 2200 is low-carbon. Its users receive a certificate that proves the fair calculation and compensation. On the metal side, the manufacturer is taking advantage of the show to show some 3D printed parts made of copper, a material recently developed by EOS.
Nanoe launches a new range of filaments
The French manufacturer Nanoe has introduced three new filaments that are part of the Zetamix Epsilon range. Each offers a different permittivity, ranging from 2.2 to 7.5. One of the major benefits of these filaments is that they are characterized by their low dielectric losses. With these 3D materials, users will be able to design more complex shapes and vary the permittivity of the part. Concrete application cases are on display at the French exhibitor's booth 11.1-B59.
6K Additive Offers a New Metal Powder Solution
The company 6K Additive has developed a low-oxygen titanium powder (500-700 ppm versus the typical 900), a Ti64 to be precise. This new 3D material will allow users to design parts with better quality and durability, since less oxygen is needed to produce the powder. The titanium material joins an already extensive range of metals, including Ni718, Ni625, 316/17-4 stainless steel, 18150 copper, and others.
The New Titan Tough Epoxy 85 from Inkbit
We have previously told you about MIT-spinoff Inkbit. The company is known for its Inkbit Vista™ AM system, an innovative system that uses the proprietary Vision-Controlled Jetting (VCJ) technology. This is similar to material jetting but essentially inverses the process, with four printing modules instead of printheads and wax support structure. And we are mentioning them here, because Inkbit launched their latest material, the Titan Tough Epoxy 85, at Formnext this year. Though we do not know what exactly it is made of, Titan Tough Epoxy 85 has been specifically formulated to be impact-resistant and withstand long-term UV exposure, with properties that are close to Nylon 12, but with the flexibility and precise dimensional performance of the VCJ process. It is particularly suited to multi-component designs and the company hopes that it will be an opening for inkjet technologies to be seen not just for prototyping but for industrial applications including end-use parts.
What do you think of the new material solutions presented at Formnext? Let us know in the comments below, or on our Facebook ou Twitter ! You can also subscribe to our dedicated newsletter for all the must-see news.