InfraredTags, Invisible Barcodes Embedded in 3D Printed Objects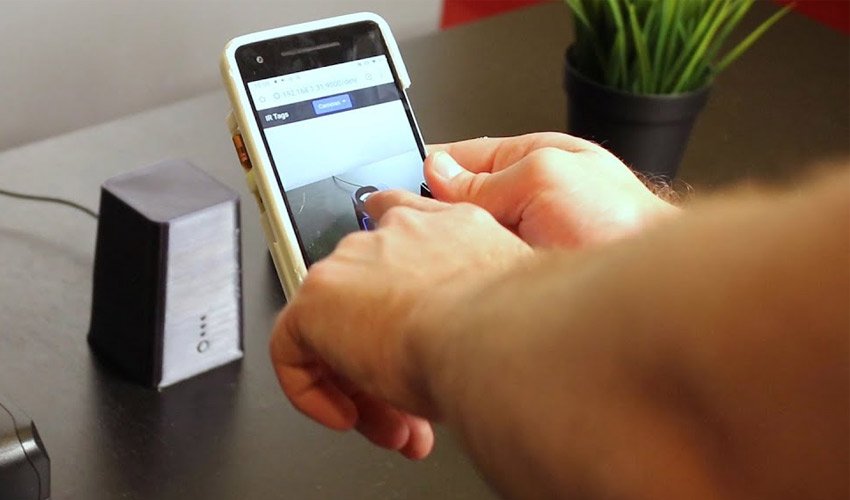 At MIT, a fourth-year doctoral student in the Department of Electrical Engineering and Computer Science has developed a method to "lock" information into a physical object. Using 3D printing and a camera that uses the infrared (IR) range, he can make parts that incorporate a label invisible to the naked eye containing data. Imagine, for example, a 3D printed router that, once scanned via this IR device, gives you directly the WiFi IDs and code of your home, or a box to adjust the temperature of your house directly from your phone. This method, called InfraredTags, could replace labels and barcodes, thanks to its ability to store a certain amount of data.
Mustafa Doga Dogan is an MIT student who started this new project in late 2020. He was looking to develop a way to make physical objects speak, like a photo or an audio file that includes different information such as time, date, title or artist. By combining 3D printing and infrared, he has come up with a clever way for any everyday object to transmit data, such as a barcode or a label, that is imperceptible to the naked eye.
Bar codes that are invisible to the naked eye
InfraredTags are hidden inside a 3D printed part and visible only through an infrared light. In concrete terms, a user will be able to integrate them during the modeling phase of the part and bring to life during the printing phase. The student's technical challenge was the choice of material: the infrared light had to be able to pass through it. Dogan says it took him two months to find the right solution, in this case the right plastic filament. He turned to a German manufacturer that offers custom-made thermoplastics that are opaque to light but transparent to infrared light. However, he remained discreet on the company's name.
Dogan and his team have printed several prototypes, with walls thin enough to be recognized by IR cameras. For example, they have designed cups that, when scanned, link to the 3D file. The user can then easily find the original model and quickly start the printing process. They have also 3D printed the casing of a speaker to be able to control its volume from a SmartPhone or a video game controller without any electronic components.
Why use the InfraredTags?
This project is a new example of the possibilities of additive manufacturing and its many applications. But what would be the point of embedding invisible barcodes in everyday objects, especially if it requires an infrared camera?  Fraser Anderson, senior principal investigator at Autodesk's Toronto technology center, offers a first step in answering the question: "InfraredTags is a really clever, useful, and accessible approach to embedding information into objects. I can easily imagine a future where you can point a standard camera at any object and it would give you information about that object — where it was manufactured, the materials used, or repair instructions — and you wouldn't even have to search for a barcode."
Kaan Akşit, associate professor of computer science at University College London, continued: "The labeling and tagging industry is a vast part of our day-to-day lives. Everything we buy from grocery stores to pieces to be replaced in our devices (e.g., batteries, circuits, computers, car parts) must be identified and tracked correctly. Doga's work addresses these issues by providing an invisible tagging system that is mostly protected against the sands of time." InfraredTags would therefore offer a digital identification system, outside the space-time boundaries we know. And as the concept of metaverse develops, wouldn't it be interesting to be able to take a digital copy of our possessions with us?
You can find out more about Dogan's project HERE. Let us know in a comment below or on our Linkedin, Facebook, and Twitter pages! Don't forget to sign up for our free weekly Newsletter here, the latest 3D printing news straight to your inbox! You can also find all our videos on our YouTube channel.