Infographic: 3D Printing in the Medical Sector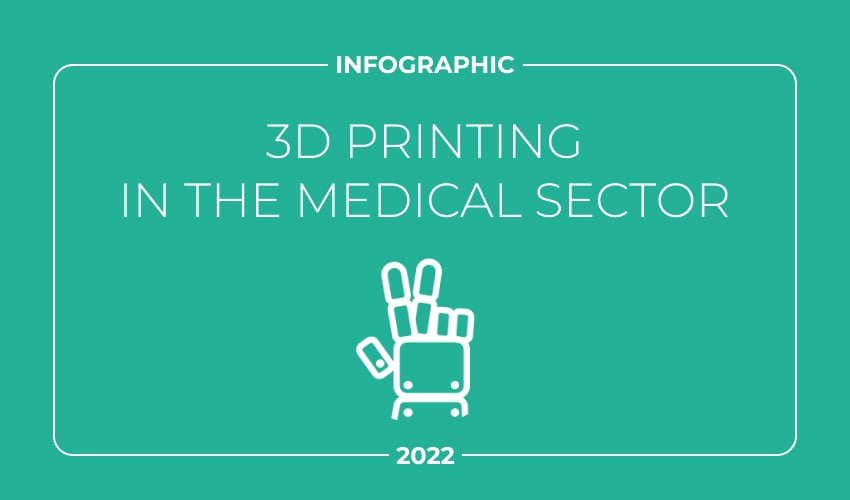 One of the main advantages of additive manufacturing is its ability to design custom parts. And what could be more important than customization in the healthcare industry, where doctors treat patients who are all unique and different? From hospitals to universities to research labs, many medical players are interested in 3D printing technologies.
The applications are steadily increasing when it comes to 3D printing and the medical field. Over the past few years we have heard of uses as varied as the manufacture of prostheses, implants, surgical models or even tissues and organs from patient cells. Progress is lightning fast and we see more and more health establishments equipping themselves with 3D printers or even units entirely dedicated to 3D technologies. For example in France, the manufacturer Poietis equipped the Hôpital de la Conception in Marseille with a 3D bioprinter to facilitate the creation of skin tissue that can be implanted directly into the patient. And the Seattle Children's Hospital has adopted 3D printers using material jetting to help them in surgical planning for complex cases, thus reducing mortality rates.
To give you an overview of what has already been achieved, but also to take stock of the innovations to come, 3Dnatives unveils today an infographic on the impact of 3D printing in medicine (click on the image to zoom in).

The infographic is available as a PDF HERE
What do you think about the use of 3D printing in the medical sector? Did you already know about one or more of these applications? Let us know in a comment below or on our LinkedIn, Facebook, and Twitter pages! Don't forget to sign up for our free weekly Newsletter here, the latest 3D printing news straight to your inbox! You can also find all our videos on our YouTube channel.