Infographic: 3D Printing in the Automotive Sector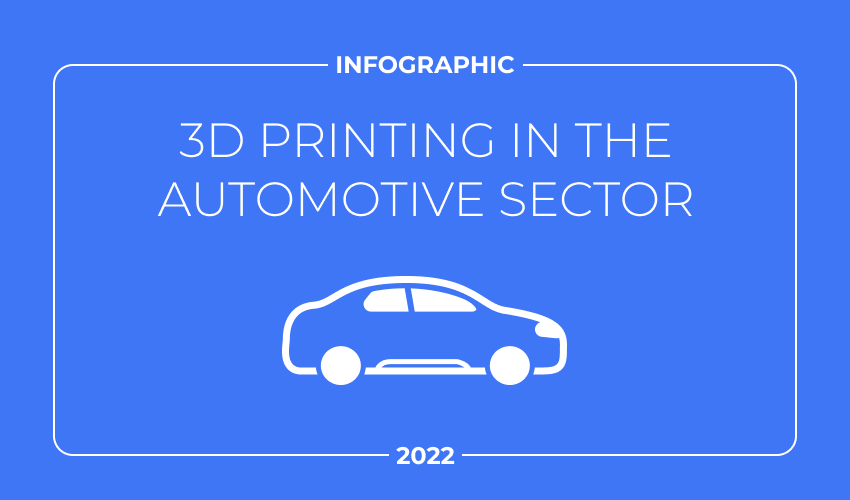 The automotive sector was one of the first industries to use 3D printing. Indeed, it was the first to use the technologies to create prototypes as well as to gradually move towards integrating end-use parts. And the importance of additive manufacturing is continuing to grow. A study published by SmarTech Publishing showed that the market is expected to generate $9 billion in revenue just from 3D printing of finished parts, an 8-fold increase from 2019. The industry is evolving and automakers are now all embracing 3D technologies across all processes.
But how do they use additive manufacturing? What are the main benefits? For the automotive market, performance comes before all, including by reducing the weight of the vehicle. Thanks to additive manufacturing and topological optimization, manufacturers are able to optimize the amount of material needed for a component more simply. This has made it especially attractive in racing, as both NASCAR and Formula 1 have been adopting 3D printing technology. Additionally, companies are also looking for customization: how can they offer consumers custom interiors and accessories that meet their needs? Here too, 3D technologies have a real role to play.
To better understand the evolution of 3D printing in the automotive sector including but not limited to current applications as well as some of the innovations that have been carried out, 3Dnatives is unveiling an infographic on the use of additive manufacturing in the automotive sector (click on the image to zoom in).

You can find the infographic HERE
What do you think about the use of 3D printing in the automotive sector? Let us know in a comment below or on our LinkedIn, Facebook, and Twitter pages! Don't forget to sign up for our free weekly Newsletter here, the latest 3D printing news straight to your inbox! You can also find all our videos on our YouTube channel.