MX3D and Altair 3D print an optimized industrial robot arm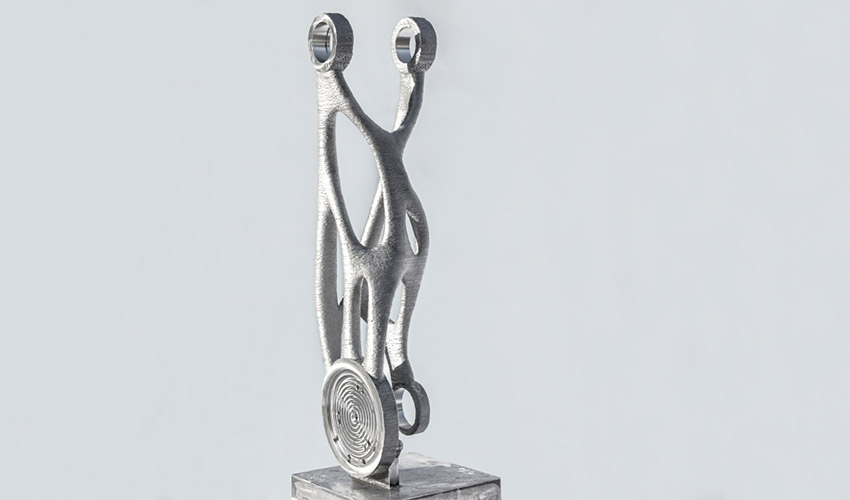 MX3D is specialized in robotic 3D printing, its mission being to introduce the advantages of metal 3D printing to high-impact industries. More precisely, the company creates robust and easy to use robotic additive manufacturing technology enabling users to create large objects in metal. Recently, the company collaborated with Altair to 3D print an optimized industrial robot arm. This robot arm was designed by the engineers at Altair, using generative design methods to achieve optimal results. This project is an application of large-scale metal 3D printing for Heavy Equipment Parts with the goal to customize and optimize the robot arm for operational requirements and conditions.
In our latest expert advice piece, we told you about Design for Additive Manufacturing (DfAM). The design techniques under DfAM emerged because of the enormous design freedom and unique capabilities provided by AM technologies, as opposed to traditional methods such as CNC machining, where some designs were simply impossible to manufacture. Thanks to generative design for example, engineers are able to arrive at a design that meets performance requirements better, faster, and lighter, using computational methods. During this project, generative design customization and a digital twin design approach were performed.
MX3D and Altair explain that thanks to these techniques they were able to increase productivity for tailored robotic applications, reducing the weight of the original part by 50%. The stainless steel robot in question was 3D printed using MX3D's WAAM (Wire Arc Additive Manufacturing) technology. The WAAM technology features advanced geometry processing which allows complex organic geometries to be printed upright.
Designing an optimized industrial robot arm
With the contribution of Altair, the original part, which weighed 150 kg, was reduced to 73 kg, yet demonstrated the same strength. With 24/7 production, the print was performed in 4 days. The part was finished by a standard 3-axis milling machine to achieve the right tolerances at the connecting points. Ultimately, the goal of the joint project was to enable the manufacturing of customized replacement parts. This allows for a rapid and automated production of large-scale parts that normally required extensive tooling and overseas production, causing long lead times and limited customization options.
James Dagg, CTO of Modeling and Visualization at Altair Engineering added: "We are thrilled to collaborate with MX3D and are proud to contribute to its vision of developing tailored robotics. The challenge in this showcase was particularly exciting as our Altair team supported the robot customization redesign from the earliest stages, helping to identify requirements for optimal operational conditions with a digital twin representing the entire system. We are looking forward to seeing the project progress as our efforts help to increase MX3D's productivity."
You can find more information HERE.
What do you think of this industrial robot arm project? Let us know in a comment below or on our Facebook and Twitter pages! Sign up for our free weekly Newsletter to receive all  of the latest news about 3D printing straight to your inbox!