Industrial 3D Printing With High Performance Polymers Can Replace Traditionally Made Metal Parts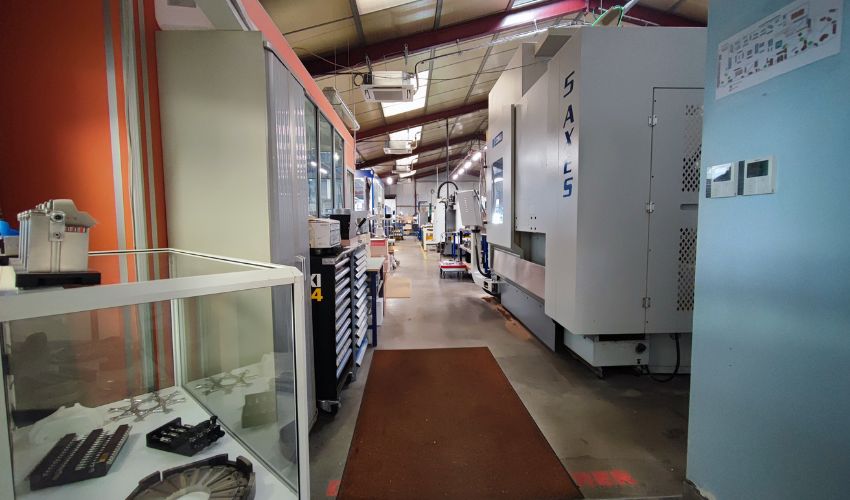 It is certainly no secret that 3D printing is being integrated into more and more sectors. This includes more traditional manufacturing industries, where additive manufacturing is increasingly being adopted as a complementary technology to produce more lightweight yet still strong parts. Or at least that is the case for Société Parisse, a French company based in Bourgogne-Franche-Comté, that has adopted industrial 3D printing with high-performance polymers through their work with INTAMSYS and CADvision. 
Société Parisse was founded in 1981 and moved to Donzy in 1985, where the street where it is located now bears the name of the founder, Gerard Parisse. It specializes in mechanical precision engineering, including the creation of special machinery and assembly control.They are well-known for their know-how and high production quality. This has enabled them to work in a variety of sectors including in Formula 1 and motorsport racing, professional cycling, pharmaceuticals and even the aerospace sector, notably providing parts for the Ariane rocket. 
The company has a long history of using traditional processes. At its facilities, Société Parisse has four machining centers (2, 3, 5 axes), four CNC lathes (3 and 4 axes), single-spindle and dual-spindle turning, two EDM (Electro Discharge Machining) wire erosion machines, a surface grinder, a cylindrical grinder, conventional turning and milling, a metrology control laboratory, a laser engraver and a design office. Now, they have also decided to move into industrial 3D printing thanks to growing demand from their customers, who are both French and international.
3D Printing With High-Performance Polymers for Production-Grade, Lightweight Parts
But why did Société Parisse turn to additive manufacturing? And how has the company adopted the technology? Well, the answer to the first question is one that we have certainly heard before: the need for more lightweight parts. More specifically, according to Laurent Parisse, the head and owner of the company who bought it from his father Gérard Parisse in 2003, they were interested in making lighter parts, namely those that could no longer be manufactured by machining due to their weight. AM allowed for a greater freedom of shape and design. However, Parisse knew that he needed to keep the original properties of the metal parts even when switching to AM. To achieve this, he turned to INTAMSYS and CADvision, a reseller of AM solutions with 15+ years of experience  that is also based in France.
Parisse was searching for a printer with an open material system that could help them to produce high-quality, 3D printed parts. After he searched independently, CADvision's final recommendation was that the INTAMSYS' FUNMAT PRO 610HT 3D printer would best suit Société Parisse's needs. This FFF machine is known for being open-system and its ability to print with high-performance materials and Parisse claims it was the answer to at least 99% of the company's concerns when adopting 3D printing. This is thanks to a number of features that were especially important for their work. Notably, he pointed towards the chamber which is capable of reaching up to 300˚C, ideal for printing with high-performance "super" polymers like PEEK and PEKK as well as extruders which can reach up to 500°C with an all-metal hot end. Moreover, he mentions the large build space of 610x508x508mm (24x20x20in) which allows for either the printing of very large parts or multiple small parts for low volume production.
Indeed, high-performance polymers were the key to Société Parisse's adoption of 3D printing. These so-called "super polymers' include materials like PEEK (polyether ether ketone) and Ultem and are known for their ability to replace even metal thanks to their high strength and rigidity and high heat resistance. Beyond this they are also chemical, corrosion and heat resistant, making them useful in even the most extreme environments. This while all still being much lighter, an ideal especially for Société Parisse. Although the company had actually already used high performance plastics, INTAMSYS allowed them to use them with additive manufacturing in order to take advantage of AM's many benefits.
How Has Société Parisse Used the INTAMSYS FUNMAT PRO 610 HT?
Of course, one of the ways that Société Parisse has adopted industrial 3D printing has been through prototyping which is often costly and ineffective with CNC Machining. But additive manufacturing is also being used for end-use parts including the production of spare parts but also for direct use in the aeronautic, railway and pharmaceutical industries. One example of a part was a frame made by the company that could be used like a remote to test a wagon that would be part of a train. Although normally to make this part, it is necessary to create 17 separate parts, all of which are u-shaped, thanks to additive manufacturing it was possible to print it entirely in one part. 
Speaking about the choice to use the FUNMAT PRO 610 HT 3D printer, Laurent Parisse concludes, "For us everything was a go: the price, the size of the chamber, the features and more. We are always seeking new innovations and avoiding the mainstream and with INTAMSYS and high-temperature polymer 3D printing we have achieved that." You can find out more in the link HERE or in the video below.
What do you think of Société Parisse's adoption of 3D printing? Have you seen other examples of companies using AM to complement other more traditional machining methods? Let us know in a comment below or on our Linkedin, Facebook, and Twitter pages! Don't forget to sign up for our free weekly Newsletter here, the latest 3D printing news straight to your inbox! You can also find all our videos on our YouTube channel.
*All Photo Credits: Société Parisse