Improving 3D Scans with AESUB Sprays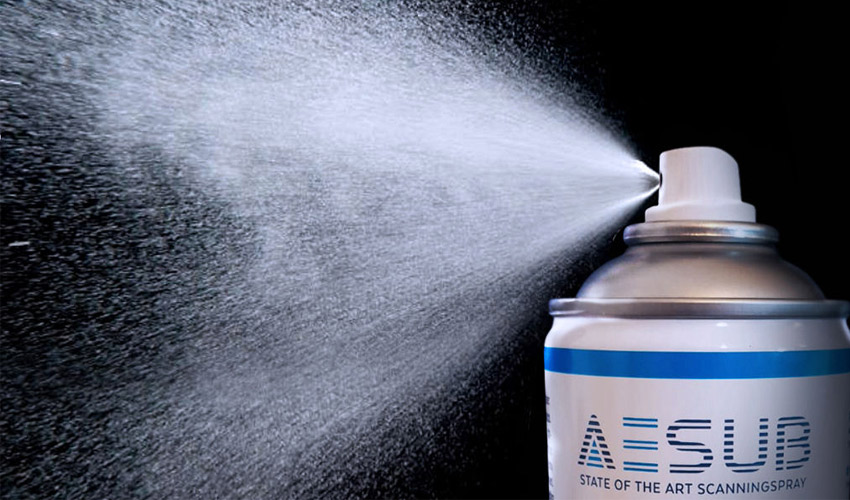 The German company AESUB has developed a variety of 3D scanning sprays that improve the quality of scans, giving them a clear, matte finish. There are currently two products available: AESUB Blue, a mattifying spray that evaporates just a few hours after being applied to the part, with no cleaning necessary; AESUB White is a permanent spray, which requires, after being scanned, the part to be cleaned. Atome3D supply both products and offer international shipping.
3D scanning spray can be directly applied onto the part you wish to scan, regardless of its size, or whether the scanner uses laser triangulation or is based on structured light. But why bother using a scanning spray? When it comes to scanning something transparent, scanning spray is essential as it prevents light passing through the object, instead it will be projected on to its surface and sent back directly into the optics of the scanner. AESUB sprays are equally useful when it comes to scanning reflective pieces which, without scanning spray, act like a mirror. That is to say the rays of light reflected by the piece are unevenly focused rather than spread out, and the scanner only captures a fraction of the reflected rays, a problem easily bypassed by using a mattifying spray. Finally, if you want better precision and quality, AESUB sprays help to reduce differences in colour, reflection, texture, and any potential heterogeneity.
AESUB Sprays' Features
AESUB White is semi-permanent. After scanning, the surface of the piece will remain white unless cleaned. The manufacturer specifies that it was developed without titanium dioxide nanoparticles, an additive often present in products like this, but harmful to health. This spray is particularly good for larger pieces for which the 3D scanning process is longer.
Conversely, AESUB Blue evaporates within hours, or, to be exact, after 4 hours at an ambient temperature of 21°C. The manufacturer states that the evaporation rate also depends on ventilation, the surface and material of the piece in question, and the thickness of its layers. Note this spray is slightly more expensive than the white.
 AESUB sprays should be applied 15-20 cm away from the piece, and are available in bottles of 400ml. They are currently used in several fields including automotive, aerospace, architectural, and even optical metrological industries. The Atome3D team commented: "As soon as we received this product, we tested it, and we immediately saw an improvement in the results of our 3D scans. This is an innovative product, especially the AESUB Blue which disappears in a few hours without needing to be cleaned after the scan. For those interested, we have free samples available on our website."
Do you use AESUB sprays? Let us know in a comment below or on our Facebook and Twitter page! Don't forget to sign up for our free weekly Newsletter, with all the latest news in 3D printing delivered straight to your inbox!