Improved Metal Additive Manufacturing With VoxelDance Additive 4.1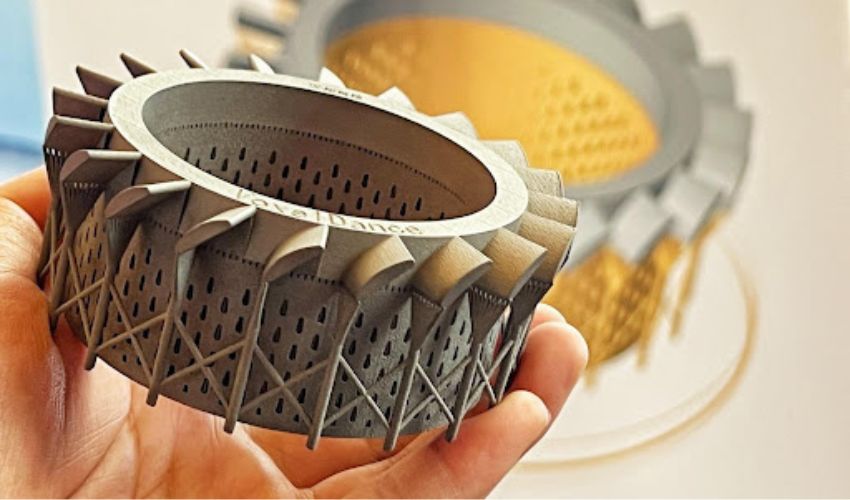 Software plays an integral role in additive manufacturing, especially as solutions and applications become more industrial. It has become so important in fact that SmarTech released a recent report that showed that 3D printing software revenues would be expected to reach $6.2B in 2031 as compared with $1.2B in 2022. The reason for this is clear. There are so many different steps to 3D printing, and software plays a role in almost every one: from designing to slicing to automation and monitoring software. This is especially the case when it comes to metal 3D printing. For this reason, VoxelDance has updated its end-to-end software solution for metal AM, making it even more efficient and effective.
VoxelDance has been making a name for itself since its founding in 2019, positioning itself as a competitor to software providers like Materialise. In fact, they have already worked with a number of key players on the market including Eplus3d, Nano Dimension, Luxcreo, Phrozen, Anycubic, Elegoo, Creality, and more. They define themselves as an "algorithm-driven innovative 3D printing software company that is committed to independent research and development of CAD/CAM software for additive manufacturing." And they have much to show for it. Their all-in-one software 3D printing build preparation software VoxelDance Additive is compatible with SLM, SLA, DLP and SLS 3D printing and can be used for applications in healthcare, prototyping, resin and metal dentistry, industrial molds, consumer products and more. Their latest update VoxelDance Additive 4.1 is especially notable as well since it has over 30 new features and optimizations that have been designed especially to help companies address challenges in industrial metal 3D printing. We took a closer look.
What Can You Expect From VoxelDance Additive 4.1?
As mentioned, VoxelDance Additive is a build preparation software that is designed specifically for additive manufacturing. Essentially, this means that it can help users to take their idea from initial stages to the final, optimized design for 3D printing. This includes of course optimization of the part, integration of support structures, automatic nesting, file repair, slicing and more. But what can users expect with this new update?
Well, one significant benefit is that the importing and exporting efficiency of large parts has been improved. Now, Voxeldance Additive V4.1 performs 5-10x better compared to the 4.0 version, making it the fastest ever edition and significantly reducing waiting time for users. Not only that, but VoxelDance has integrated a brand-new rendering engine which it claims will bring a two to five times improvement in running efficiency. This, of course, would result as well in a much improved user experience. Moreover, they have tackled lagging issues by reconstructing the software architecture and eliminating the need to load model and support data when entering and exiting support modules. Users can also expect even more moving forward, the company has promised to keep improving the program's performance when it comes to known pain points for industrial users, mega file size and excessive details.
Speaking of supports, introducing new support types has also been a key focus of the new update, as might be expected for the creation of intricate and industrial parts. As VoxelDance explains, during metal 3D printing processes, most models need multiple types of support to achieve the optimal support design. That has been helped by the introduction of new support types, namely lowest line bar support and gusset support. 
With the lowest line bar support, users can add it in the support script and the software will be able to define the lowest line of the parts and add support automatically. This will enable more even transfer of heat to the platform during the printing process. Thus reducing warping and cracking which is caused by heat accumulation. Meanwhile, by adding gusset support in the support script, the software will be able to define the overhangs automatically and add gusset supports, reducing the material needed.
There are also a number of new support functions that have been introduced. This includes contour support, which is suitable for slender parts as it can reduce laser jumping and printing time compared to volume support. Furthermore, VoxelDance Additive 4.1 includes web support, a radial-structure support type which is important especially in SLM printing. This is because it can help constrain the shrinkage of ring-shaped surfaces, thus preventing part deformation and reducing the likelihood of print failures for metal 3D printed parts.
Last but not least, VoxelDance has also mentioned a few other features in this update including shrink wrap, mesh smooth and BP special volume. Mesh smooth in particular is interesting as it can allow for the removal of sharp details, thus eliminating the concern of stress concentration and poor print quality. BP special volume is also extremely suited to metal 3D printing as it allows for more precise laser powder control in areas like thin walls, sharp details or lattice structures. More specifically, this feature allows users to assign special volumes to configure different laser scanning strategies where it intersects the part.
If you would like to learn more about VoxelDance, be sure to see them at RAPID + TCT 2023. They will be attending the event, which is taking place on May 2nd – 4th, 2023 and can be found at booth 1834. You can also check out their website HERE or watch the video below:
What do you think of VoxelDance Additive 4.1? Let us know in a comment below or on our LinkedIn, Facebook, and Twitter pages! Don't forget to sign up for our free weekly Newsletter here, the latest 3D printing news straight to your inbox! You can also find all our videos on our YouTube channel.
*All Photo Credits: VoxelDance