Creating illusory materials with multi-material 3D printing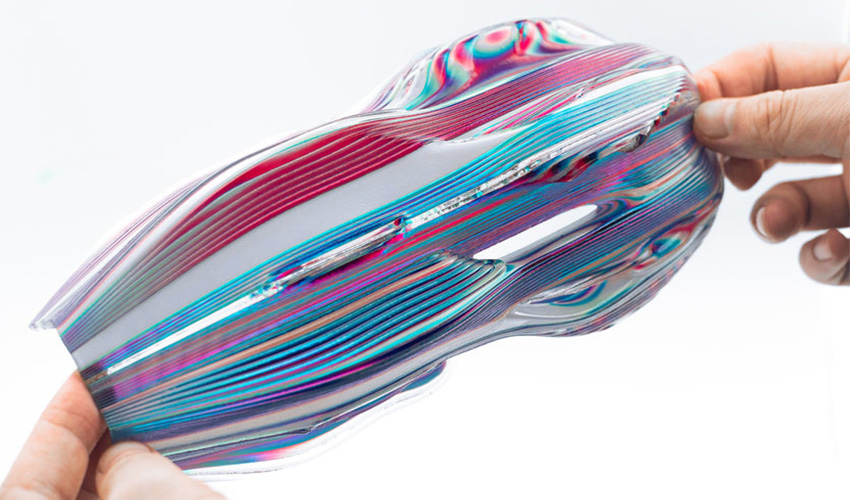 Innovation is second nature to the additive manufacturing sector, and one recent project that illustrates exactly this is Illusory Material. Conceived by industrial designer Jiani Zeng and computational designer Honghao Deng during their time at MIT, the aim of this project was to bring new possibilities to product design with the use of multi-material 3D printing. Not all 3D printing technologies can create parts with multiple materials, but one that does enable this is Material Jetting, developed under the name PolyJet and owned by Stratasys. Awarded the Strategy & Research Award of the Core77 Design Awards 2020, Illusory Material produced some truly beautiful pieces.
This is not the first time that Stratasys 3D printers have been used in innovative design projects. Additionally to redefining the look of various products, the two designers also wanted to create a dynamic design that could interact with users without the need for any electronic or robotic elements. They comment: "We propose to get away from surface obsession in object and industrial design, by adding another dimension to the material interface. By embedding information into three-dimensional matter, we introduce illusory material: a new material organization that responds directly to the user intervention or the environment. With multi-material 3D printing, we envision a future in product development where the design of surface detail, texture, reflexivity can finally be merged with the overall product composition from the beginning of the design process."
The designers released multiple products, namely a minimal perfume bottle that reveals information from certain angles only, a daytime artifact and night lamp that displays different colors in different viewing angles, and an interactive lollipop. Every time, the design, from colors to shapes, changes according to the viewing angle, something very hard to achieve using traditional manufacturing techniques, but also 3D printing technologies! The two designers had to study optical effects by testing multiple lenticular arrays to arrive at a dynamic object. Then, they opted for Stratasys' J8 series 3D printer to manufacture the parts because of its multi-material capabilities.
During the development of these products, the designers also put in place a full computational pipeline that calculates the ideal lens geometry for each design that is input. This means that other designers can leverage the technique to create otherworldly products with shifting patterns, interactive messages or even touch-sensitive visual effects. They conclude: "We foresee the opportunity in material creation instead of material collection for product designers and agencies, using multi-material 3D printing. So that material creation does not separate from the object design, and the material itself does not have to be a single layer of a separate entity that only exists uniformly on a product surface. By assigning different material properties to each voxel in multi-material printing, designers can create object interfaces with various material distributions that can display unique material expressions." You can find more information HERE.
What do you think of the Illusory Material project? Can you imagine other applications? You can leave a comment in the section below or on our Facebook and Twitter pages! Sign up for our free weekly Newsletter to receive all the latest news in 3D printing straight to your inbox!