IKEA unveils their first 3D printed collection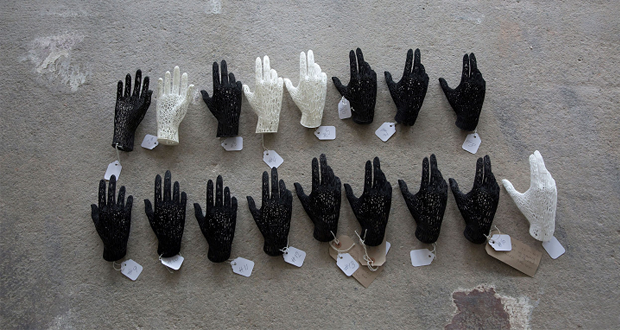 Swedish furniture specialist, IKEA, has just unveiled their first 3D printed collection "OMEDELBAR", composed mainly of decorative objects, with their first released piece being a hand that can serve as a coat hanger or jewelry holder. Some parts seem fairly similar to Diana Law's 3D printed jewelry.
Using 3D printing to create decorative objects for the home is nothing new, with many artists already embracing 3D printing for this reason. But, what sets IKEA apart is that it is the first furniture brand to combine 3D printing in the production process. The OMEDELBAR collection was brought together as a collaboration with Swedish artist Bea Åkerlund, who has previously worked with famous artists Madonna, Beyoncé, and Lady Gaga to name a few.
"We started this project one and a half years ago, predicting the boom in 3D printing in mass production. Traditionally the technology has been used for prototyping in high-tech industries or molds used for traditional production methods. Now, we are closing fast on the breaking point where 3D is cost efficient in mass production. In that context, the OMEDELBAR hand will have its place in design production history."
The hand was printed by Finnish 3D printing service Materflow, using the powder selective laser sintering process. For this project, Materflow developed a technique where they removed the powder block with the 3D printed object inside from the 177° C 3D printer and placed it inside a sealed wooden box for 24 hours. Once the desired temperature is reached, the Nylon hands are then cleaned, dried, quality tested and then delivered to IKEA.
"We developed this technique to be able to start a new print session immediately instead of letting the machine cool down," explained Sami Mattila, co-founder of Materflow. Through this method, They were thus able to obtain a solid piece that could not have been created using traditional methods.
IKEA will probably not stop there in regards to 3D printing. Whether for its hacks or small decorative objects, the Swedish company is convinced that technology can bring a lot to the table. It believes in the potential of 3D printing on demand and sees it as a solution to lower production costs. Who knows, we may have 3D printers in IKEA stores in a few years.
What do you think of IKEA's first 3D printed collection? Let us know in a comment below or on our Facebook and Twitter page! Don't forget to sign up for our free weekly Newsletter, with all the latest news in 3D printing delivered straight to your inbox!