IGO3D on Promoting the Deployment of Additive Manufacturing in Europe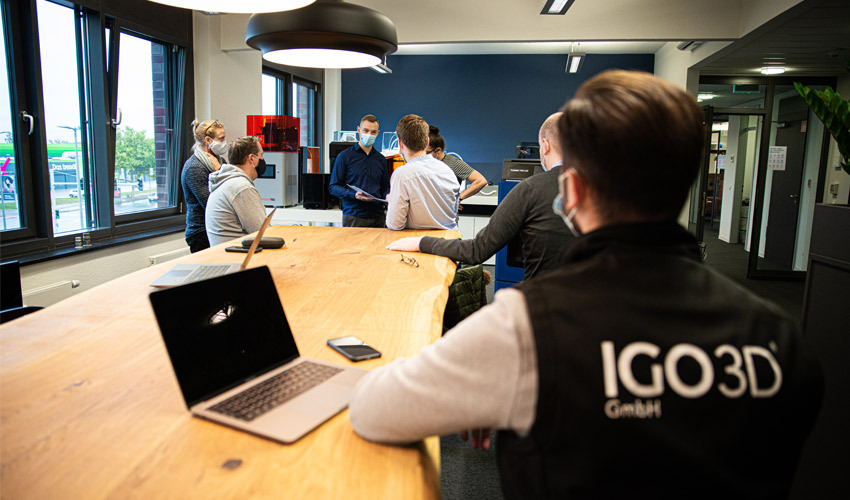 The additive manufacturing market is rapidly evolving, offering significant benefits to companies of all sizes. It regularly offers innovations, whether in terms of 3D printers, software, materials or post-processing methods. It's not always easy to keep up with these trends and choose the right solution. How can you be sure that your investment in additive manufacturing will be successful? This is where the market experts come in such as manufacturers, distributors, 3D printing services, etc. IGO3D is part of that core. Founded in 2013, the German company is one of the leading distributors in Europe, offering numerous technologies and brands to its customers. From FDM to SLS to stereolithography, IGO3D leverages its knowledge to promote access to 3D technologies. We met Athanassios Kotrotsios, its General Manager, and Tom Mersie, Channel Development Manager for IGO3D in Benelux, to learn more about the company's ambitions.
3DN: Can you introduce yourself and explain your connection to additive manufacturing?
My name is Athanassios Kotrotsios and I am the CEO of IGO3D. To be honest with you, I wasn't really convinced about 3D printing at first. But I wanted to get into a young company that works in a dynamic market. That's how I started in 2015 at IGO3D after my MBA. Very early on, I started taking responsibility, developing different markets and visiting our customers at the time. Very quickly, I realized the power of additive manufacturing and its many benefits to users. It's great to see how our customers react when they have their 3D printed part in their hand. It's a unique feeling to see the benefits that 3D can generate. That's what I like about this market now.
Hi, my name is Tom Mersie. I started my journey in additive manufacturing in 2013 by opening the first 3D printing shop, 3D Print Factory, in Antwerp. Two years later, I started working for Trideus/Distrinova as a CCO and later as a 3D printing sales expert. I started as Channel Development Manager for IGO3D in Benelux, making me the first full-time employee of IGO3D outside of Germany.
3DN: IGO3D is one of the main distributors in Germany: how did your journey start?
Athanassios: The company was founded in 2013 with the vision of making 3D printing more accessible. Our founders wanted to push this revolutionary technology into everyone's homes and places of production. We launched Europe's first online store for desktop 3D printers and several physical stores across Germany in cities like Stuttgart, Frankfurt and Oldenburg. We started creating specific content about 3D printing to show the possibilities and how to use it. We saw the hype around 3D printing and promoted the technology at several trade shows, on TV and, of course, already then on several social media channels as well as at local events. And today, we believe more than ever in the power and possibilities of 3D printing and continue to spread the word.
3DN: What are the 3D printing technologies that you master today?
Athanassios: Today, we offer a wide range of additive technologies, from material extrusion (FFF), light curing (SLA, DLP), selective laser sintering (SLS) to 3D scanning for reverse engineering. Our vision is to create access to additive technologies for every user. That is why we offer machines and materials for manufacturers, beginners and advanced users; for private users as well as for production companies. To be able to realize the many ideas of our customers, we also offer a wide range of materials. In general, applications come to life through the material, which is why we offer standard materials such as PLA or PET, reinforced technical materials, usually made of glass or carbon fiber, as well as high-temperature materials such as PEI, PEEK or metal.
Tom: During my career, I had the opportunity to learn several 3D printing technologies, such as FFF, SLA, SLS and Multi Jet Fusion. Today, my Benelux portfolio includes BCN3D, Intamsys, Envisiontec, Creality, Anycubic and Snapmaker printers, but also a wide range of materials from BASF, Solvay, Maertz, Lehmann&Voss&Co, and more to come.
3DN: Who are IGO3D's customers? What are their main applications?
Athanassios: We have a multi-channel strategy. In our distribution network, we mainly focus on entry-level technologies. These create easy access to all consumer products like MAERTZ, Creality3D, Anycubic or Snapmaker. Consumers typically use the printer for modeling, DIY projects and crafts.
Our other direct channel focuses primarily on businesses. Our approach is to provide them with a total solution. Companies want to implement additive technologies in their production process and we help them to do so. To achieve seamless integration, we remove barriers throughout the implementation process and support the customer with services and training. Most companies still use 3D printing to produce prototypes and tools. Increasingly, we see that they are also starting to use more technical materials to produce end-use parts as well as replacement parts.
Tom: My customer base is very diverse, ranging from small online stores to large online retailers to 3D printing shops with one or more showrooms. At the end of the day, it's the end customer that is served, whether it's the DIY market, the professional market, or the industrial market.
3DN: What are IGO3D's future projects?
Athanassios: In addition to the markets in the CIS countries, we are taking another step towards internationalization. In many European countries, there is still a strong need among some companies for the supply of necessary printing equipment. We want to meet this need through our international expansion.
Initially, we are expanding our distribution network to the Benelux countries and Southern Europe. With new employees, local customers should be able to benefit from the wide range of products offered in the field of additive manufacturing. To this end, we have specifically extended the contracts with many renowned manufacturers with whom IGO3D has already been working successfully for years in the German-speaking region, to include distribution rights for the Benelux. Thus, IGO3D can now offer its European neighbors entry-level products from manufacturers such as Creality3D, Snapmaker, Anycubic or MAERTZ, as well as the higher-end product range of Instamsys, Envision Tec, BCN3D, BASF Ultracure and Ultrafuse, Solvay and Lehvoss Luvocom. We rely on a network of resellers to strategically support them in their market penetration, in addition to the long-term goal of building a direct sales force.
Tom: In the near future, other technologies and brands will be added to the portfolio, in order to better respond to the market demand. IGO3D is the biggest player in Europe with the ambition to grow and expand our activities on the whole continent and more. We should also think in terms of global opportunities and not stop at territorial borders.
3DN: How do you see the evolution of 3D printing in the next 5 years?
Athanassios: More and more companies will realize the potential of 3D printing and integrate it. In addition, more and more materials will be brought to market, which will increase the number of applications. In the future, factors such as on-demand production, local production, supply chain reduction, design freedom and small batch production will be more important. Additive manufacturing enables all of these factors, which is why I see 3D printing as an important part of future production processes.
I also think that more and more households will be equipped with a 3D printer. The consumer sector will use this technology to produce their own toys as well as spare parts.
Tom: In the next 5 years, 3D printing could become accessible to everyone, with more and more products being designed to be 3D printed. Digital databases will provide print files that can be easily downloaded and processed. Local on-demand manufacturing will become a very important topic in our global fight against climate change.
3DN: Any last words for our readers?
Stop thinking and start printing.  It's never too late to start this new adventure, you can learn more by visiting our website!
*Thumbnail photo credits: IGO3D
Do you know IGO3D? Let us know in a comment below or on our Facebook, Twitter and LinkedIn pages! Sign up for our free weekly Newsletter here, the latest 3D printing news straight to your inbox!