ideaMaker: The Free Slicer from Raise3D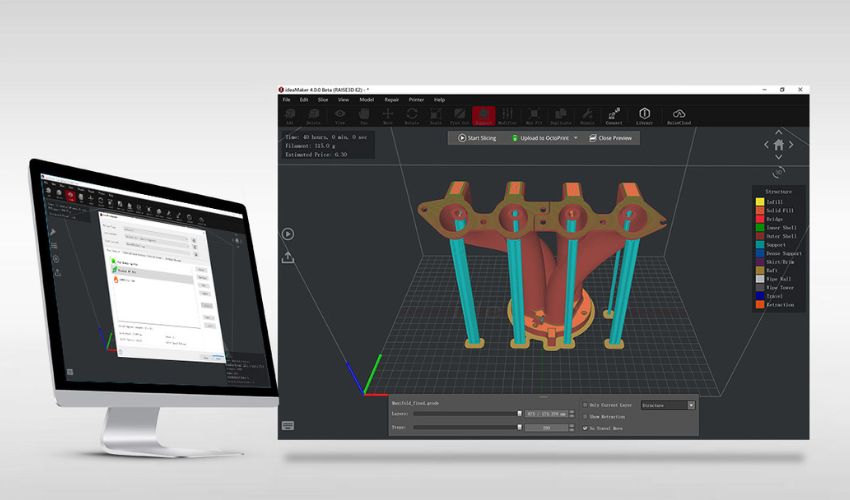 As you probably know by now, slicers are a critical step when 3D printing a part. Acting as an intermediary between the 3D model and the 3D printer, slicers allow the machine to understand what information is present on the 3D model thanks to what is called a G-Code. And depending on the manufacturer of 3D solutions, the solutions differ. Raise3D, one of the historical players in FFF additive manufacturing, offers the ideaMaker slicer. Obviously optimized for all of the company's 3D printers, it is also capable of working with machines from other manufacturers. Indeed, the software is intended to be easy to use and within anyone's abilities.
Known for its speed and intuitive interface, ideaMaker is now compatible with most 3D printers using FDM technology. Free of charge, the software allows you to design parts with different surfaces and textures. Another advantage offered by the software is a good estimation of the printing time. Once the different parameters are configured, ideaMaker displays the time that the printing will last as well as the quantity of material that will be used. All these options make ideaMaker one of the most popular slicers for FDM/FFF users.
The Slicer's Various Features
While the support structures are generated automatically, Raise3D explains that users of the software are able to modify, add or remove these same support structures with just two clicks. In addition, because of the various print profiles already built into ideaMaker, users can start the manufacturing process quickly. These profiles (high quality, standard, speed) can easily be duplicated and modified by users according to dozens of different parameters.
Raise3D also specifies that ideaMaker integrates algorithms to facilitate the calculation of the best cutting parameters. This optimization, which can be activated with a single click, is logically intended to simplify the printing process and avoid the need for users to manually inspect and choose the various parameters. The software also offers the possibility to separate an STL file into several parts and print only a part of it. Another important feature is model repair. Raise3D's solution is able to detect if the file to be printed has a problem, such as a hole, and repair it automatically. Finally, like more and more 3D software, ideaMaker can network multiple 3D printers via WiFi. In this way, it is possible to monitor several printing processes simultaneously.
The ideaMaker Library
In keeping with the goal of making the printing process as easy as possible, Raise3D has also developed the ideaMaker Library. Here, users of the technology can share and download numerous slicing files perfectly suited for different materials and 3D printers. While many of the slicing templates are designed to be used on Raise3D solutions, many other files are compatible with all types of FDM machines. This is a way for the company to encourage users of the technology to share their know-how and increase their productivity.
As you can see, with its ease of use, pre-configured parameters and the ideaMaker Library, the Raise3D slicer has everything to simplify and democratize additive manufacturing. Edward Feng, CEO of Raise3D, puts it, "We continue to work towards the goal of offering an all-in-one solution that increases productivity. With the ideaMaker Library as a valuable new ally, the combination of ideaMaker and RaiseCloud, we are happy to now be able to offer this complete solution and a smooth workflow that will be a game changer for the manufacturing industry." You can find out more HERE.
What do you think of Raise3D's ideaMaker? Let us know in a comment below or on our Linkedin, Facebook, and Twitter pages! Don't forget to sign up for our free weekly Newsletter here, the latest 3D printing news straight to your inbox! You can also find all our videos on our YouTube channel.