ICON's 3D Printed Simulated Mars Surface Habitat Will Help Pave the Way for Space Exploration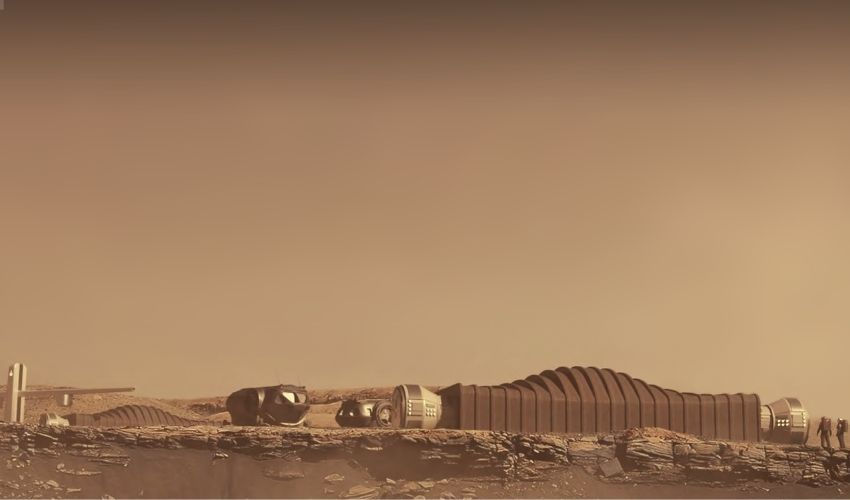 NASA is once again using 3D printing in its work to bring humanity closer to space exploration. Not long after after announcing that Redwire Regolith Study, which will test whether 3D printing of regolith (loose soil) can be used to create habitats on other planets, will be headed up to the International Space Station on Northrup Grumman's 16th commercial resupply service mission, ICON has announced that it will be using 3D printing to create the first simulated Mars Surface Habitat for NASA in collaboration with architecture firm BIG-Bjarke Ingels Group. The aptly named Mars Dune Alpha will be delivered to NASA's Johnson Space center in Houston and will be used to stimulate a realistic Mars habitat for the one-year Mars mission analog study.
For some time now, NASA has been working to find a way to create habitats on the Moon and other planets, ultimately of course working toward long-term space exploration of our universe. Starting with the Centennial challenge and Project Olympus, ICON's own project through the Artemis program to begin research and development of a system that would enable construction on the Moon. 3D printing is actively being considered as one of the promising techniques that would enable further travel into the stars. In this latest news, ICON and BIG are creating a 3D-printed habitat that will be used to gather research for future missions to Mars.
Mars Dune Alpha
Mars Dune Alpha will be a 1,700 square-foot structure and will be made using ICON's Vulcan construction system. It was designed by Big-Bjarke Ingels Groups and as previously mentioned will ultimately be used to stimulate a realistic Mars habitat that would be able to support long-duration, exploration-class space missions. This means that life in the structure will resemble the experience of those who in the future will live on Mars. The data gathered from the experiences of those selected will be used to develop NASA's standards for long-duration exploration missions.
Of course, for this mission, the structure in which the participants will live is especially important as it will need to truly stimulate the experience of those living on another planet while still being comfortable enough to live in. BIG-Bjarke Ingels Group especially put a premium on privacy when designing the building. There will be four private crew quarters at one end of the habitat while work, medical and food-growing stations will be on the opposite end. What is really interesting is that the structure has been shaped to have varying ceiling heights which are vertically segments to make a unique experience for each area. This has been done to avoid crew fatigue and spatial monotony. Additionally, there will be customizable lighting, temperature and sound control in order to help regulate the crew's daily routines, circadian rhythms and of course well being. This flexibility in design is possibly the reason why 3D printing was chosen for this particular project.
Jason Ballard, the co-founder and CEO of ICON commented: "This is the highest-fidelity simulated habitat ever constructed by humans. Mars Dune Alpha is intended to serve a very specific purpose–to prepare humans to live on another planet. We wanted to develop the most faithful analog possible to aid in humanity's dream to expand into the stars. 3D printing the habitat has further illustrated to us that construction-scale 3D printing is an essential part of humanity's toolkit on Earth and to go to the Moon and Mars to stay."
For anyone interested in living in the 3D-printed structure and helping NASA with their research needs, applications to participate as crew will be accepted through mid-September 2021. The mission itself is set to start in Fall 2022. You can find out more about the mission as well as the 3D printed structure in the press release HERE or in the video below.
What do you think about ICON's Mars Dune Alpha? Let us know in a comment below or on our Facebook and Twitter pages. Don't forget to sign up for our free weekly newsletter, with all the latest news in 3D printing delivered straight to your inbox!