Iconic Black Panther 2 Car Designed Using 3D Scanning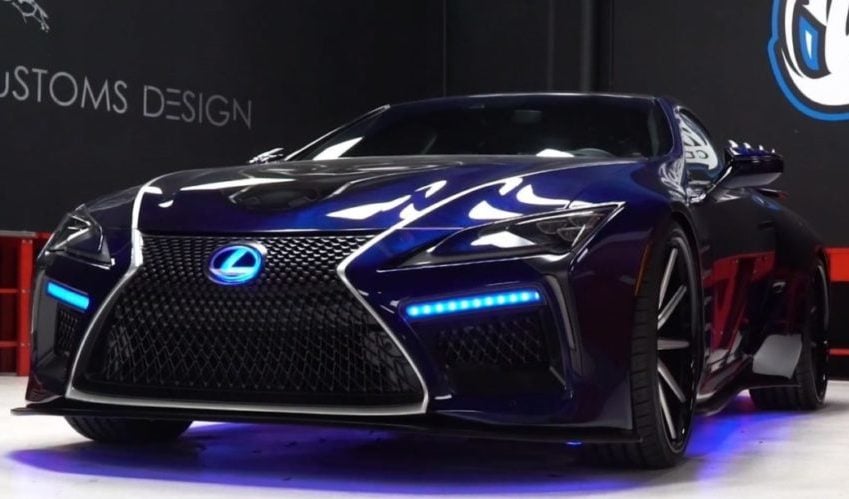 West Coast Customs (WCC) have turned to 3D scanning solutions from Artec 3D to customize a Lexus LC 500 for Black Panther 2, scheduled for release on July 8, 2022. After scanning numerous components of the vehicle and earning approval from Marvel and Lexus studios, the workshop was able to conceive a brand new car in an opalescent blue- the Black Panther Lexus. This long term project took 9 months for the teams to obtain a satisfactory result.
3D technologies have allowed the film industry to achieve higher levels of cinematic realism and as such have become increasingly common. Some studios use 3D scanning and additive manufacturing to create unusual sets, custom accessories and even animated characters. Digital manufacturing enables impressive flexibility and freedom of design, evident in the production of the first Black Panther film, for which 3D printing technologies were used to create costumes. This time, the sequel has used the Artec Eva scanner to reproduce the car from the first film. By digitizing the structure of the Lexus LC 500, the WCC team succeeded in modifying several aspects of the car, including the wheelbase, radiator and mirrors.
WCC used the Artec Eva 3D scanner
The comic book giant now also celebrated in the film industry, Marvel, approached WCC with plans to create the Lexus Black Panther. The car was actually adapted from an existing model, the LC 500. Co-supervised by Marvel and Lexus, each design stage was approved individually before progressing to the next. This included conceptual sketches, paint samples, interior variations,  and thematic elements of Black Panther, among others.
Musa Tjahjono, chief designer for West Coast Customs, needed a 3D model of the Lexus LC 500 accurate to the nearest millimeter. To achieve this he turned to the Artec Eva, one of Artec 3D's latest portable 3D scanners. This professional color 3D scanner is globally recognised for its ability to quickly scan medium-sized and large objects with an accuracy of up to 0.1mm. West Coast Customs has used EVA for dozens of high profile projects in the past for which precise, facsimile results without the slightest error are paramount.
Circling the vehicle, directing the scanner with simple up and down movements, the car is meticulously scanned down to the square centimeter from multiple angles. Lorenzo Strong, West Coast Customs VP of Sales, commented: "It's a huge help that Eva is lightweight and comfortable to hold, which makes scanning actually fun to do, even though because it's capturing surfaces so fast you don't need to use it for long before you look over at the laptop and realize that you've scanned the whole car". The rendering from the scan is then processed using Artec Studio, capable of quickly and easily aligning scans as well as saving them into export-ready 3D models in a variety of formats. The scanned file of the LC500 was exported on Geomagic Design X and SOLIDWORKS.
Looking at the modifications made to the original car, it is possible to see that the Lexus Black Panther has a wider wheelbase (fenders included), a widening of the grille at the front, a mirror capped with the claws of Black Panther and three fictitious Vibranium reactors (material from Wakanda, the birthplace of Black Panther in the Marvel universe) placed in the rear window. After West Coast Customs unveiled the Lexus Black Panther to the public, the onyx blue racing car toured the Americas. It is now on display at Lexus headquarters in Plano, Texas.
Artec LEO and West Coast Customs' ambitions
West Coast Customs recently started using Artec Leo, a portable 3D scanner, equipped with on-board processing and an integrated touchscreen, allowing interaction with scans in real time.
West Coast Customs is thinking big with the Leo. Thanks to its portability, transport is simple, makes it easy to bring the device to a customer, parking lot, or car show, and perform the scan directly there. Thanks to Leo's acquisition rate of 44 frames per second and wide field of view, scanning different sized objects (a steering wheel, dashboard, fender, or even an entire car) has become a considerably less complicated task. Moreover, Leo's intuitive user interface and ease of use make it accessible to everyone, be they completely new to 3D printing or well seasoned experts.
You can find out more about how WCC used the Artec Leo for this project here. What do you think of the Lexus Black Panther? Let us know in a comment below or on our Facebook and Twitter pages! Sign up for our free weekly Newsletter here, the latest 3D printing news straight to your inbox!