ICON Unveils its Latest Project, House Zero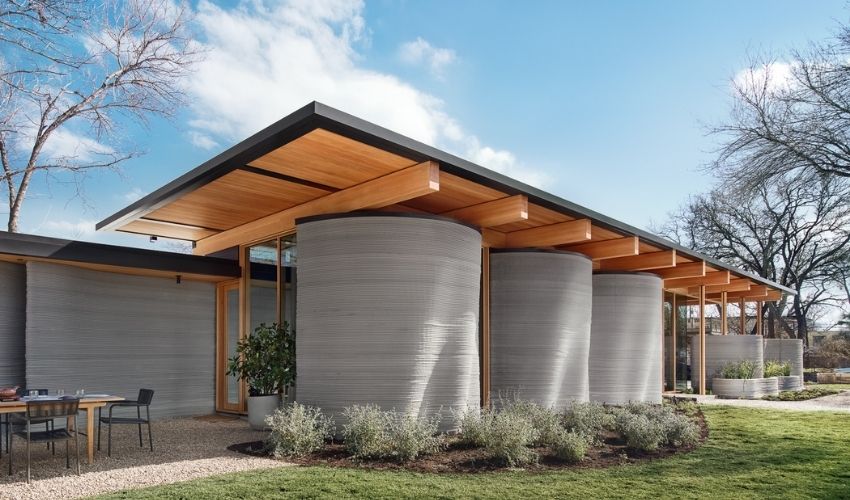 ICON is back at it again! After a busy year in 2021 with numerous projects both on Earth and destined for space,  today the 3D printing construction company announced its newest 3D printed home, House Zero, made in partnership with Lake|Flato Architects. The project is different from previous ones as it has been designed to use the specific opportunities that are offered uniquely with 3D printing for construction. This includes through new designs and optimization, but also an even greater focus on sustainability. The company hopes it will be the first of an entirely new genre of homes in the field and it is the first in ICON's "Exploration Series."
If you have been reading our articles, by now you are certainly no stranger to the idea of 3D printed construction. What started as a niche idea has suddenly expanded over the past year or so as 3D printed houses have been realized. From projects like WASP's TECLA which focus on buildings made from sustainable sources like soil to ICON's own 3D printed communities and projects for outer space, it seems that it is only a matter of time before this new construction method becomes the norm. House Zero is the latest in an increasingly long line of finished homes made using 3D technologies.
What is Different About House Zero?
Though of course, if 3D printed housing projects are becoming more common, what's so special about this one? Well for one, it's the first time to our knowledge that ICON has worked to create a house integrating specific designed to take advantage of 3D printing. Considering the increased importance of Design for Additive Manufacturing (DfAM), it makes sense that it's even being considered when it comes to building houses using the technology. Or as Jason Ballard, co-founder and CEO of ICON, explains "House Zero is ground zero for the emergence of entirely new design languages and architectural vernaculars that will use robotic construction to deliver the things we need most from our housing: comfort, beauty, dignity, sustainability, attainability, and hope. Houses like this are only possible with 3D printing, and this is the new standard of what 3D printing can mean for the world."
This design can be seen in various aspects of the house including curved walls which are not just more structurally efficient but which have a more naturalistic aspect in the home. This was particularly important to Lake|Flato Architects as they are committed not just to sustainability but seeking more natural connections through architecture. As such, the home was construction according to biophilic principles, which, as the name suggests, essentially seek to connect design to nature.
In addition, during the project, both companies were committed to sustainability as they see 3D printing as a way forward to creating more eco-friendly homes. This was done in a number of ways. First, of course, through 3D printing which cut down on time, waste and cost in the building process. But also through the materials. Notably, the walls were made of Lavacrete which according to a press release from ICON helps to provide thermal mass that slow heat transfer into the home. Therefore, House Zero benefits from "the combination of thermal mass, increased insulation, and an airtight wall increases the energy efficiency and reduces lifecycle costs." If you are interested in learning more, you can attend a house tour of House Zero from March 13-14, 2022 by signing up HERE. SXSW badge holders will have priority access.
What do you think of House Zero? Will you go visit it during SXSW? Let us know in a comment below or on our Linkedin, Facebook, and Twitter pages! Don't forget to sign up for our free weekly Newsletter here, the latest 3D printing news straight to your inbox! You can also find all our videos on our YouTube channel.
*All Photo Credits: Casey Dunn/ICON