ICON Reveal Design for Quirky 3D Printed Texas Campground Hotel on 62 Acre Site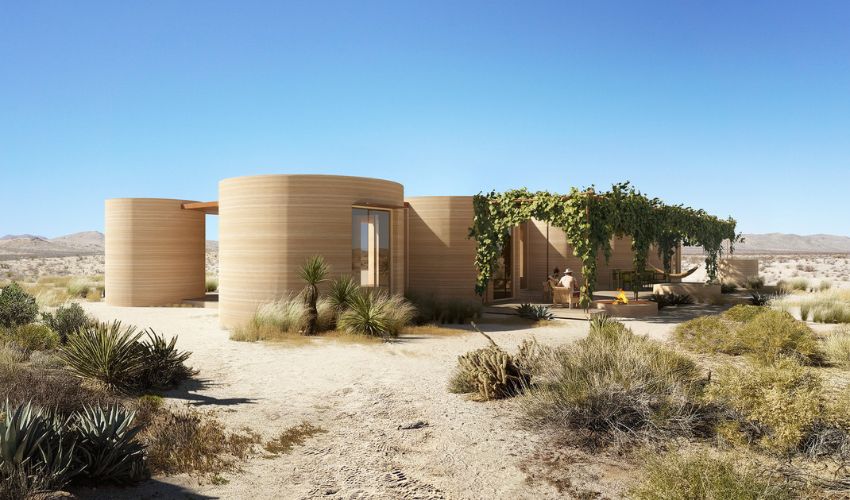 Art and design needs people who can push boundaries and have an eye for style and a nose for the latest up-and-coming technologies. More recently, everyone from fashion designers to artists have employed 3D printing to make unique pieces with a wow factor, surpassing the need to conform to conventional methods of fabrication. A recent example from Texas is the Sunday Homes project, a planned 3D printed refabrication of the El Cosmico hotel based in Marfa in the high plains desert of the county. 
Liz Lambert, hospitality expert, will collaborate with Texas-based ICON (known for their advanced 3D printing construction projects) and architecture group BIG (Bjarke Ingels Group) to prepare the project. Also involved are home construction firm Lennar. The collaboration will relocate the hotel to a venue of 62 acres, incorporating 3D printing to make domes, vaults, and homes. In its current state, the hotel is an offbeat venue which sells itself as 'an exodus from a world of urgency'. Set in the high plains desert, the new design for the relocation is informed by this landscape's fusion with the sky, with features such as skylights built into the 3D-printed walls. The collection of homes, two-, three, and four bed buildings ranging between 1,200 sq. ft to 2,200 sq. ft, will be ready for reservations by Summer this year.
"Our collaboration with El Cosmico and ICON has allowed us to pursue the formal and material possibilities of cutting edge 3D-printed construction untethered by the traditional limitations of a conventional site or client," said Bjarke Ingels, Founder & Creative Director, BIG. "Organic shapes, Euclidian circular geometries and a color palette born from the local terroir makes El Cosmico feel as if literally erected from the site it stands on." Jason Ballard, CEO of ICON, added "The truly unique and divergent architectures made possible by 3D printing are really just beginning. One of the great joys of ICON is putting our technology into the hands of great creatives and seeing what possibilities emerge". 
This 3D printed hotel project is not only for holiday makers: the people behind it want to assess the option of 3D printing affordable housing in the town. Indeed, other ventures to produce homes using this method are present all over the world, from the UK to the USA, to Kenya and South Africa. The projects use concrete extrusion 3D printing, and reportedly result in faster results with minimal waste and cost savings compared to traditional building methods.Find out more on ICON's website HERE. 
What do you think of this 3D printed hotel project? Is this a surprising move in the industry? Let us know in a comment below or on our LinkedIn, Facebook, and Twitter pages! Don't forget to sign up for our free weekly Newsletter here, the latest 3D printing news straight to your inbox! You can also find all our videos on our YouTube channel.
*All photos credit: ICON/BIG