ICON and Lennar to Build the Largest 3D Printed Community in Texas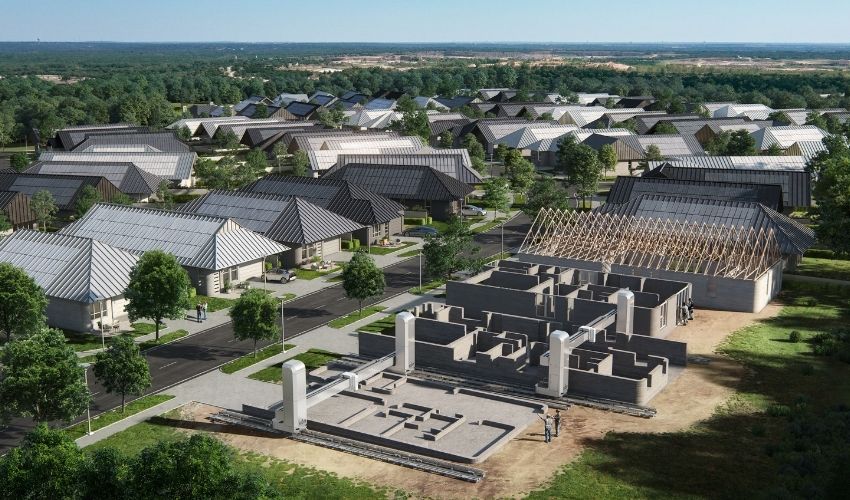 ICON continues to make its mark on the 3D printing construction sector. The construction technologies company announced just this week that it has partnered with Lennar and BIG-Bjarke Ingels Group to make the largest community of 3D-printed homes to date. They will be making the 100-home community in Austin, Texas and plan to break ground on the construction in early 2022. The announcement follows a number of projects by not just ICON but many other companies in the sector as construction 3D printing has rapidly grown over the course of 2021.
3D printing has certainly boomed in the construction sector over this past year. ICON itself has had several projects (both on Earth and in Space) including their first multi-home project in Texas and the sale of their first 3D-printed home in the US. Though they are not the only ones. In the United States alone, this year has seen a first 3D printed building in Florida, an affordable 3D printed home made by Habitat for Humanity in Arizona and Mighty Building's neighborhood of 3D-printed, zero net energy homes. As housing prices soar and labor shortages continue, 3D printing has grown as it is considered to be one way to address the increasing housing crisis worldwide.
The 3D Printed Community
In this specific case, the community is a result of the deepening relationship between Lennar, a leading American homebuilding, and Icon. In fact, Lennar was one of the investors in ICON's recent $207 million financing round. The companies are hoping that thanks to 3D printing, they will be able to produce resilient, energy-efficient homes in a way that is both faster and less wasteful than traditional methods. In the press release, they noted that they would be using ICON's Vulcan system which can deliver homes and structures that are built to the International Building Code (IBC) structural code standard and which are both stronger and longer-lasting. They note especially the importance of the technology as a way to build resilient homes that are more resilient to extreme weather and natural disasters.
The collaboration also includes famed architectural firm BIG-Bjarke Ingels Group, who will co-design the structures. They aim to create "a diverse collection of contemporary living spaces, with a variety of distinctive spatial concepts." 3D-printing will also be instrumental in design as they hope to modernize the aesthetic of a suburbna home with the distinctive traits of a 3D-printed house, such as curved walls. Though it is not mentioned, it seems likely that they will also unveil the finished 100-house community sometime next year.
ICON CEO Ballard concluded, "ICON exists as a response to the global housing crisis and to put our technology in service to the world. Construction-scale 3D printing not only delivers higher-quality homes faster and more affordably, but fleets of printers can change the way that entire communities are built for the better. The United States faces a deficit of approximately 5 million new homes, so there is a profound need to swiftly increase supply without compromising quality, beauty, or sustainability and that is exactly the strength of our technology. It is an honor and a huge milestone for ICON to partner with Lennar, an elite top-tier homebuilder with a commitment to innovation.  We believe this will be a watershed moment in the history of community-scale development and the future breaking into the present." You can find out more about the project in the press release HERE.
What do you think of the partnership between ICON and Lennar? Would you live in a community of 3D-printed homes? Let us know in a comment below or on our Linkedin, Facebook, and Twitter pages! Don't forget to sign up for our free weekly Newsletter here, the latest 3D printing news straight to your inbox! You can also find all our videos on our YouTube channel.
*Cover Photo Credits: ICON