ICON Announces First 3D Printed Multi-Home Project in Texas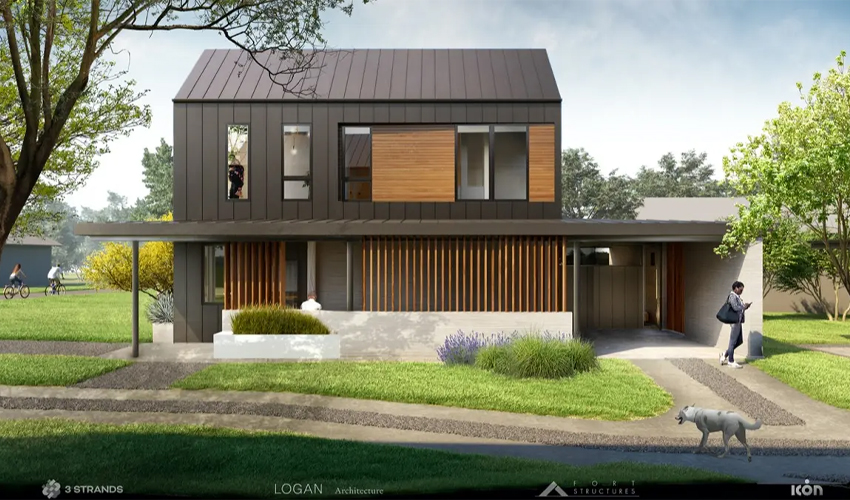 Now a major figure in the 3D printing construction sector, American start-up ICON has unveiled its next project. In partnership with the Kansas City developer 3Strands and Logan Architecture, ICON plans to to build four houses for their 3D printed multi-home project in Austin, Texas. According to the company, this incredible endeavor is underway thanks to their Vulcan construction system, a 3D printing system for creating sustainable, resilient and beautiful housing. Intended for the general public, the houses should be marketed as soon as their construction is completed. This marks a slight detour from when we last heard from ICON, as the project this time is on Earth. They have also been working with NASA on a project related to building infrastructures on the Moon.
Called East 17th Street Residences, the homes will be multi-story with two to four bedroom and are expected to range in size from 1000-2000 square feet (90 to 185 square meters). Located in the fast-growing East Austin neighborhood, the buildings will boast front porches, extensive front yards, covered parking, open concept floor plans, high performance HVAC and more. They will be built using ICON's Vulcan building system, which has already been used to build residences in Mexico. Jason Ballard, co-founder and CEO of ICON, speaking about the technology explains, "With ICON's 3D printing technology, we anticipate more high-velocity progress in the years ahead to help bring housing and construction into the modern world and in-line with humanity's highest hopes." When it comes to interior finishes, designer Claire Zinnecker will be in charge. Known for her modern approach, her association with ICON will undoubtedly be a success.
The Vulcan System for Better 3D Printed Homes?
As you probably know, the use of 3D printing to build or at least participate in the construction of buildings is becoming more and more popular. Several technologies now exist to build infrastructures, but the star of the day in this project is the Vulcan construction system. Capable of wall structures of up to 8.5 feet (2.6 meters) tall, the machine is 11.5 feet tall (3.5 meters) with an infinite print length (though the Vulcan itself spans 33 feet, or 10 meters, and can print on foundations of up to 28 feet wide), with has a print speed between 5-7 inches (13 and 18 centimeters) per second. These features open up new possibilities for builders, including time savings and cost reductions.
As for the materials used in construction, Vulcan is only compatible with ICON's Lavacrete material, which is created from cement. According to the manufacturer, the advanced material is both stronger and longer-lasting than traditional building materials. Additionally, ICON claims that Lavacrete technology allows structures to withstand fire, flooding and other natural disasters. Several advantages that could make 3D printing the future of construction, especially in an area like Texas which can be prone to hurricanes and tornadoes. You can find out more about this project at ICON's website HERE.
What do you think about the East 17th Street Residences? Would you buy a 3D printed home? Let us know in a comment below or on our Facebook, Twitter and LinkedIn pages! Sign up for our free weekly Newsletter here, the latest 3D printing news straight to your inbox!