The First 3D Printed Unmanned Ship Prototype, 'Hydra', Unveiled in UAE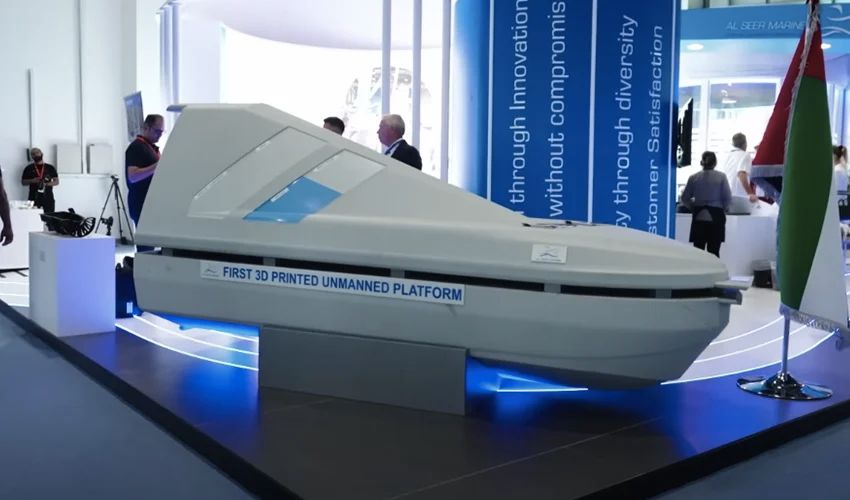 Al Seer Marine is a marine equipment manufacturer based in Abu Dhabi, United Arab Emirates. A recent development sees the company turn to 3D printing with Hydra, a 3D printed unmanned surface vessel (USV). This drone ship is currently only a concept, but is described as the first such model unveiled to the general public. It was presented at the NAVDEX 2023 exhibition in Abu Dhabi, an event that brings together players from the maritime and defense sectors. In terms of size, the vessel designed by Al Seer Marine is 5 meters long, weighing 350 kg. It is believed to have been manufactured in the company's 3D printing factory.
For the construction of Hydra, Al Seer Marine called on the Dutch 3D printer manufacturers CEAD. The latter provided a composite system that enabled 3D printing of parts of the boat. The marine equipment manufacturer benefited from AM Flexbot technology, a flexible robotic solution for large-scale 3D printing. However, the UAE-based company did not mention which parts of the boat incorporate 3D-printed components. CEAD has already proven itself in the automotive sector, with the ZEM, an eco-friendly car with 3D printed parts that captures more carbon dioxide than it produces.
Hydra Was Designed In 5 Days Thanks to 3D Printing
Where 3D printing played an important role in the manufacture of the unmanned vessel is its speed of construction. In fact, according to Al Seer Marine, Hydra was designed in 5 days, in addition to the design and engineering work on the vessel. As explained earlier, this drone is only a prototype. The marine equipment manufacturer says it is still developing the system provided by CEAD to produce more 3D printed parts to be integrated into the vessel.
Visitors to the NAVDEX 2023 show were able to see Hydra in action, thanks to a video posted by Al Seer Marine at the show. Some company representatives even announced that they are working on a lighter unmanned drone boat model, also made using 3D printing. The Emirates-based company also added that it will print an integrated mast on the vessel and that it will be powered by electric motors. Once completed, Hydra will be used as a stealth ship for intelligence, surveillance and reconnaissance missions. For more information, click HERE.
What do you think of Hydra, the first unmanned 3D printed ship? Let us know in a comment below or on our LinkedIn, Facebook, and Twitter pages! Don't forget to sign up for our free weekly Newsletter here, the latest 3D printing news straight to your inbox! You can also find all our videos on our YouTube channel.
*Cover photo credits : Naval News