Hybrid 3D printers available on the market
Published on September 3, 2020 by
Aysha M.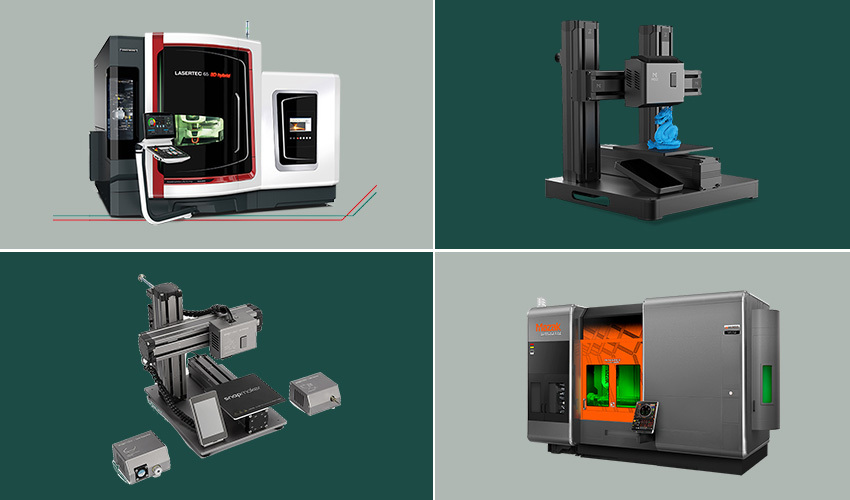 Hybrid machining combines additive and subtractive manufacturing methods in one single solution. The concept was around since 1990's but it was not commercially popular until recently. Today, more and more manufacturers are developing hybrid 3D printers as the demand for such machines keeps growing. Some manufacturers are offering even more functions than 3D printing and CNC – laser engraving and cutting and paste extrusion are often added to offer a versatile solution for the customer. Therefore, such hybrid printers are also known as "All-in-one printer" or "3-in-1 printer". We have prepared a list of 14 hybrid 3D printers available on the market, divided into desktop and industrial categories and ranked in alphabetical order.
Desktop hybrid 3D printers
5axismaker
The 5AXISMAKER solution was launched in 2015 by UK-based manufacturer 5AXISWORKS. This machine is available in two versions, the 5xm400 and 5xm600 according to the maximum manufacturing size. Both support any CAD/CAM software (provided a post processor is available) and include a one-year commercial subscription to Autodesk® Fusion 360 TM Ultimate. They include a set of tools including a 5-axis CNC router, touch probe, 3D printer, 3D scanning and measurement, and hot wire cutter, plus the potential to add more items via their adapter. As we have said they have a printing volume of 400mm3 or 600mm3 depending on the version, and are compatible with engineering thermoplastics, such as nylon, PC, etc. You can purchase one of these hybrid multifunction 3D printers for $6,500 on the manufacturer's website.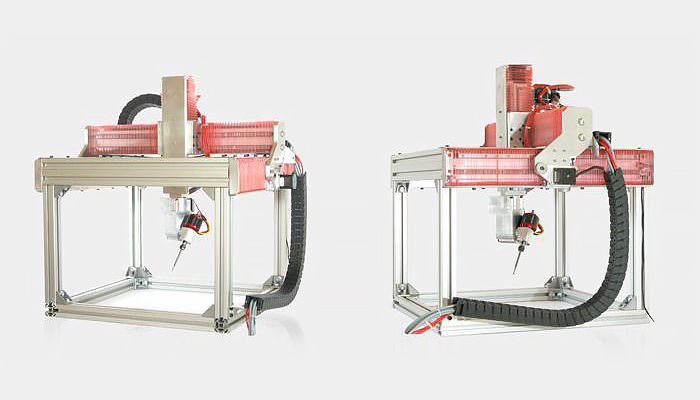 Creality CP-01
Creality 3D, a low-cost 3D printer manufacturer, has unveiled its Creality CP-01, a hybrid printer that can be used as a 3D printer, CNC milling machine, and laser engraving machine. The integrated FDM-based 3D printer prints with ABS, PLA, PVA, TPU and wood components at a maximum print speed of 80 mm/sec. The heating plate can be heated up to 100°C. The maximum volume is 200 x 200 x 200 mm and it must not be exceeded even for components that are milled or engraved. The integrated laser can engrave wood, plastic and paper with a laser power of 500mW. The same materials extended by printed circuit boards can also be milled with a maximum spindle speed of 4,800 rpm. The three individual modules of the hybrid printer (extruder, CNC milling and laser engraving unit) can be easily exchanged as required. By combining three units in one, the CP-01 saves not only space but also costs. However, the CNC milling and laser engraving units are entry-level models, so they do not provide above-average performance. In summary, the CP-01 is a good option for makers and hobbyists, but it is not at an industrial level.

da Vinci 1.0 Pro 3-in-1
Taiwanese manufacturer, XYZPrinting, entered the global 3D printing market with easy-to-use FDM desktop 3D printers. Today, the company is known for its da Vinci line of products for their value for money. The da Vinci 1.0 Pro 3 in 1 is a hybrid printer that integrates both a 3D printer based on FDM technology and a 3D scanner. If that's not enough, a laser engraving unit can be added. The 3D printer prints parts from PLA, ABS, PETG, HIPS and wood PLA at a maximum print speed of 120 mm/sec. Because the da Vinci 1.0 Pro 3 in 1 has an open filament system, the materials do not necessarily have to be purchased from XYZPrinting, but can be purchased from third-party suppliers. The heating plate can be heated up to 90°C and the maximum construction volume is 200 x 200 x 190 mm. The 3D scans can have a maximum size of 15 x 15 cm with an accuracy of 0.25 mm. The optional laser engraving unit has an engraving area of 20 x 20 cm with a laser power of 350 mW. Due to its features, the da Vinci1.0 Pro 3 in 1 is suitable for professionals.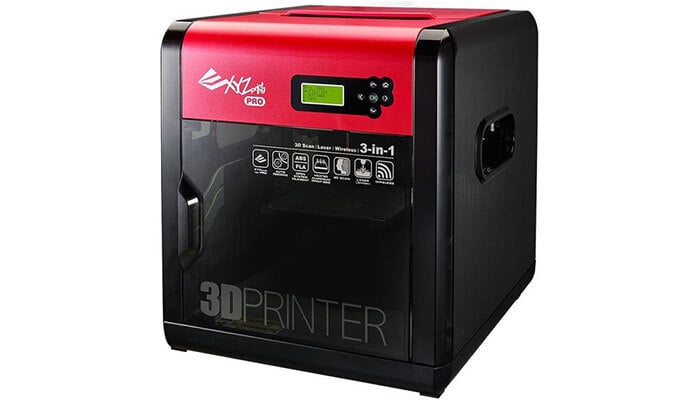 DOBOT MOOZ 2 PLUS
Shenzhen Yuejiang Technology Co. (DOBOT) is a leading global provider of intelligent robotics solutions. DOBOT's product line includes the MOOZ 2 PLUS. The DOBOT MOOZ 2 PLUS is a hybrid printer that combines 3D printing, CNC milling and laser engraving to print parts made ofPLA, TPU, PETG and flexible materials at a maximum print speed of 80 mm/sec. The heating plate can be heated up to 80°C. The maximum construction volume is 200 x 200 x 190 mm and this volume must not be exceeded even for components that are to be milled or engraved. The integrated laser can engrave wood, bamboo, leather, paper, plastic, fabric and opaque acrylic with a laser power of 1.6 W. The CNC milling machine mills wood, bamboo, acrylic, PCB, carbon fiber boards, plastic, etc. with a maximum spindle speed of 8,000 rpm. The DOBOT MOOZ 2 Plus is a desktop printer that is ideal for makers.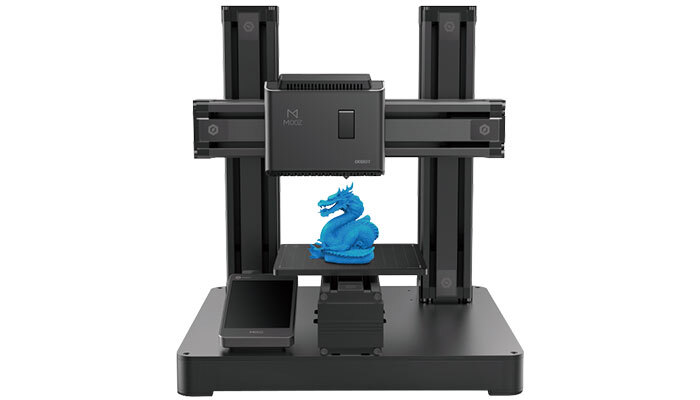 H-Series by Diabase Engineering
The H-Series from Diabase Engineering is a hybrid machine that offers CNC machining and 3D printing in a single interface. The machine has been carefully engineered to solve real problems in the desktop manufacturing toolchain. It is a machine that enables the manufacture of functional products with high accuracy and a professional finish. Depending on the number of axes you decide to go for, whether 3, 4 or 5, the machine offers different build volumes. The build volume on the 3-axis machine is 416mm x 186mm x 210mm. On the 3D printing side, you can print a range of engineering-grade thermoplastics such as ABS, PLA, NYLON, PETG, TPU, water-soluble materials and more. The machine is equipped with an active nozzle cleaning system, a heated filament cabinet, a changeable heated build platform and various subtrative tool heads for milling, engraving and surfacing. As mentioned you can also go for a rotary modular axis for 4th and 5th axis printing and milling.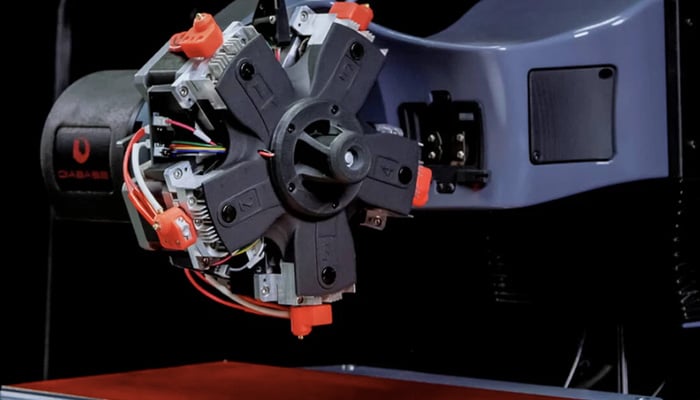 Snapmaker 2.0
Snapmaker 2.0, is a 3-in-1 machine that enables 3D printing, laser engraving and cutting, and CNC carving. It supports several 3D printing materials such PLS, ABS, wood, etc. For CNC carving you would be able to use carbon fiber sheet, PCB, platane wood, and more. You can also perform laser engraving and cutting on a diverse range of materials including plywood, fabric, leather, and acrylic. Snapmaker 2.0 comes with a smart touchscreen that simplifies the workflow of your projects, letting you manage the most-used tasks directly from the touchscreen. This desktop hybrid 3D printer retails for $1,039.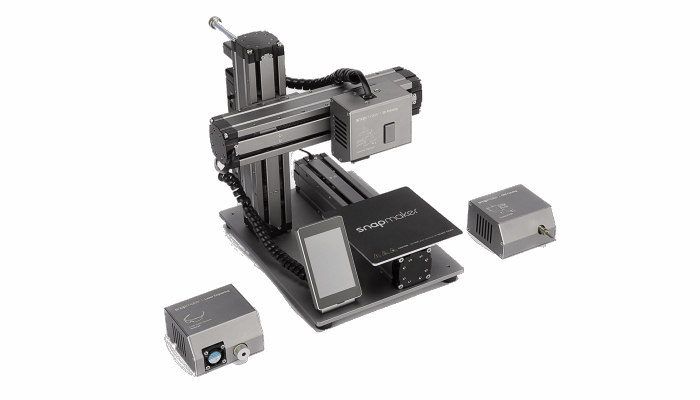 ZMorph VX
ZMorph VX is considered by many to be one of the best desktop hybrid 3D printers currently available on the market. This versatile solution supports single and dual extrusion, CNC milling, laser engraving and cutting, and paste extrusion. ZMorph VX works with virtually all 3D printing materials on the market, so the users can take advantage of 3D printing with advanced materials like nylon, HIPS, PC/ ABS, and more. Silent X and Y steppers reduce noise by 50%. The paste extrusion function works with chocolate, dough, cream cheese, frosting, and more. To ensure a smooth workflow process for the users, the Polish company also released a designated software Voxeliser 2.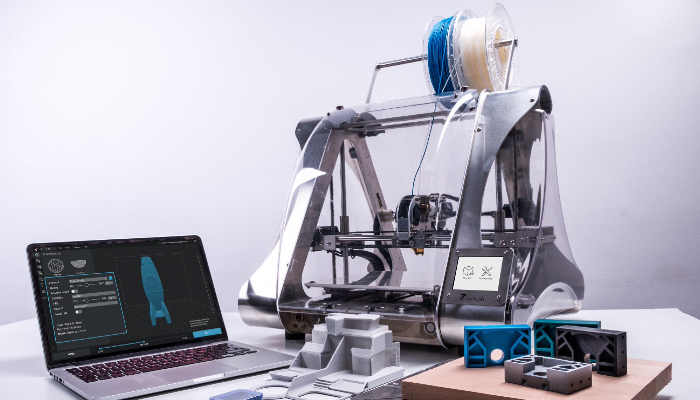 Industrial hybrid 3D printers
AconityMIDI
The 3D printer AconityMIDI was launched by the German manufacturer Aconity3D in 2018 with the intention of providing a flexible production system to users. AconityMIDI is equipped with an optional second camera that allows for parallel setup times while the main system is still in production. It has a maximum production volume of Ø 170 mm x H 200 mm and a layer thickness of up to 10 μm. In addition, the system integrates process monitoring or high temperature preheating (up to 1200°C). This hybrid 3D printer is also available as a DUAL-Laser system that allows for maximizing productivity. Weighing 1450kg, AconityMIDI can be equipped with the unique vacuum option and Micro-LBM configuration. This is certainly an advanced solution for professionals in the 3D industry.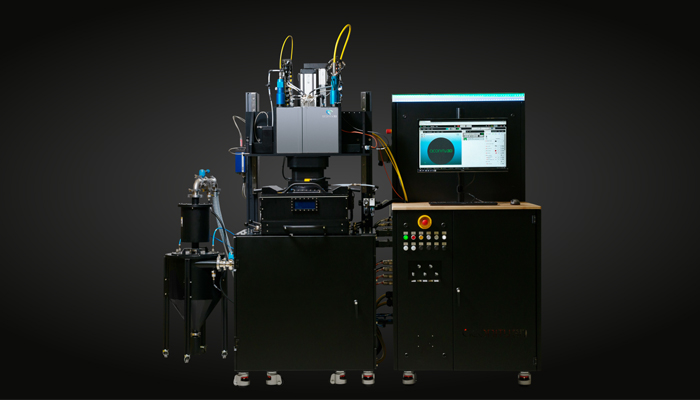 AMBIT Series 7
The new multitasking system AMBIT Series 7 has been developed by the company Hybrid Manufacturing Technologies with the aim of opening up new opportunities in the production of metal parts. It provides a perfect integration of 7 production technologies in the same tool without precedents. This new multitasking system integrates DED technology heads with a robust performance to deposit metal from 0.5 to 3mm thickness. It also features a column that functions as a universal docking station to monitor and control manufacturing processes to ensure quality parts. Its main novelty is the subsequent verification of manufacturing quality thanks to the eddy current inspection head, which allows the detection of surface and subway cracks. The AMBIT Series 7 solution is undoubtedly an innovative way to integrate additives in conventional manufacturing!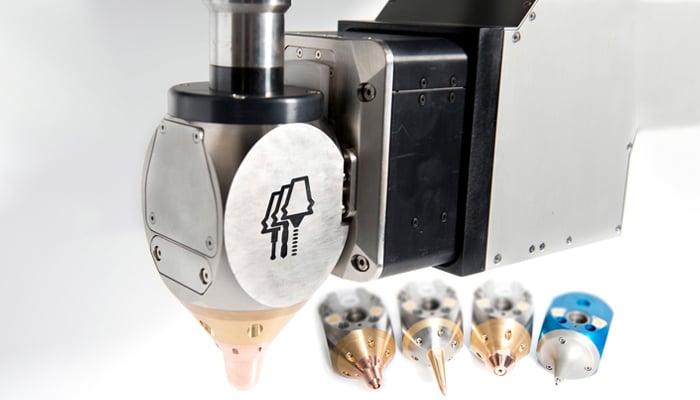 INTEGREX i-400 AM by MAZAK
Manufactured by the Japanese company MAZAK, the INTEGREX i-400 AM is a hybrid multi-tasking machine that provides additive manufacturing technology and high-precision finish machining operations for large format manufacturing. The AM technology is based on Directed Energy Deposition (DED) process. The nozzle deposits the molten metal layer by layer to build the part. DED is interesting for repair applications of worn or damaged components such as aerospace turbine blades. In terms of its Multi-Tasking capabilities, the INTEGREX i-400 AM provides full 5-axis machining to process prismatic parts from solid billets or castings, round parts, highly contoured parts and AM manufactured parts.

Kraken hybrid 3D printer
The KRAKEN project is a European project that was launched to bring an all-in-one hybrid manufacturing machine to the market at an affordable price. Therefore, the KRAKEN system provides 3D printing technologies, robotics and subtractive technologies. It has been developed for the production of end-use parts and large customized functional parts, measuring up to 20 meters long with 0.1mm precision. The creators claim that the system is 40% faster than competing methods thanks to high deposition rates during the AM process and a seamless switch to milling and finishing operations (with an interchangeable manufacturing head). KRAKEN is also said to be 25% more productive and take up to 90% less floor space. On the 3D printing side, it integrates multiple technologies too: wire arc AM, resin 3D printing, and a thermal spray process to allow metal 3D printing on top of a polymer part. This is a very complete solution to say the least!

LASERTEC 65 3D Hybrid by DMG Mori
The German-Japanese manufacturer DMG Mori, the result of the merger between the German company DMG and the Japanese company Mori Seiki, offers industrial manufacturing solutions for all industries. Its product range includes hybrid manufacturing machines that can both print and machine parts. Among them is the LASERTEC 65 3D Hybrid, a machine with a spray nozzle that offers additive metal fabrication and milling capabilities. It can create parts up to a maximum size of 735 x 650 x 560 mm and is based on the DED process. Equipped with 5 axes, it can change its laser head to mill the designed part. The LASERTEC 65 3D Hybrid integrates Siemens software solutions to maximize your design and control your manufacturing process.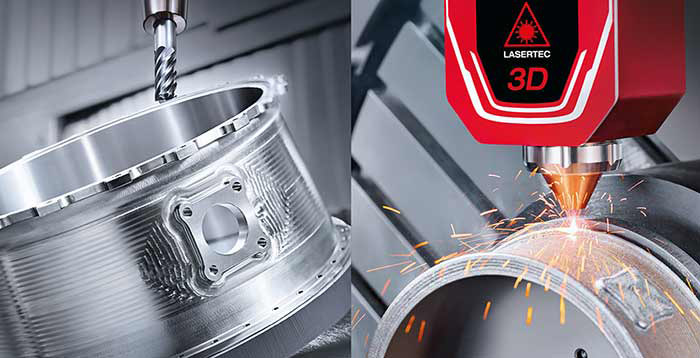 LENS 860 hybrid 3D printer by Optomec
The LENS 860 has been designed by Optomec to provide industrial companies with large metal parts: it combines a DED process and a milling spindle for finishing work. Its maximum printing volume is 860 x 600 x 610 mm and its laser reaches a maximum power of 3kW. Four versions are now available, with or without milling, and with or without controlled atmosphere. Depending on the configuration you choose, you will be able to print non-reactive metals such as steel or flap, or metals such as titanium.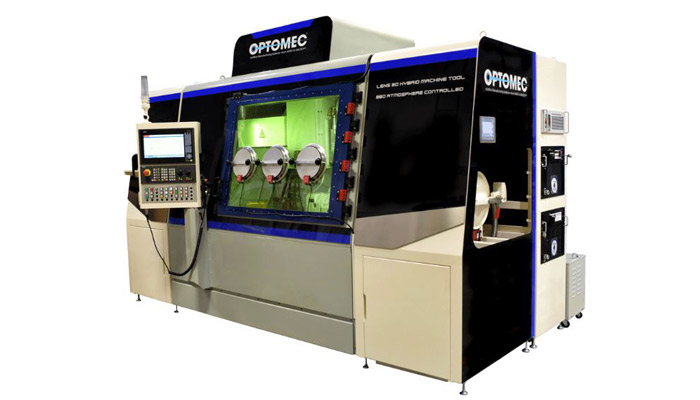 LUMEX Avance -25 by Matsuura
Released in 2002, LUMEX Avance-25 is a hybrid 3D printer developed by a Japanese manufacturer Matsuura. It combines metal 3D printing technology with conventional milling, CNC. This hybrid solution uses a 400 W Yb fiber laser and can store up to 20 tools, as well as 3D print parts at a speed of 7 cubic cm per hour, for a maximum part weight of 90 kg. An interesting advantage of this machine is its APR System (Automatic Powder Recovery System), which means that powder supply, collection and reuse can be fully automated without the need for the operator to directly touch the powder. Excess powder that remains after sintering is automatically sieved and reused for subsequent sintering.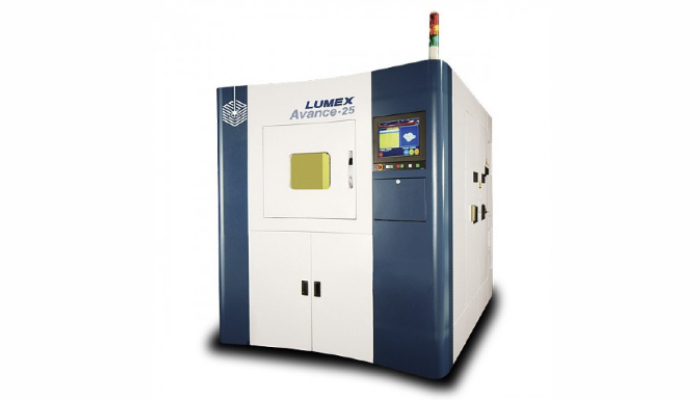 Did this list of hybrid 3D printers help you? Let us know what you think of these hybrid 3D printers. Leave a comment below or on our Facebook and Twitter pages! Don't forget to sign up for our free weekly Newsletter, with all the latest news in 3D printing delivered straight to your inbox!