HP's Digital Manufacturing Report shows increased interest in 3D printing globally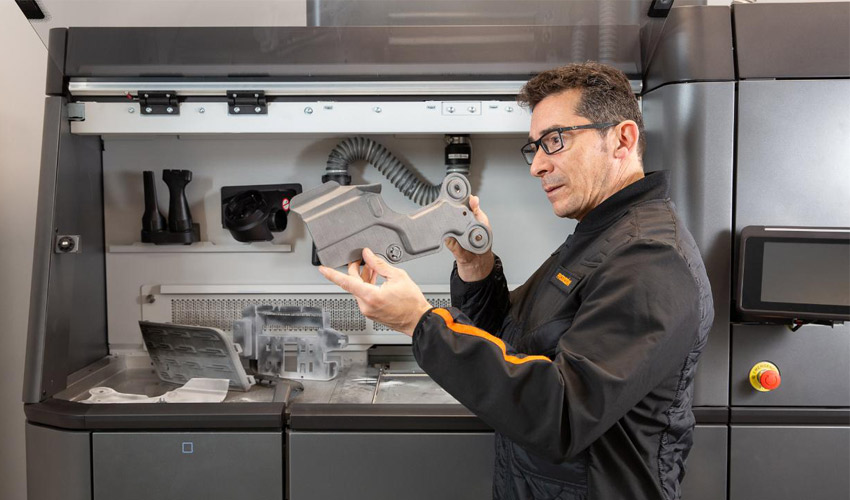 Last October, HP unveiled its Digital Manufacturing Report, a study conducted among 2,175 decision-makers around the world ( across 3 continents and 9 geographic areas to be precise). After the recent publication of its French study, we decided to look at its trends for the global market. The report seeks to understand the impact of digital manufacturing technologies on our production methods and more specifically the adoption of additive manufacturing by companies and the possible role 3D printing can play. The conclusion is clear: for all respondents, digital manufacturing is an engine of economic growth and 85% indicated that their company plans to increase their investments in 3D printing technologies. These technologies accelerate innovation, reduce manufacturing costs and allow for mass customization. That being said, there are still obstacles, many believe that the adoption of AM technologies is still difficult because of a lack of skilled labor. Through this global study, HP shows the full potential of additive manufacturing, highlighting its ability to change the way we design, prototype, produce and consume. 
The health crisis has shown the weaknesses in our supply chains and the limitations of our current production methods. Additive manufacturing has proven to be a great asset in meeting these challenges by offering a decentralized model, favoring local and on-demand production. Last year, we saw that 3D printing manufacturers and users were some of the first to provide PPE and other necessary medical devices to respond quickly to the COVID-19 crisis. Furthermore, respondents to HP's study highlighted that the medical, industrial and automotive industries were the most ripe for innovation in additive manufacturing/3D printing over the next five years.
Additive manufacturing at the heart of innovation
For three-quarters of respondents to the study, 3D printing is a way of improving their agility but is especially interesting because of its capacity for innovation. Indeed, the majority of global participants consider that 3D technologies facilitate the development of innovative ideas and solutions by allowing on-demand, personalized production and also eliminating physical stocks. 
Continuing on the theme of innovation, we cannot neglect mentioning the mass customization offered by additive manufacturing. 91% of respondents stated that they wished to explore mass customization, believing that personalized parts through 3D printing/additive manufacturing could be applicable to their business. Producing parts by adding material eliminates the need to design a mold that will be used to manufacture standardized parts. Moreover, by using a 3D model, it is much easier to quickly iterate, to make it evolve according to the needs and therefore to imagine multiple tailor-made products. For example, recent studies have shown that already the market for 3D printed surgical models expects significant growth in the next five years, with companies like SmileDirectClub (in partnership with HP) already producing thousands of tailored dental appliances every day. 
The adoption of additive manufacturing globally
If companies are more and more inclined to invest in 3D printing technologies, most are still hampered in this integration due to the lack of skilled labor. This is a point that comes up often in this type of study: users are not sufficiently trained. And yet, 64% say that they want to offer more professional training services, with 53% stating that they want companies, governments, institutions, and citizens to work together to make investment in education and job-skilling programs. 
However, despite this stumbling block, companies are ready to adopt additive manufacturing at least partly due to the possible environmental benefits that it represents. For 90% of respondents, the recyclability of 3D printed powders and parts is important, while 88% believe that governments should create a sustainable ecosystem through incentivising and investing in the development of socially and environmentally beneficial digital manufacturing technologies. To meet this need, HP has notably developed a new highly reusable polypropylene with BASF: 100% of unused powder can be recycled. Ramon Pastor, General Manager, HP 3D Printing & Digital Manufacturing concludes: "The global manufacturing sector is clearly signaling a desire for greater supply chain resiliency, more manufacturing flexibility, increased speed of innovation, and stronger environmental sustainability. And they are seeing industrial 3D printing as a way to not only lower costs and go to market faster, but as a unique competitive advantage that accelerates innovation for customers." If you want to know more, you can download the entire study HERE. 
What do you think of the adoption of additive manufacturing globally? What do you think about this move and about sustainability in the AM sector? Let us know in a comment below or on our Facebook and Twitter pages! Sign up for our free weekly Newsletter here, the latest 3D printing news straight to your inbox!