HP Is Showcasing New HP Metal Jet S100 Solution and HP Jet Fusion 5400 Series at Formnext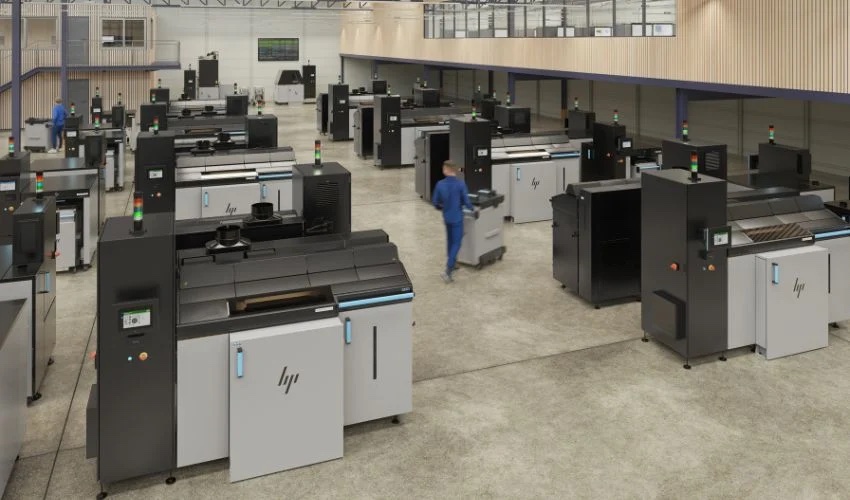 At Formnext, both users and exhibitors are able to enjoy a place where all innovations in the field of additive manufacturing can be found: from materials to 3D printers and 3D scanners to post-processing and software solutions, everything is present! And speaking of innovations, one company is definitely not to be missed: HP 3D Printing. If you stop by HP's booth this year (12.1 – D59), we can tell you for sure that you will be surprised by the exciting advances and innovations in their portfolio! We took a closer look at what exactly you can expect.
HP Recognizes the Importance of Metals: New HP Metal Jet S100 Solution
At the International Manufacturing Technology Show (IMTS) this September, HP introduced its new Metal Jet S100 solution to the market. It is designed to provide a significant advancement in the metal manufacturing sector, focusing on end-to-end supply chain solutions – both in software and hardware. Companies are now easily able to achieve technical as well as economic advantages thanks to industrial production capacities and integrated workflows, as well as the large number of subscription and service offerings. These include the transport of components between four different stations, enabling users to mass produce metals.
Here, Ramon Pastor, Global Head of 3D Metals at HP, emphasized, "3D printed metal parts are a driving force for digital transformation, and the new Metal Jet S100 solution provides our customers with a best-in-class metal offering, from initial designs to production, but most importantly, it helps you realize the unlimited potential of digital manufacturing." And this is reflected in the fact that HP has already built strong momentum with global partners and customers such as GKN, Parmatech, Cobra Golf, Legor Group and Volkswagen. In addition, HP is always working with new business partners and customers on mass metal manufacturing capabilities, including Domin Digital Motion, an industrial innovator focused on hydraulic systems and valves, as well as Lumenium, a startup developing advanced rotary motors, and Schneider Electric.
Working closely with GKN, HP Metal Jet technology was used to produce a new filter for Schneider Electric's NSX switch that would never have been possible using traditional manufacturing methods due to the complexity of the shape and material. In the process, HP's new metal solution not only helped develop new forms of power filters that reduced gas, pressure and heat loads in a confined space, but also resulted in significant productivity gains and environmental benefits. Read more about HP's metal solution HERE.
New HP Jet Fusion 5400 Series Enables Printing of White Applications
Users of HP's Multi Jet Fusion technology are also benefiting from the company's latest innovations and advances. To accelerate production of polymer applications, HP is expanding its existing Jet Fusion portfolio to include the new HP Jet Fusion 5400 Series and introduced the first product in the series, the HP Jet Fusion 5420W solution. The Jet Fusion 5420W enables consistent, high-quality production of white parts that find their application particularly in the consumer, industrial and automotive markets in healthcare. The new solution offers customers the benefits of HP's robust, production-ready Multi Jet Fusion platform, including industrial-grade reliability, low unit costs and improved manufacturing predictability. You can find the latest HP white customer applications at Formnext! Learn more about HP's white applications HERE.
If you want to learn more about the new HP Metal Jet S100 solution and HP Jet Fusion 5400 series, don't miss HP's booth at Formnext!
What do you think about HP's new additive manufacturing solutions? Will you be seeing them at Formnext 2022? Let us know in a comment below or on our LinkedIn, Facebook, and Twitter pages! Don't forget to sign up for our free weekly Newsletter here, the latest 3D printing news straight to your inbox! You can also find all our videos on our YouTube channel.
*Cover Photo Credits: HP