HP reveals new Jet Fusion 5200 3D printing solution and strategic alliances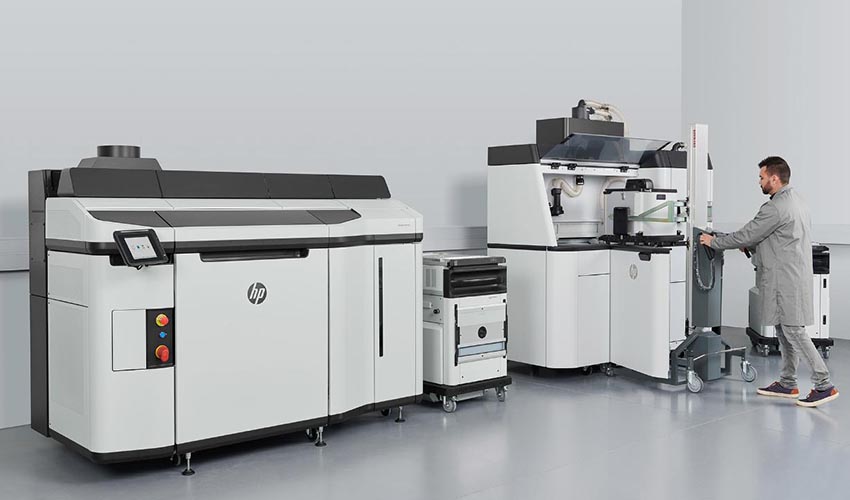 One of the largest manufacturers of industrial solutions, HP, is releasing its new 3D printer: the HP Jet Fusion 5200. It unveiled its new AM solution at an event with Siemens today, thus expanding its portfolio with an additional machine. A new TPU 3D printing material was also unveiled, as were strategic alliances with major industrial groups and a digital manufacturing network. We have often reported on the achievements of this giant company. Recently, the company reached the milestone of more than 10 million printed parts last year.
The new HP Jet Fusion 5200 series is designed to optimise users' manufacturing needs by delivering high quality, precision, efficiency, flexibility and productivity. In fact the HP Jet Fusion 5200 is designed to be an end-to-end industrial solution at volume. The printer also includes some new data intelligence, software, and services capabilities, including the HP 3D Process Control, the  HP 3D Center software offerings and the HP 3D Parts Assessment service. The aim is to allow customers to reach even greater operational efficiency and repeatability. The first users include BASF and Materialise as well as Jaguar Land Rover and Vestas, one of the largest manufacturers of wind turbines. Additionally, the TPU material presented, ULTRASINT™, was developed by chemical giant BASF and is suitable for printing flexible and elastic parts on the HP Jet Fusion 5200.
"The introduction of the new TPU is a significant milestone in the cooperation between BASF and HP, aligned with our common objective to accelerate the industrialisation of additive manufacturing", explained Dr. Markus Kamieth, Member of the Board of Executive Directors at BASF.
"Our collaboration with HP to enhance our knowledge and capabilities in 3D printing has been an important step toward producing quality parts to support current and aftermarket customers. Continuing this collaboration with the early deployment of the new HP Jet Fusion 5200 will help us better understand the opportunities for opening up new application areas, while supporting research to improve productivity, efficiency and reliability of our customers' 3D printing processes Technology", added BenWilson, Additive Manufacturing Manager, Jaguar Land Rover.
In addition to the HP Jet Fusion 5200, the company also demonstrated how they are driving the future of digital manufacturing by deepened industrial alliances. Among the partners is the leading chemical company BASF, Siemens and Materialise. As mentioned earlier, the strategic alliance with BASF mainly consists of the development of new materials for HP's 3D printing solutions. Klaus Helmrich, CEO of Siemens Digital Industries commented, "Siemens and HP are thinking ahead to the future and are bringing together the best from both companies in a complete, industry-specific solution that will accelerate the adoption of industrial additive manufacturing and help our customers to increase flexibility, efficiency, and speed of digital manufacturing." 
Furthermore, HP introduced its new HP Digital Manufacturing Network to provide 3D printing service providers with a platform to assist partners in the design and production of plastic and metal parts. The Digital Manufacturing Network has partners in the USA, Asia and Europe and will continue to expand its network in the coming months. In addition to Materialise, initial production partners include Forecast 3D, GKN Powder Metallurgy, GoProto, Jabil, Parmatech, and ZiggZagg.
You can find out more information about HP's three announcements HERE.
What do you think of HP's latest AM solution and announcements? Let us know in a comment below or on our Facebook and Twitter pages! Sign up for our free weekly Newsletter: all the latest news in 3D printing straight to your inbox!