HP makes big announcements at Die & Mould China 2017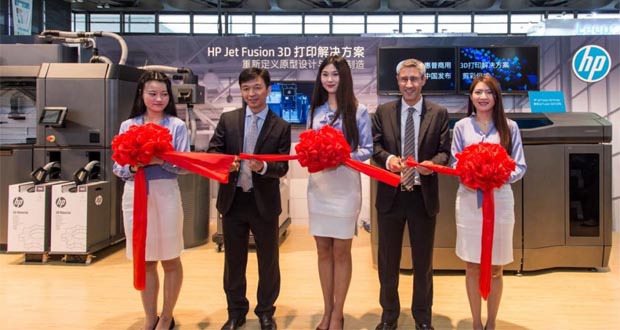 Coming on the cusp of recent announcements by HP at the RAPID + TCT fair in the US earlier this month, HP is now back with new surprises at the Die & Mould China 2017 Expo in Shanghai that just kicked off today. Back in the headlines, HP has officially announced their extension into Asia-Pacific through a new deal with leading Chinese printing company, Shining 3D ePrint. This new deal will see HP specifically targeting Japan, South Korea, Singapore and Australia; A move that will help HP solidify their position in additive manufacturing throughout the region.
Shining 3D is no stranger to 3D printing, with more than 10,000 customers in over 70 countries around the world, they are already a strong contender in additive manufacturing in Asia. Through this expansion, HP will be given a strong foundation when entering the Asia-Pacific market, with Shining 3D already planning on showcasing HP's printing solutions in more than 50 demonstration centers in major cities across China. These centers will be similar to ones that opened in May of this year across North America and Europe, as they will also be providing testing and qualification of new 3D printing within a controlled environment; Giving customers a smoother passage between prototyping and full-scale 3D production.
"As the leading 3D printing provider in China we are honored to partner with a technology innovator like HP to bring production ready 3D printing to the largest manufacturing market in the world," said Mr. Zhao Dong Lai, President of Shining 3D ePrint. "The speed, quality, and economics of HP's Multi Jet Fusion 3D printing solutions make them an ideal foundation for the next-generation of 3D services and parts we deliver to our wide array of customers across the globe."
Furthermore, HP has also announced that they will be extending their Partner First 3D printing Specialization reseller program in the Asia-Pacific region, with the inclusion of new resellers: Aurora, Evok3d, AM Korea, Huxen, Infinite 3D Printing, FormX, 3D Pro, Hyunwoo Data, Eye2Eye, Shining 3D ePrint, Trustworthy, ECSS, and Wenpoo. Through the incorporation of these new resellers, HP is hoping that they will be able to continue to expand their business across the region.
In addition, Sinopec Yanshan Petrochemical Company has confirmed that they will be joining HP's list of printing material suppliers. The company is looking to collaborate alongside HP in order to develop polyolefin-based powders for HP 3D printers that use the Multi Jet Fusion Technology. "The combined global footprint and shared vision of Sinopec Yanshan Petrochemical Company and HP will help transform the 3D printing materials marketplace and the entire global manufacturing industry," said Jiao Yang, Vice President of Sinopec Yanshan Petrochemical Company. "HP's open platform will help us and our global customers to collaborate and achieve a win-win."
HP ended their announcements with a final announcement on the opening of 3D Printing Reference and Experience Centers. These centers will be opening in Beijing, Qingdao, Shanghai, Hangzhou, Suzhou, Taipei, Singapore, Tokyo, and Melbourne. With these Reference and Experience Centers, they are hoping to enable more engagement between existing customers, potential customers and potential partners.
What do you think of these new announcements? Do you think that this expansion will help HP take on other major 3D printing companies in the region/world? Let us know in a comment below or on our Facebook and Twitter pages. Don't forget to sign up for our free weekly newsletter, with all the latest news in 3D printing delivered straight to your inbox!