How MakerOS Combines Sales Pipelines and Production Workflows for 3D Printing Companies, and Why It's Important to Do So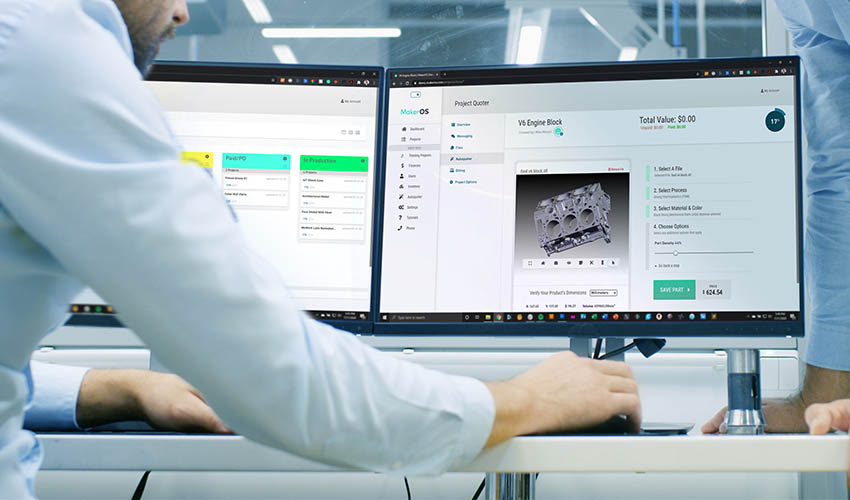 For any fabrication company, sales and engineering teams need to work together to deliver projects efficiently, yet they rarely communicate or collaborate in an efficient way. This is why MakerOS launched its collaboration platform for fabrication companies, specifically 3D printing service providers, back in 2015. Following some upgrades, it released version 2.0 of its online platform last month. As a matter of fact, there is high-demand for a solution that will help companies manage multiple projects at a time. After a threshold, it becomes nearly impossible to sync sales and engineering teams if processes are not centralized. Why is that so?
Almost all fabrication companies, especially 3D printing companies, have a process in place to receive new projects and a process to produce those projects. In the sales pipeline, a company will have a visual snapshot of where prospects are in the sales process, showing the sales team how many deals they can expect to close in a given week or month. These deals represent projects that need to be assigned to production. In most cases, the sales pipeline and production workflow are not synced, giving rise to many inefficiencies. For example, the sales team is rarely looped into the status of their clients' projects. If they want to have some updates they will need to ask someone from the engineering team directly, which you can imagine, is not ideal.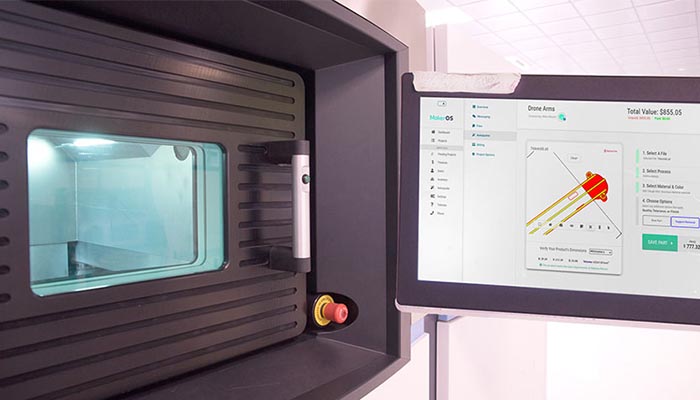 Project management solutions exist, but usually sales data is first registered on a separate software, typically a CRM tool, and then added to the PM tool. In this case scenario, the sales team is updated on the status of projects but at the price of using two software applications, one to manage the sales process and another to manage the tracking of the actual work the client had requested. Additionally, there's invoicing, one of the most important elements of this entire process as both the sales and engineering team have to be in sync in order to send the correct invoice to the customer (the price having possibly been altered during production). Invoicing usually adds an additional, and therefore third software to this entire process. Finally, the invoicing process is rarely automated, meaning that invoices are sent manually by email once they have been generated.
What's the solution from MakerOS?
Having very precisely identified the challenges fabrication companies come up against, MakerOS developed an online software that combines the sales pipeline and production workflow. Their online platform offers two solutions to this problem: the Autoquoter and the Project Board.
The sales and engineering teams have access to both. On the Autoquoter, all project data is collected, enabling an automated quoting process, but also informing the engineering team directly on the part that needs to be created, and even providing clients with a cost analysis of their parts. On the Project Board, the project's status can be viewed by everyone in the company, including all respective files, messages, quotes and billing. The clients have their own access portal, called the Client Portal, where they can also submit and manage their projects. Therefore, the Project Board gives anyone a truly omniscient view of everything happening in the production workflow, centralized in one place, on a per client and per project basis. See how the Autoquoter and the Project Board work in practice HERE.
Of course the process of 3D printing is one that takes into account many parameters (technology, design complexity, materials, etc.) which is why the Autoquoter has been developed to fit these needs. The design of the Autoquoter is intuitive and customizable: for example, the company can create rules and automation so that only eligible quotes make it to the sales and engineering teams.
To provide the most efficient solution possible, MakerOS has also made possible the integration of tools you are used to using, such as Dropbox, Slack, WordPress, OneDrive, and many more. Again, the goal is to centralize all processes under one roof to optimize collaboration and the production workflow of any fabrication company, and specifically 3D printing service providers. If you want to learn more about what is possible on the platform, make sure to check out MakerOS's official website.
What do you think of MakerOS's solution? Let us know in a comment below or on our Facebook and Twitter pages your comments. Don't forget to sign up for our free weekly Newsletter, with all the latest news in 3D printing delivered straight to your inbox!