Hive, a 3D Printed Clay Wall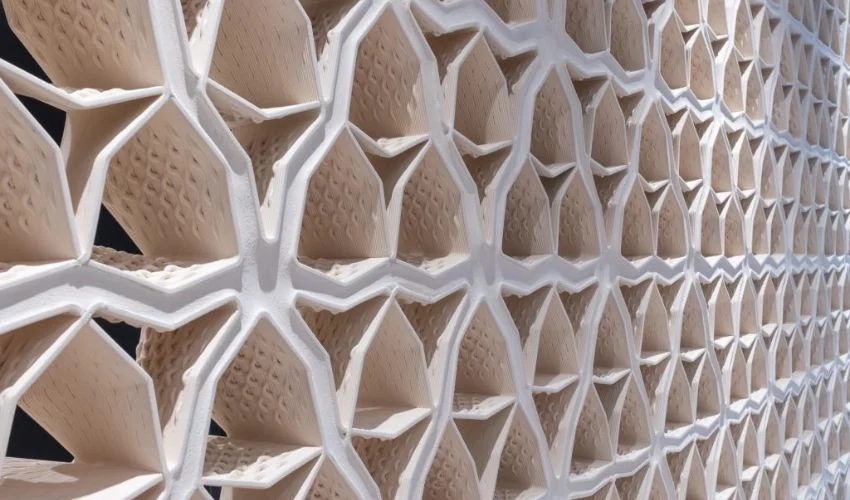 Additive manufacturing has made its debut in the construction industry a while ago. Today, it is possible  to build all types of structures with the help of 3D printing technologies. Ever since then, it seems that one innovation follows the other. Recently, a team of researchers from Waterloo's School of Architecture unveiled a new 3D printed wall with a unique design. Called Hive, the modular wall is made up of 175 blocks of clay, all designed using additive manufacturing. Commissioned by Investment Management Corporation of Ontario (IMCO) through SDI Interior Design, the wall is already on display at the company's  offices in Toronto, Canada.
As with many applications combining additive manufacturing and construction, the researchers blended 3D printing techniques with traditional skills. With its unusual geometry and the manufacturing methods and materials used, Hive demonstrates the benefits offered by innovative technologies. This particular project reminds us a lot of a similar project we covered recently, which was the United Arab Emirate's pavilion built by Aectual for the Floriade Expo 2022. About the construction of Hive, the team from the University of Waterloo's School of Architecture explains, "This approach embraces the spirit of traditional ceramic craft with robotic precision, offering new avenues for material expression and geometric complexity within this field." 
The Development of the Hive Wall
As you can probably imagine, developing such a wall required a lot of iterative steps from the teams. In particular, the researchers explain that they developed and tested the clay used in the printing of the wall themselves. Described by the scientists as a series of openings that open and close, the wall owes its geometry to the design freedom offered by additive manufacturing. In addition, the use of clay gave the wall a certain rigidity as well as a smooth surface.
Which 3D printing technology was used exactly still remains a secret, since the team is very discreet on production details. Altogether, the team at Waterloo's School of Architecture is pleased and concludes, "It was a great applied research experience. We were super thrilled when it all came together, and it worked out – even better than expected." Find out more about the University of Waterloo HERE.
What do you think of the Hive wall? Let us know in a comment below or on our LinkedIn, Facebook, and Twitter pages! Don't forget to sign up for our free weekly Newsletter here, the latest 3D printing news straight to your inbox! You can also find all our videos on our YouTube channel. 
*Cover Photo Credits: Waterloo's School of Architecture